If you've ever waded through the process of filling out a government contract form or grant proposal, you know two things: a) they're long and b) they're complex. So when Hugh at Evergreen United Food Hub learned of a new U.S. Department of Agriculture program to purchase local farm products and distribute them to those in need, his joy was tempered by the fact that he had just one week to complete the paperwork.
The USDA's Farmers to Families Food Box Program is purchasing up to $3 billion in fresh produce, dairy and meat products through national, regional and local suppliers that are packaged into family-sized food boxes and transported to food banks, community organizations and other nonprofit groups serving Americans in need. Local food hubs like Evergreen United were eligible to bid on the contract – if they could just figure out how.
Fortunately, help was at hand in the form of the Thurston Economic Development Council's Washington Procurement Technical Assistance Center (PTAC). PTAC is just one of many throughout the nation, all with the same mission. "We connect small business owners with government contracting opportunities," says Kate Hoy, PTAC contracting specialist. "It can be any agency, any level of government and any kind of contract."
"We worked with Chris Eberle at the Washington State Department of Agriculture and he was able to connect us with potential bidders," says Hoy. "We held a Zoom meeting immediately because they only allowed one week for a response. It was insane." In all, 10 Washington Firms were awarded contracts. PTAC was able to directly assist Evergreen United, the Puget Sound Food Hub and LINC Foods in Spokane obtain contracts.
"It was great working with PTAC to help local food businesses access challenging federal contracts for the Farmers to Families Food Box Program to support farmers statewide," says Chris Iberle with the WSDA Regional Markets Program.  "These purchases come at a critical time especially for smaller, direct-marketing farms, whose businesses have been particularly impacted by scaled back or closed farmers markets, restaurants, schools and other local buyers due to COVID-19."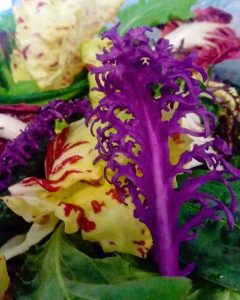 In the first phase, Evergreen United will be delivering eight boxes per week to Shelton's Saints' Pantry Food Bank. But as the contract ramps up, they will be transporting 2,300 boxes per week to a region ranging from Ilwaco in the south to Sequim in the north. For now, Evergreen United is sourcing produce primarily from Dharma Ridge Farms because it meets all of the USDA's requirements, but eventually, they plan to add in more regional suppliers and begin serving the North Mason Food Bank, the Sequim Food Bank and Coastal Harvest, which covers Raymond, Ilwaco, Hoquiam and Aberdeen.
PTAC's support was invaluable in securing the contract according to Evergreen United's Founder and President Hugh Jones. "I'm a produce distributor," he says. "I don't know how to deal with federal contracts. I was able to get the application put together and submitted in 4 days thanks to Kate's incredible support, diligence, responsiveness and tutelage. She went far above and beyond the call of duty, and I am eternally grateful."
Hoy credits Jones and the other awardees with a quick learning curve. "We cleared that entire week to meet with them every day and make sure they were responding correctly," she says. "I think they were extremely happy to find out that we exist and also that our services are free."
For now, Jones and other food hubs are still in gearing up mode. The Washington State growing season has yet to fully kick off but once it does, he plans to move full steam ahead. "The supply and product availability is not there yet," he notes. "It's a great thing for farms in the area to subsidize their early-season production, which may have been affected by COVID-19. Finding new market spaces is extremely important economically."
As the process advances into different growing periods, the USDA will offer incentivized options to those organizations that already have contracts. Hoy anticipates that the amount of funding Washington State food hubs will receive will increase as their supply grows. "We'll be with them through this whole process," she says. "If they have any trouble with their option or they're not getting a response from the USDA, they can talk to us and we can help."
"What an incredible resource, I had no idea PTAC existed prior to this opportunity," Hugh admits with a deep humility, "I have never felt like I had such a strong advocate as a small business owner. That advocacy was a real game changer for me.  I'm blown away by the support I've received. It's humbling."
While PTAC is headquartered in Lacey, they have 8 sub-centers across the state.  To find the PTAC in your area, visit the Washington Procurement Technical Assistant Center website.
This story is one in a series describing Thurston EDC efforts supporting regional agriculture development.  To read about the recent groundbreaking for the Southwest Washington Agricultural Business Park in Tenino go here, and keep an eye out for our next article about a new Food Hub that will be launching soon to serve the South Sound region.
Sponsored