After weeks of being cooped up inside our homes, it's time for many families to get outside! The sun is shining brightly, the parks are reopening, and boats are beginning to rev their engines, all signs of the start to summer. While enjoying the outdoors is a quintessential part of being a Thurston County resident, it is important to refresh our memory for outdoor safety. The Child Care Action Council presents Swim into Summer Virtual Safety Fair for the month of June to get every member of the family ready to enjoy the sunshine safely.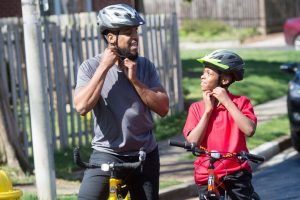 "It's always shocking to me how many children die annually from unintentional injuries," shares Danielle King, Safe Kids Thurston County Coordinator for the Child Care Action Council. "The  mission of Safe Kids is to prevent unintentional childhood injury, a leading cause of death and disability for children ages 1- to 19-years-old, representing nearly 40 percent of all deaths in this age group. Since its founding, Safe Kids Worldwide has contributed to a 55 percent reduction in U.S. child fatality rates. These safety weeks are all about bringing those unintentional injury numbers down in Thurston County."
With the intention of keeping Thurston County children safe, the virtual fair focuses on safety in the water, driving in cars, walking neighborhoods and even gun safety. "This is our 2nd year kicking off the summer safely with this free community event for families and community partners," explains King. "We have six community partners displaying safety skills like walking, driving, and boating safely, and other ways to ensure your home is safe for the entire family. We are a sponsorship recipient of Puget Sound Energy's Powerful Partnerships. Their sponsorship, along with the support of our wonderful community partnerships, are what make this virtual safety fair possible."
Puget Sound Energy has taken on a key role to provide a strong partnership for the annual fair. "There are so many aspects to safety and the work we do," says Shannon Glenn, PSE Outreach Manager. "Making sure kids are safe in their home is a priority for us. We've provided safety messaging to families for years so this was an easy partnership to get behind. Safety is a core message of what we do. We have been doing digital pieces for quite some time so moving to the virtual platform for the safety fair was an easy transition. Our goal is to help as many families as possible and make everyone feel involved with keeping our community members safe."
Along with the helpful information each week, viewers will have the opportunity to engage their learning beyond the Fair by using their own virtual creativity with a chance of winning prizes. "Each week, we will feature one to two safety videos from our partners on the Child Care Action Council website," describes King. "After viewing, we encourage our families to create a quick video showing us what they learned and send it in. We will have weekly $50 prizes and a grand prize of $250, to be drawn on Monday, June 29."
"It's targeted to be universally helpful," explains Glenn. "It's always important to remind people of these safety tips and the videos are a really fun way to do that. We want to keep our community safe!"
Week 1: June 1 – 7 Pedestrian Safety
Intercity Transit Walk 'n Roll Program
Unintentional pedestrian injuries are the fifth leading cause of injury-related death in the United States for children ages 5- to 19-years-old. Teenagers are now at greatest risk. Teens have a death rate twice that of younger children and account for half of all child pedestrian deaths. Safety tips:
Teach kids to look left, right, and left again before crossing the street.
Make eye contact with drivers.
Do not walk distracted. This includes putting down your phone and taking off your headphones.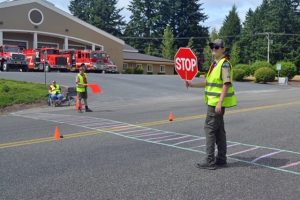 Week 2: June 8 – 14 Home Safety & Distracted Driving
Puget Sound Energy's Powerful Partnerships
 Install carbon monoxide (CO) alarms.
 Test CO alarms every month.
 Avoid using gas portable appliances inside your home. Use generators and grills outside of your home, away from windows and doors. Warm up vehicles outside of your garage.
In a CO emergency, leave your home immediately. If the CO alarm sounds, quickly leave your home. Move to a safe location outside where you can breathe in fresh air before you call 911 or your energy provider for help.
Target Zero Thurston County Task Force
Every day, six teens are killed in a motor vehicle crash in the U.S. In fact, crashes are the leading cause of death for teens, ahead of all other types of injury, violence, or disease.
Make a formal agreement with your teen driver, setting clear expectations about your family rules. Discuss different scenarios your new driver may encounter and what scares you about these situations. Define your zero-tolerance rules for driving, addressing speeding, alcohol, and texting.
Limit the number of passengers that is allowed in the car with your teen. The risk for a fatal crash increases as the number of passengers increases. Every child is different so set your rules based on your own assessment of your child.
Encourage your child to speak up if a driver of any age is not driving safely and makes them feel scared. Provide them with alternative plans to get home, just in case.
Week 3: June 15 – 21 Open Water Safety 
Black Lake McLane Fire Department
Teach children that swimming in open water is not the same as swimming in a pool: They need to be aware of uneven surfaces, river currents, ocean undertow and changing weather.
Thurston County has over 42 lakes, the Nisqually and Deschutes rivers, and Puget Sound and the water temperature rarely rises above 55 degrees, even on hot summer days. Generally, children lose body heat more quickly than adults and are particularly vulnerable to hypothermia in such cold waters.
Always have your children wear a life jacket approved by the U.S. Coast Guard while on boats or around open bodies of water or participating in water sports. Make sure the life jacket fits snugly.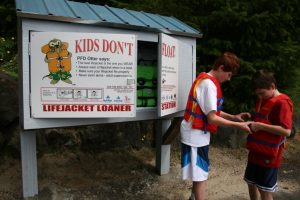 Week 4: June 22 – 28 Boating Safety & Gun Safety
WA Parks – Washington Boating Program
Enroll older kids in a boating safety course. Better yet, enroll with them.
Let your teen operate a boat only in a supervised setting and in adherence to laws in your area. Laws regarding the operation of a boat or watercraft vary from community to community.
Half of all unintentional shootings are committed by children and teenagers.
Keep guns out of the reach and out of sight of children by storing them securely. Leaving guns unsecured – on a nightstand, table, or other places where a child can gain access – can lead to injuries and fatalities.
Store guns unloaded and secured with effective, child-resistant gun locks in a locked container out of the reach and sight of children.
When a gun is not being stored, keep it in your immediate possession and control at all times. Otherwise, store the gun unloaded, locked and separate from ammunition.
Keep checking the Child Care Action Council website for additional safety videos throughout the month of June. Thank you again to the safety partners for making this event possible!
Sponsored