In response to the COVID-19 pandemic, residents at Panorama in Lacey contributed their time, talents and skillsets to support their local community. A team endeavor, resident sewers worked around the clock, coordinated efforts remotely, and often donated sewing supplies to help protect Panorama residents and employees. Over a six-week campaign, 70 Panorama residents sewed over 3,700 masks for distribution to Panorama staff and local nonprofit organizations.
As the CDC announced recommendations to wear facial masks while interacting in public, Panorama staff grappled with a viable method to source masks for the retirement community's over 400 employees. Meghan Vu, director of philanthropy at Panorama, says it was an increasing challenge for Panorama to procure personal protective equipment (PPE), because there have been no confirmed cases of COVID-19 within the retirement community.
"For our staff, we wanted to follow the CDC guidance to wear masks at all times," explains Vu. "Particularly when we're coming into close contact with residents. But we were really limited in our ability to gain PPE from our external sources."
Although the community has not been directly affected by COVID-19, there has still been a need in facial coverings for the continued safety of staff and residents. In addition to dining, maintenance and office employees, Panorama also operates the Panorama Convalescent & Rehabilitation Center, which requires direct staff interaction with residents.
Unable to source pre-made masks, Vu reached out to the co-chairman of Panorama's resident quilting club, Judy Pitts, hoping to recruit club sewers to produce masks. Pitts says that Vu's request was perfect timing, as quilting club members were enthusiastic about producing masks and the club was already seeking out local organizations in need of facial coverings.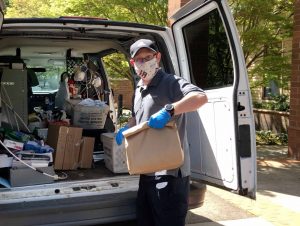 The quilting club's members swiftly mobilized to produce masks beginning in the middle of March. Coordinated completely from a remote setting, Pitts recruited not only club members, but additional residents who wanted to participate in the production process. At the helm of the project, Pitts sourced a consistent mask pattern used amongst the sewers in addition to gathering supplies like elastic. Pitts says resident sewers pitched in not only their time, but also materials, as resident sewers donated over 300 yards of fabric towards the project.
A group effort, over 70 residents soon became part of the mask making team. Operating as a kind of remote factory, each member of the sewing team was assigned a different task, including cutting out pattern pieces, cutting elastic straps and assembling the finished masks. More experienced sewers provided remote support to beginning sewers and for the duration of the project, Pitts set up a no-charge storefront in front of her house, where volunteer sewers could pick up necessary sewing supplies like sewing machine needles, thread and rotary cutter blades.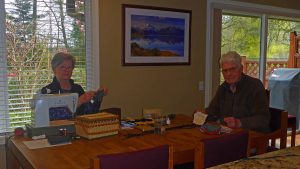 "It was really wonderful for everyone," explains Pitts. "Because not only did we feel like we were helping the workers at Panorama and by virtue of that, ourselves. At a time, when everyone feels so helpless, we just felt like we were helping and I think that was a huge boost to everybody who worked on the project."
Over the course of six weeks, concluding in the middle of May, the volunteer resident sewers produced 3,751 masks for Panorama employees.
"We had the great benefit of every day or so, going to pick up more and more masks, get them washed and into the hands of our staff," says Vu. "So now, every staff member has at least three masks that they can go through. We are wearing them at all times every time we leave our own offices or personal space."
Although the mask production campaign for Panorama staff is now complete, Pitts says many resident sewers are continuing to produce masks for neighbors, additional Panorama residents and local nonprofit organizations, including the Thurston County Food Bank.
Now well-equipped with appropriate masks, Panorama employees can further focus on efforts to protect residents from potential exposure to COVID-19. As employees continue to wear masks while at work, Vu says there is an immense appreciation amongst the staff for the donation of time, skill and materials by resident volunteers.
"It's such a wonderful show of how connected our community is," says Vu. "One of the benefits of the project is in a time where we're all lacking in-person interaction, it helped us to all feel very connected. It's so meaningful to our staff to know that they get to wear masks that have been hand sewn by residents here.
To learn more about Panorama's efforts to help prevent the spread of COVID-19, visit the Panorama website.
Sponsored