With the arrival of COVID-19 to Thurston County, health and safety became an immediate public concern, but on the heels of rapid changes concerning safety were nearly simultaneous economic impacts. An equally rapid response followed, with residents, organizations, and government alike rallying around small businesses, and at the center of that support has been the Thurston Economic Development Council (EDC).
With funding through the City of Olympia, the Thurston EDC has established a hotline to help business owners connect with available resources during this time. The EDC has been answering questions from local business owners about grants, loans, and other funding sources, as well as assisting with the filling out of grant and loan applications. But perhaps the most valuable aspect of the hotline has been that it is always answered by a live human being. During this time of great stress and uncertainly, it was been reassuring to many local business owners to just know that someone if available and ready to help.
Additionally, the City of Lacey created a fund for Lacey businesses facing the economic impacts of the COVID-19 pandemic. EDC staff administered the fund and assisted businesses to get their financials in order, enabling $1,000,000 in emergency support funding to be distributed to 110 businesses.
Businesses from all sectors are facing the economic impacts with help from the EDC. Here are just a few of their stories.
Local Help Steps Up when Federal Support Falters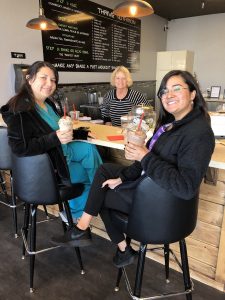 John Mitterholzer saw a 70 percent reduction in his business practically overnight. The owner of Thrive Nutrition Club of Lacey, Mitterholzer watched his steady stream of customers reduce to a trickle when the regular traffic at a nearby gym ceased. Mitterholzer applied for an SBA loan but found the process frustrating and confusing as requirements for the application kept changing. When he called the EDC's hotline, he felt at ease immediately when he was able to speak to a real person. That person was Robin Houde.
"Robin helped me navigate the SBA loan, but she also started looking for other ways to help me out," Mitterholzer says.  Within a very short time, Houde was able to assist Mitterholzer to secure a City of Lacey Grant, which helped keep Thrive Nutrition running. To support local first responders, Thrive Nutrition held a Shake-It-Forward campaign where customers could purchase a shake or tea for local health care personnel working on the front lines. The first set of shakes and teas were delivered to the hard-working health care professionals at Providence St. Peter's Hospital ER in mid-April.
Sole Proprietors Feel the Impact
Paul Mikoloski works in the publicity and marketing industry. "There's a lot of little businesses like mine around Thurston County that people don't even know are here," he says. He spends his work day coordinating book tours and publicizing films, and most of his client base is outside the County from California or New York. As book signings and publicity events shut down, he found himself with no work for the first time in a very long time. "I called the EDC, and they were very helpful," he says. "They found a grant that I was able to apply for and I am just waiting to hear back." Still, Mikoloski is unsure about what the future holds and he is concerned about the lasting social impacts that may come to his industry following COVID-19.
An Opportunity for Improvement
Determined to keep his staff and customers safe and healthy, Jason Grant shut down Grateful Dogs Grooming and Day Camp a week in advance of Governor Inslee's "Stay Home Stay Healthy" order. Grant has used this time as an opportunity to make improvements to his business in ways that would have been nearly impossible while still receiving clients. "We reached out to the EDC and within five days of the application we were able to get a grant," he says.  "The grant went towards rent and utility bills and now we have a much better chance of being open when this thing ends," he adds. In his weekly Zoom meetings with his employees, Grant emphasizes the importance of using this experience to reexamine goals and values. He sees this time as an opportunity to improve oneself and one's business with a hopeful look towards the future.  This is the kind of proactive responses EDC staff see as essential behavior at this time for businesses to engage in if they are to survive this crisis and arise stronger on the other side.
"Our Community is Amazing"
April is the biggest month for business expenses for Gabi's Olympic Cards and Comics says owner Gabi Trautmann. On top of regular operating expenses and taxes, the store also had major preorder purchase contracts that could not be canceled and advanced expenditures for big events such as the annual free comic book day. Usually, the big events recoup the additional expenses, but with all major events being canceled, the additional revenue was gone. With the City of Lacey grant that Trautmann received, she was able to pay her bills and keep the store running with a combination of curbside pickup and online sales, adjusting her approach as regulations changed. "Our community is amazing," she says. "They really rallied, buying gift certificates, adapting to the changes, offering help in whatever way they could within the scope of the Governor's mandate." With the community support and the grant secured with the help of the EDC, Gabi's Olympic Cards and Comics was able to break even in April, a month that might have been make or break for the much-loved local business.
There is a lot of uncertainty about how long the COVID-19 pandemic will stick around, affecting the local economy. There is a potential that the landscape for business will change and businesses will have to continue to evolve in order to meet that change. One thing is certain, the Thurston EDC will continue to provide information and assistance to small businesses and answering their hotline until we all come through this crisis.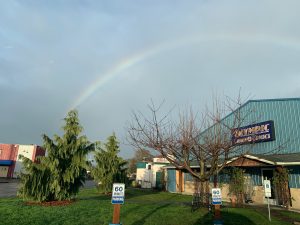 If you are a small business that has been affected by the COVID-19 crisis and you are unsure of your options at this time, please call 1-888-821-6652 or visit the Thurston EDC on their webpage to find information that may help you.
While this article focused on the EDC's efforts supporting local businesses, the EDC is not alone in this fight.  Partnerships already in place through the Thurston Economic Alliance (Thurston County's economic development strategic plan) allowed local jurisdictions to quickly step up with emergency funding at the start of the pandemic and create the Thurston Strong initiative, elevating and utilizing a network of resources between the Thurston Chamber of Commerce, Experience Olympia & Beyond, Pacific Mountain Workforce Development Council, Lacey Chamber of Commerce and the Thurston Economic Development Council.  To learn more about Thurston Strong, visit the Thurston Strong website.
Sponsored