When North Thurston Public Schools (NTPS) began operating the Family & Youth Resource Center (FYR Center) last August, its leaders and staff had no idea it would become a vital logistical hub for youth and families negatively impacted by the COVID-19 crisis just six months later.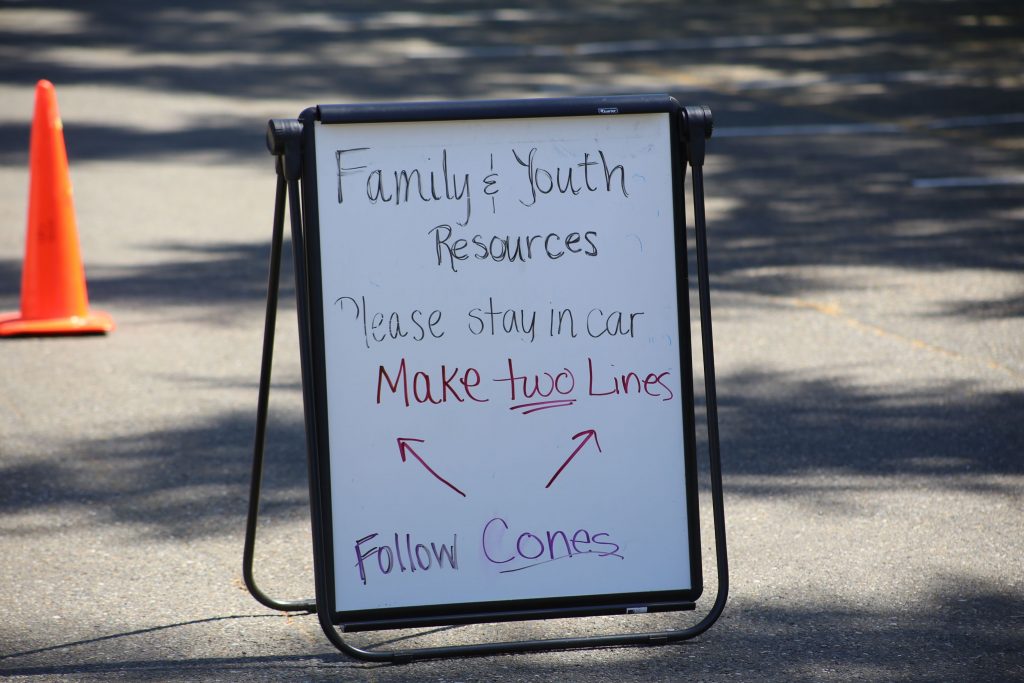 COVID-19 and the economic contraction it triggered have compromised the income security of countless Thurston County families. As parents facing layoffs scramble to cover the cost of housing, food and everyday living supplies, NTPS has worked quickly to organize enhancements to its already robust network of support services. "We're seeing people we've never seen before," says Leslie Van Leishout, director of student support. "These are people that don't know how to navigate support systems because they've never had to."
Just south of North Thurston High School on Sleater Kinney Road NE, the FYR Center is centrally located in the district. Every Tuesday from 9:00 a.m. to 11:00 a.m. and every Thursday from 1:00 p.m. to 3:00 p.m., students and families of NTPS can pick up pre-made "Grab and Go" bags of shelf-stable food, cleaning supplies, hygiene products such a toilet paper, diapers and shampoo. There are also children's books from the South Sound Reading Foundation which are very popular with kids.
These pickups are made possible by a cooperative web of local nonprofit organizations. Van Leishout and other district leaders emphasize that the financial support provided by the North Thurston Education Foundation (NTEF) is critical to their work. "We literally could not give out everything we're distributing without the Education Foundation," says Van Leishout. Funds from NTEF are used to supplement the supply of food and necessities donated by other community organizations. This school year so far, NTEF has invested about $36,000 in the work at the FYR Center, including support specifically for homeless youth.
The 4 the Love Foundation, a non-profit founded by two local entrepreneurs last fall, has committed to providing 50 pre-made bags of shelf-stable food, 50 bags of snacks and 50 "bags of hope" (books, art supplies and small toys) every Monday until the end of June. These bundles are the first to be handed out at the Tuesday pick up. Purchases made with NTEF funds and donations made by TOGETHER! with funds from the United Way of Thurston County's Thurston County COVID-19 Relief Fund make up the remaining bags on Tuesday and all of Thursday's bags.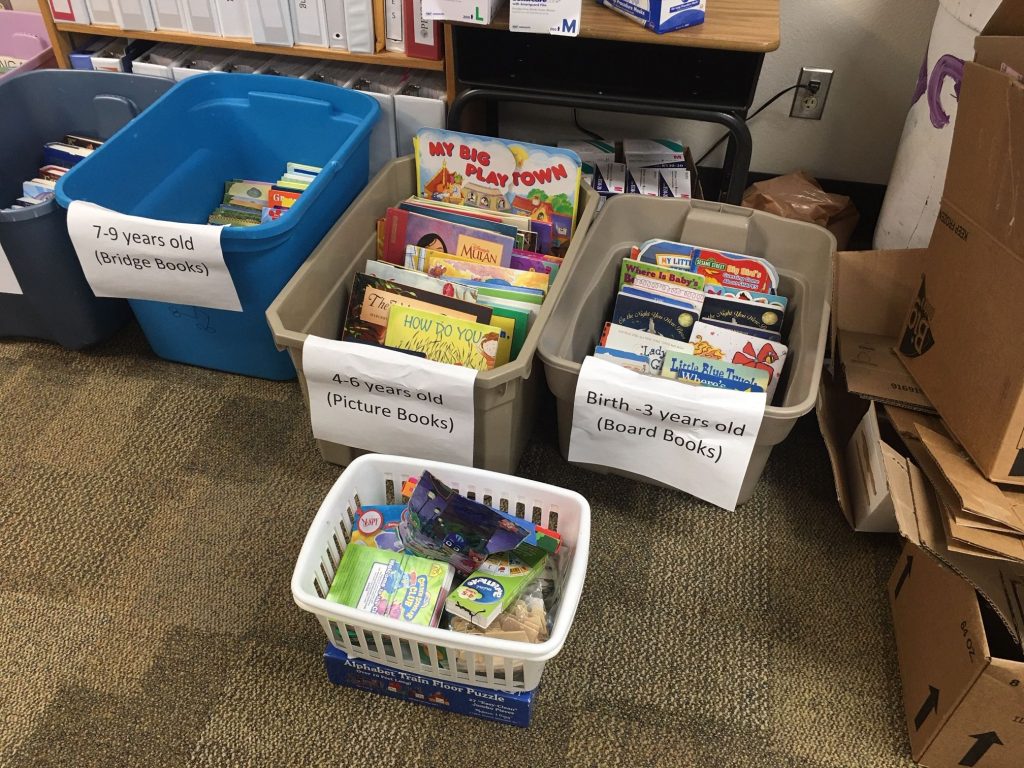 The team at the FYR Center also manages the data and distribution of about 2,800 weekend food bags in cooperation with the Thurston County Food Bank and Homeless Backpacks. The bags are distributed on Fridays through the 34 Food & Nutrition and Transportation free meal distribution sites. Anyone student who needs a bag can have one!
Prior to the COVID-19 crisis, the FYR Center was a one-stop resource for students and families of NTPS experiencing hardships such as food and shelter insecurity, disability or mental health crises. Families and students could pick up school supplies, shelf-stable food, clothes, shoes, and even backpacks and sleeping bags in a boutique-style "shop."
In addition to addressing immediate day-to-day needs, the FYR Center also offered in-person assistance with navigating resource access through partners such as Community Youth Services (CYS) and the Washington State Department of Social and Health Services (DSHS). By bringing all these services into one place, NTPS has increased accessibility to vital resources that contribute to a thriving student body district wide.
Representatives of those organizations are no longer present in the Center due to the governor's "Stay Home, Stay Healthy" order. In lieu of that in-person assistance, the team at NTPS has prepared a comprehensive community resource directory that is just one click from the NTPS homepage. Topics include mental health, food, housing, internet, medical and more.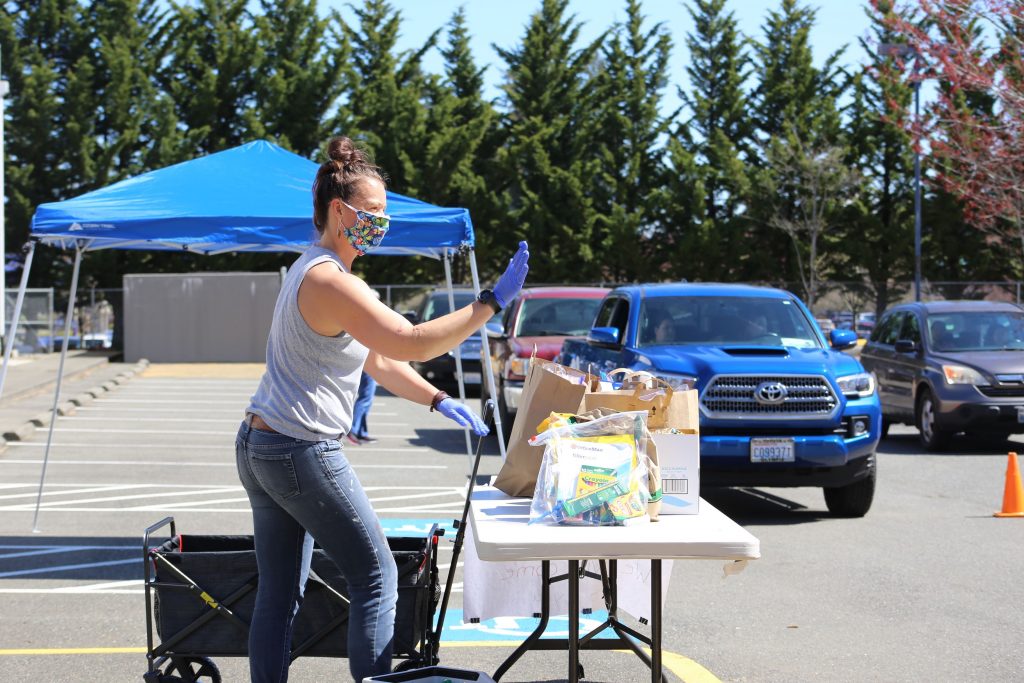 If you are a student or the parent of a student in the NTPS district and you need supplies, you are welcome at the FYR Center's Tuesday-Thursday "drive up and go" pick-ups. The team at the FYR Center is made up of NTPS staff who elected to work on the front lines of resource distribution. They wear masks and gloves and follow social distancing guidelines. Some staff speak fluent Spanish too. They will walk you through the order and pick up process taking careful sanitation measures every step of the way.
"We are grateful the FYR Center exists. Anything a student or their family needs can be accessed there," says Mike Jones, executive director at NTEF. "So many families who have never needed help before are finding themselves in a time of need." If you are a community member in a position to share resources and feel moved to do so, donate to the North Thurston Education Foundation. You can also donate needed items to the FYR Center directly on Tuesdays from 11:00 a.m.-1:00 p.m. For a list of most needed items see the FYR Center website.
"The FYR Center is serving a whole new purpose for our community in terms of the distribution of resources and supplies," says Courtney Schrieve, NTPS's executive director of public relations. "NTPS is a leader in Lacey's Compassionate Community initiative, and the FYR Center is an example of that compassionate community at work."
It is clear that the purchase and development of the facility south of North Thurston High school was made at the right time. NTPS's FYR Center is a hub of compassion our community so desperately needs right now.
Sponsored