As the COVID-19 crisis was unfolding in early March, the leadership team at the South Sound YMCA knew widespread change was coming. They began to prepare accordingly, and by the time Washington State Governor Jay Inslee announced a statewide school closure on Friday, March 13, they already had plans and partnerships in place to serve a pressing community need. At 8:00 am the following Tuesday, they opened full-day, emergency childcare services for local families, and offered this service at no charge to first responders and healthcare professionals.
"We saw that things were getting worse instead of better," says CEO Kyle Cronk. "We got our staff together and talked about how to provide this service, and they jumped in with both feet to figure out a safe and compassionate way to make it happen."
A key priority is keeping both staff and students safe through multiple precautionary measures. "We have a really clear system in place for cleaning and sanitizing," says Brenda Banning, Senior Director of Child Care. "We're doing health screenings for every student who comes into our program."
Another critical issue is making sure every student gets basic needs met, such as daily meals. The Y worked closely with each district to facilitate that process. "You can't respond as just one organization in a time of crisis," says Cronk. "Schools are providing the meals and we are providing childcare. That partnership is absolutely essential."
The program runs from 8:00 a.m. to 5:30 p.m. five days a week. With schools functioning remotely, Y staff are meeting the needs of parents and students with an increased focus on academics. YMCA staff worked with community partners, including Joint Base Lewis McChord (JBLM), to supply Chromebooks to families and explored ways to adapt the existing curriculum to support instruction from local districts.
The team adapted quickly to the change, according to Cronk. Most were already familiar with the curriculum from the Y's Power Scholars Academy, a six-week summer program designed to tackle summer learning loss and foster physical and social-emotional growth. "Even in normal times, when we're providing before and after school care, there's a tremendous amount of learning that takes place," says Cronk. "As we added in more formal academic support, our staff didn't miss a beat."
Most of the students come from families that include first responders or healthcare workers, but several have parents who work in other essential fields such as  the restaurant and grocery industries. Banning notes the children are adapting well to their new circumstances. "They're resilient," she says. "The kids are doing well. Often they adapt better than adults do."
Knowing that their children are in good hands gives parents on the front lines one less thing to worry about, according to Cronk. "They have to go into work, which can cause stress and anxiety, but they know their child is in a safe place that has great role models," he explains. "It takes one level of stress away so they can stay focused and do the job at hand."
Bonnie De Leon is a healthcare worker at Providence with a 7-year-old daughter. "I sincerely appreciate the response and the care the Y has provided during these unprecedented times," said De Leon, who depends on Y Care to do her job and help her daughter remain academically engaged now that schools are closed. "The highlight of my daughter's day is going to Y Care," says De Leon.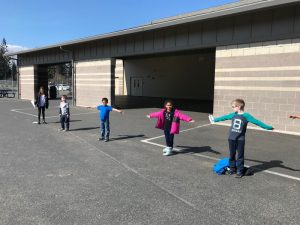 Many parents are vocal about their appreciation, including one mother Banning encountered who raved about how supportive the staff was and the number of safety procedures the team had in place. "She couldn't stop talking about it," says Banning. "She thought it was amazing."
Now that the staff has been trained in how to support school-based learning, Banning thinks the trend may last after the pandemic has passed. "Our staff is really jumping in to support that component and we're seeing them shine," she says. "They're working hard to meet the needs of our community and we want to continue to do that. I believe we're going to come out stronger and better because of where we're at right now."
Cronk believes that another important shift may remain once schools and businesses reopen: an increased level of collaboration. "I've seen the districts and non-profits and even the private sector coming together," he says. "We're seeing each other as collaborators and partners. I'm proud", he continues, "to be part of an organization that is a critical community asset and works with others to ensure everyone in the South Sound gets the services they need."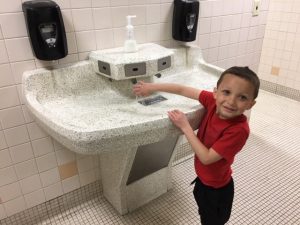 Since March 17 the South Sound YMCA has been offering emergency Y Care services at eight locations throughout Thurston County. Programs will remain in operation through the remainder of the regular school year.
Program sites include: Peter G. Schmidt Elementary and Tumwater Hill Elementary in the Tumwater School District; Chambers Prairie Elementary and Olympic View Elementary in the North Thurston School District; Garfield Elementary, Roosevelt Elementary and McKenny Elementary in the Olympia School District; and Southworth Elementary in the Yelm School District. Each location serves approximately 40 children in grades K-6.
To learn more, visit the South Sound YMCA website or call 360.753.6576.
Sponsored