Protecting the most vulnerable seniors is nothing new for Senior Services for South Sound, it's been part of their mission since day one. However, the COVID-19 crisis has presented unique challenges for the organization. Halting their fundraisers and non-essential programs that provide funding to critical services couldn't come at a worse time. In response, Senior Services for South Sound has taken their fundraising virtual, hosting their "Meals that Matter and other Essential Services" fundraising event via Facebook live on Wednesday, May 13 at 12:00 p.m.

"With almost all of our community's seniors now isolated in their homes, the need for the Meals on Wheels services has skyrocketed," said Lori Drummond, president & CEO with Olympia Federal Savings (OlyFed). "It is important for us as a community to step forward and sponsor this event so they can raise the funds to support this extraordinary need."
The COVID-19 crisis has dramatically increased demand for "Meals on Wheels" as more seniors have found themselves homebound for their health and safety. In March alone, the number of meals delivered doubled from 700 to 1,400 per week. In addition, there has also been an increased need for senior transportation and wellness calls to check on seniors that are staying home.
In the face of crisis, Senior Services for South Sound does what they've always done best: work hard to serve the senior population in our community and protect the most vulnerable," Drummond said. The upcoming Meals that Matter event is very important to helping the organization at a time when they've also had to discontinue their regular fundraising activities such as bingo nights."
The "Meals that Matter and other Essential Services" fundraising event is a free, online live streaming event for people to learn more about Senior Services for South Sound. During the event, they can also support Senior Services' and meet new Executive Director Brian Windrope. Windrope recently shared a letter to the community on ThurstonTalk speaking about the challenges Senior Services has been facing with COVID-19.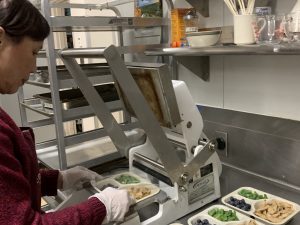 Windrope anticipates the needs from seniors in our community will continue to grow over the coming weeks. As team members deliver meals, they find more seniors who need and want to enroll in the program because they can no longer leave their homes to grocery shop, and their families might not live in the area to deliver supplies.
To help meet this growing need, community members can join Senior Services for South Sound for the "Meals that Matter and other Essential Services" fundraising on Facebook by liking their Facebook page and then visiting the page at 12:00 p.m. to join the live stream. You can even click "going" on the event page for a reminder about the event.
Help spread the word about Senior Services for South Sound and their virtual fundraising event by sharing the event page with your friends. "We're hopeful that because this is a virtual event, that we're not limited to the number of people that can fit in the room. Our goal is to make it the best it can be, given that it won't take the place of hugs and live interaction!" says Windrope.
If you are unable to attend the live stream fundraising event, you can still make a donation through the Senior Services for South Sound online donation portal. Senior Services for South Sound would like to thank their agency sponsor, Funeral Alternatives of Washington, and their event sponsors, Lucky Eagle Casino & Hotel,, Olympia Federal Savings and Lively Productions.
Sponsored