Anthony Braggs appears laser focused when he's on the court with an almost permanent scowl on his face. And while the South Puget Sound sophomore may not chatter too much when he's playing, his actions speak volumes.
"He plays above the rim, and he's so quick off the ground," said head coach Andrew Green, who just led the Clippers men's basketball team to a 22-6 regular season record in his first year. "When it clicks and he sees an opportunity to attack the rim, usually the next few seconds are going to make the highlight reel."
His dunks are powerful, intimidating and usually change the momentum of a game, but Braggs isn't just all about the explosive offensive play. In fact, his defensive prowess may do more to hype up his teammates.
"When guys really start feeding off him is when he amps up his defensive intensity and either gets a huge block or rebound," Green added, "and (he) is very quickly on the way down to the other end of the floor."
Usually ending the series with a signature dunk.
It's been one motivating big play after another this year at South Puget Sound for Braggs, and it hasn't gone unnoticed.
Braggs, a native of Tacoma and graduate of Lincoln High School, was named to the Northwest Athletic Conference's All-Western Region second team in addition to receiving all-region defensive team honors during his sophomore campaign with the Clippers.
Coming out of high school, Braggs was on the radar of every NWAC school. He had plenty of options, but knew he wanted to stay close to home. At the same time, he wanted to put a little distance between himself and the City of Destiny. South Puget Sound turned out to be the perfect fit.
"These last two seasons have been a fun experience for me," Braggs said. "Freshman year, getting to learn under a strong sophomore class with Hunter Sipe (and) Demonte Malloy, getting to start with them all freshman year and getting to see how hard they work made me come back this following year wanting to have a big leadership role and to also leave a legacy here at SPSCC."
Braggs has certainly done that, helping the team win 20 or more games for a program high fourth consecutive season. Statistically, he averaged 14.5 points a game and pulled down nearly 10 rebounds a contest, which placed him fifth among rebounders in the conference.
Making his feats even more impressive is the fact Braggs entered the year knowing he would not play in a single official home game with the Clippers calling The Evergreen State College home this season as South Puget Sound completed construction of its new Wellness Center. He also did all of this while playing under a new coach.
"Playing with this team this year has been awesome. The whole year, I didn't know what I was getting into after (former SPSCC coach Aaron) Landon and (assistant coach) Tyler (Velasquez) left. (I didn't know) if I was going to transfer or not," Braggs said. "But having the core sophomores Ben (Janssan), Branden (Bunn), CaCoa (Chatman) and talking over the summer changed everything."
While Braggs was recruited by Landon to come to play for the Clippers, the roles were somewhat reversed during the hiring of Green as Braggs was one of the student representatives during the interview process. The two immediately hit it off.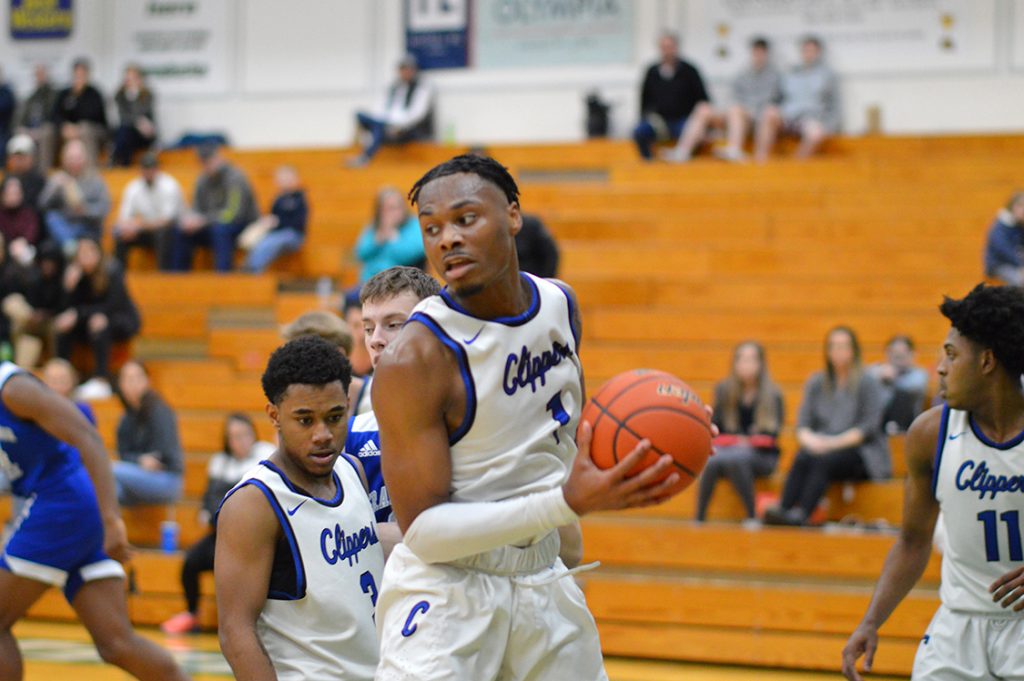 "I feel like Anthony and I have been in this together since the beginning," Green said. "During my interview process, he was the first student-athlete at SPSCC that I met, and as he gave me a tour of the campus we really connected. He gave such a good first impression about how much he cared about the program, the school, and his academic and athletic success. When his energy is high, everyone else raises their energy level. He can do some things on the court that not a lot of guys in the NWAC can do."
But if you ask Braggs, it's his off-the-court skills that have increased the most over the last year.
"How I improved as a player is I really improved my leadership skills," Braggs said. "I was always known as a quiet leader, but for being one of the returners this year I had to step up and be that guy."
Braggs' play has drawn the attention of numerous four-year programs. He has received offers from University of Puget Sound, The Evergreen State College, Pacific Lutheran University, among others.
"Athleticism, high motor, versatile defender and, when he is focused, a great leader," said Green when asked what type of player these programs will be getting in Braggs. "They are also getting a great kid, a hard worker in the classroom and someone who is going to represent the program with integrity."
Sponsored