As a PE teacher at Black Hills High School, it's Lisa Summers' job to teach kids how to play a sport or how to get in shape. But her goals and class objectives aren't just about how to swish a basketball, or hit a tennis ball or kick a soccer ball.
She does do that. But for Summers, who is now in her 23rd year of teaching at Black Hills, it's also about teaching life lessons, about preparing her students for a bright tomorrow. Summers, who says PE stands for "positive environment" in her class, teaches her students life lessons.
"It's fun. It's amazing," Summers said. "It's something I enjoy doing. The one thing I hear and I love hearing is the type of environment I create is for all different types of kids."
Her commitment and knack for preparing her students for a better tomorrow hasn't gone unnoticed. She was named the 2020 regional teacher of the year. Summers received the award because of the strong connection she makes between physical health and social, emotional health. And for her commitment to each of her students.
"Ms. Summers is the kind of teacher who instills hope, fosters positive change, and inspires her students to engage in their learning," said Dave Myers, Black Hills High School's principal.
Summers reminds her students that their physical education decisions today will determine their lives tomorrow. Being active helps turn the key to staying active as they age.
"Perhaps the best gauge of a quality educator is whether their imprint lives on in their students after graduation," said Regina Brown, a Black Hills counselor. "Here's where Lisa Summers shines."
Over the years, Summers has stayed in contact with her former students, and she hears what they're saying. They're thankful. In Summers' classes, they've learned lifetime activities like tennis, golf, biking riding, working out, lifting weights. Her ongoing message to her students is to be consistent in their workouts and to always invite others, encouraging them to participate.
"Because as you and I know we want our health and our wellness and our fitness to be an asset," Summers said. "We have many examples of how it can be a liability."
Inactivity, just sitting around and doing nothing, is the door to poor health. That's a message her students learned over the years. Summers has been an encourager to all her students, not just the fast and talented. All kids matter in her classes.
"When it comes down to it, kids respect the way I value them and treat them," Summers said. "And so in return, they put forth. They care. They try. They know that they're going to get a ton of praise. The way in which I accept them I think honors and values their authentic selves."
As her students are working out, or as they're shooting baskets or playing tennis, Summers reminds them about important life lessons. She has two key important messages that she'll include on the bottom of an email or a note she'll share. One is "find your joy." And the other is "no barriers."
"There's got to be some way around that obstacle," Summers said. "It may take years. But when you live with those two things, there's a sense of reality and priority."
Another message Summers shares with her students is for them to find out what they're passionate about.
"To find safe spaces for kids to thrive," Summers said. "You don't want them to survive. You want them to thrive."
As Summers shares with her students in a school year, she tells them it's just more than just a smile. It's about having a meaningful life and about being around people they want to love on.
In her years of teaching, Summers has seen how PE is one of those classes that teaches so many of the social, emotional learning skills. And she sees how students learn how to respect the space and the equipment they use.
Summers talked about the spirit of the games they learn to play, how her students learn to follow rules. When there no officials, she tells her students they self-officiate. That's a life lesson her students learn about keeping track of how they're following rules.
"What we say. What we do. And how we make others feel. That's what's most important," Summers said. "That to me is the spirit of the game. If there is a conflict, I go back to that. What did you say?"
She'll ask her students if they want a second chance to say what they said. A redo on what they said. Would they like to apologize? And that's up to the students. Summers always asks herself what did she and her assistants do? Did they do something that was kind and respectful? Was it inclusive? Did it hurt someone's feelings? How can they correct or keep doing that thing that honors the classmates and friends.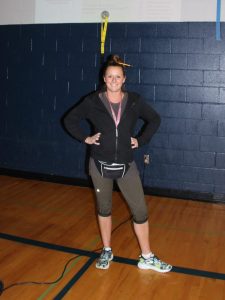 "And then third, how do we make people feel?" Summers said. "It goes back to you don't have to be right, but you need to do the right thing. This week is national kindness week. So in a game that's a passing and catching game in the end zone and every time they receive a pass they have to say thank you. And at the end of the games, they have to thank everybody. We're trying to build those skills and practice what we say."
At the end of a class, Summers reminds her students they all have responsibility to take in the equipment. Discipline is structured.
"The biggest life lesson of PE is teaching a daily habit of moving. Just being consistent about it," Summers said. "When you have it Monday through Friday, they are building a habit. I love that they are in PE because I can say for semesters one and two I know that they moved 180 days. I can make that claim."
That develops a habit of moving, of being active and doing – whether it's playing games or doing exercises.
From her first days at Black Hills back in 1997, Summers has always included life lessons in her teaching. And now she's teaching children of her former students, passing along good life lessons.
"She is totally involved with her kids," said Don Farler, Black Hills athletic director. "Her knowledge of physical education in general is tremendous." And Summers continues to shape lives, enjoying her chance to share and nurture.