A vibration. It's more than just a moving object. Ethereally, it can be the atmosphere of a place. It's a feeling. An energy. A vibe. At Vibrations Salon in Lacey, owners Sophia Beard and Michael Dawly aim to raise the vibration of the salon experience. With a focus on guest experience and culture, Vibrations Salon aims to have your hair and skincare experiences vibing on a higher level.
Sophia Beard knows hair. A firecracker redhead with a fiery passion for hair and beauty to match, she's been working in the industry for 27 years. Originally from California's Sonoma Valley, she trained and worked in California in various salons and on big projects like fashion shows and runway styling. She brought her wealth of knowledge to Thurston County a decade ago, and in June of 2019, was able to bring her long-time dream to life when she and her partner Michael opened Vibrations Salon: A Stylish Collaborative.
"I provide creative solutions for all hair types and issues," Sophia says. "I'm collaborating with my client to create the best style they feel comfortable in." But it's more than just a precision cut or multi-dimensional color. Sophia's real passion is guest experience.
"I'm creating a guest experience that is unique," she says. "I try to touch on all five of the senses." She's transformed a space in the up-and-coming Woodland District of Lacey, next to The Dancing Goats Coffee Bar, to be tastefully decorated and visually appealing. Guests are always treated to refreshments, and those who book on Thursdays for the after-work, evening appointments are treated to hot soup in the winter and hor 'd'oeuvres in the summer.
Sophia takes a holistic approach to cutting, coloring and styling hair. The salon specializes in hair extensions, offering beaded row, tape-in, hand-tied weft and Hairdreams MicroLines.
In fact, Sophia says she is among the very few people in Washington State to be certified in MicroLines, and the only provider of the service in Thurston County. Sophia says it's a big investment to achieve the certification, which is what she thinks keeps most away from achieving the it, but it's an investment that she's willing to make for her clients.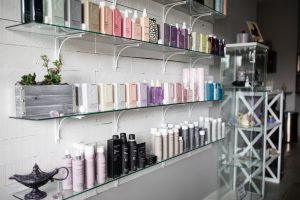 The products used at Vibrations also align with Sophia's mission to tread lightly on the earth and partner with those who "give back" to the community. Vibrations is a Kevin Murphy certified salon, and is the only dedicated Kevin Murphy salon in the area. Sophia is proud of the product line she uses, and the culture that product founder, Kevin Murphy, has created within the hair and beauty industry.
"We are a PETA-approved salon," Sophia shares. With no tolerance for animal cruelty when it comes to products, she also pays close attention to animal habitats as well. "We won't use any product that puts an animal's habitat in jeopardy," she says.
Kevin Murphy products are packaged in 100 percent Ocean Waste Plastic. They've created a circular supply chain where they reclaim and recycle ocean plastics and use them to package their hair products. Their processing facilities are solar-powered, and their product bottles are designed as efficiently as possible to cut down on shipping and unnecessary packaging.
Sophia says this summer her salon will achieve a Green Circle Salon certification, a certification she is really proud of and works hard at. All of the bi-products and waste from salon operations will be sustainably managed, from the hair clippings to the aluminum foils.
The team at Vibrations is focused on the details. From the minute the guest books their appointment, (online, even!), to long after they walk out the door. This attention to detail and rejuvenating guest experience is what garners the salon such rave reviews:
"Vibrations is the best salon I've been to so far! Sofia took the time to go over everything I wanted from my hair, and in the end, I was left with the softest, shiniest hair EVER!!! 10 out of 10 recommended!!!" ~ Kaia H.
Sophia and her team give everything they've got to their guests every day, but Vibrations also gives back to the community, too. Vibrations participates in the Wigs for Kids program, a nonprofit that creates wigs for children in need. "They follow the child through life," Sophia says, "and change the wig and style as needed as the child grows. The wigs are provided at no cost to the family." Anyone wishing to donate their hair can stop in to Vibrations Salon and receive a complimentary haircut. Of course, Sophia treats you to the full Vibrations experience – it's not just a choppy visit.
At Vibrations, the professional development and training of staff is on-going, in addition to the ways that the salon continues to connect with the community. Watch the Vibrations website and their Facebook or Instagram for up-coming events. There are quarterly pop-ups like a visit from Glassy Baby, and monthly events that are more intimate.
"I learned early on," Sophia says, "when I was an up-and-coming stylist, about the heart of this industry. We cater to guest experience because everyone is coming to us with a different experience. Everyone has a unique vibration and we all bring it with us."
Vibrations Salon
4219 6th Avenue SE Suite C, Lacey
360-489-0915 or mystyle@vibrationssalon.com
Sponsored