The Yelm High School boys wrestling team will be adding yet another banner to its already abundant collection.

The Tornados had five wrestlers place, including three who advanced to the tournament finals, to finish third overall as a team at the Class 3A state championships at Mat Classic XXXII on February 22.
Yelm, however, was hardly the only local program to exit the Tacoma Dome with some hardware as Rainier senior Brody Klein won the 160-pound title in the 1B/2B classification and North Thurston's Armani Tonuao, Timberline's Cameron Rosalin, Tenino's Robert Marti, Tumwater's Tyler Woods, and Black Hills seniors Julian Kennedy and Tate Elliott all closed their stellar seasons with top five state placings.
Mount Spokane captured the 3A state title for a third consecutive season after finishing with 141 points. Edmonds-Woodway was second with 103 points followed by Yelm with 98.
It marks the second straight year the Tornados have placed third as a team and the fourth year in a row they have placed among the top eight. Yelm also picked up an eighth-place finish in 2018 and was fifth in 2017.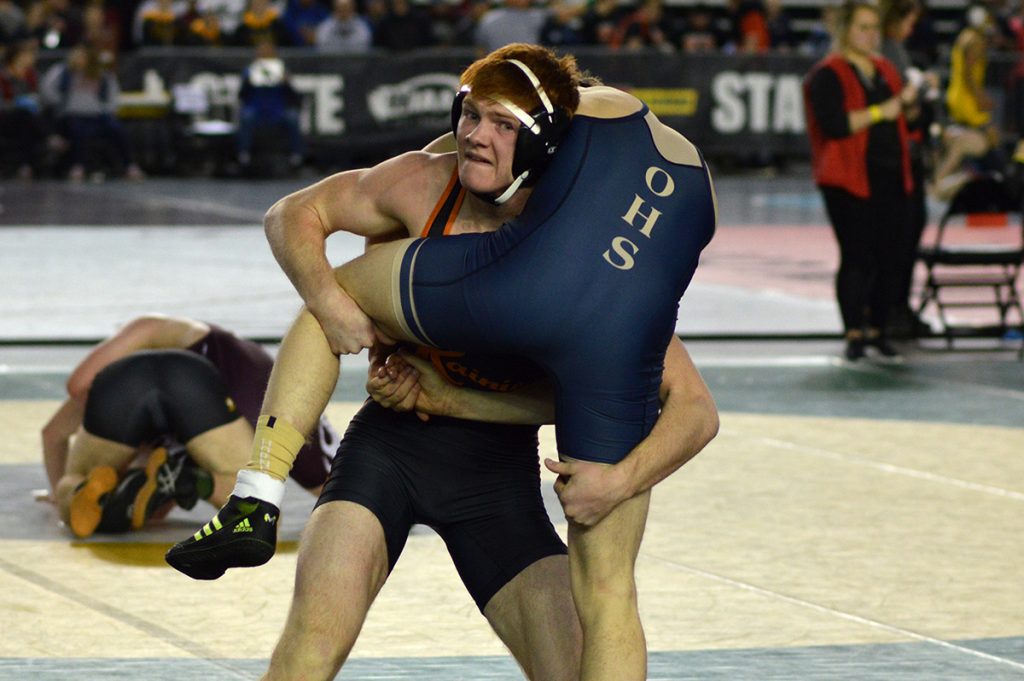 The Tornados received second-place performances from junior Gage Nelson, sophomore Logan Platt and senior Cameron Dubose.
Nelson lost in the 126-pound finals to North Central sophomore Kenndyl Mobley, last year's 106-pound titlist who became a two-time champion after pinning Nelson in 3 minute, 47 seconds in the championship round.
Nelson's road to the finals included a quarterfinal victory via pin (5:07) over Everett's Fernando Vasquez, who entered the state tournament as the division's No. 2 ranked wrestler, and a semifinal win over Shelton's Cameron MacAlevy, who bested Nelson in the semifinals of the Region 4 tournament. Nelson (21-9) won the rematch, 1-0, to secure his place in the championships.
Platt (28-9) finished second in the 195-pound division, losing to top-ranked Blade Gray of Spanaway Lake, 12-5, in the finals
After defeating Wilson's Brock Salatino, 14-7, in the opening round, Platt posted pins in his next two matches, knocking off Cleveland's Dejovonnie Ams (4:15) in the quarterfinals and Squalicum's Bryson Lamb (:36) in the semifinals.
Dubose became the third Yelm athlete to finish second in the 3A ranks after losing in the finals to defending 220-pound champion Dustyn Camacho of O'Dea. Dubose (24-8) secured his place in the championships by beating second-ranked Savion Galloway of Cleveland in the semifinals.
The Tornados also received a fourth-place finish from senior Eli Osso at 145 pounds and a seventh-place finish from senior Braden Hill at 182.
Timberline had a pair of placers at the 3A state tournament with Rosalin (152) and Gabriel Duchesneau (132).
Rosalin, a senior, dropped his first-round match, losing, 3-0, to Devin Leach of Shorewood, but rallied, winning four consecutive matches, including two loser-out matches, to place fourth. Included in Rosalin's run toward a state placing was a rematch against Leach in the consolation bracket, which Rosalin won by pin in 52 seconds.
Duchesneau faced a similar road, losing in the first round, before navigating his way through the consolation bracket to pick up seventh place at 132.
Capital junior Joshua Halpin made a visit to the podium, finishing seventh at 120 pounds.
North Thurston's Tonuao placed fifth at 285. The junior advanced to the semifinals before losing to eventual state champion Jahvius Leui of Chief Sealth, 6-2.
"Armani is such a great kid and we are incredibly proud of what he was able to accomplish this season," North Thurston assistant coach Erich Weight said. "He's only been wrestling for three months. He joined our team in December and has really embraced being a part of our program."
Black Hills received a second place from Kennedy at 182 pounds and a third from Elliott at 285 in the 2A state tournament.
Kennedy registered pins in his first three matches to punch his ticket to the finals before losing to West Valley of Spokane's Gahe Caro. Kennedy caps his high school career as a three-time state placer.
Elliott, who finished fourth last year, dropped to the consolation bracket following a quarterfinal loss. He would not lose again, rattling off four straight victories, including a win over Foster's Rico Halsell by pin (3:40) in the placing round.
Tumwater's Tyler Woods placed fifth at 195, while teammate Reece Martin was eighth at 145.
Rochester also had a pair of state placers at the 2A tournament in Riley Cohron (sixth, 145) and Jayden Lancaster (seventh, 152). River Ridge's Sammy Lile was sixth at 120 pounds.
Olympia's Luke Martin was sixth at the 285-pound 4A tournament and Marti of Tenino placed fifth at 220 in the 1A classification.
Klein captured the 160-pound championship in the 1B/2B state tournament after defeating top-ranked Abram Foreman of Kalama, 10-6, in the finals. Klein, who was ranked second in the state entering the tournament, lost to Foreman in the region championships, 8-7, the previous week.
The Mountaineers also received a sixth-place finish from Jayson Ducey at 106.