In the days before Magnetic Resonance Imaging (MRI) became common as a way to map soft tissues, joint replacements and surgeries were like exploratory missions. Surgeons didn't have additional insight as to what they would find once they made their first incision and had to be at times prepared to deal with the unexpected.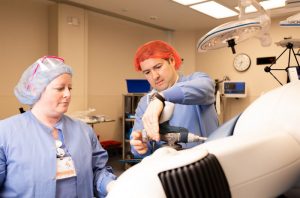 Today, through advances in both medicine and technology, physicians have a much better idea of what to expect. Robotic-assisted surgery is the latest way for surgeons to create the best possible outcomes for patients. In January 2020, Capital Medical Center (CMC) became the first in Thurston County to offer robotic-assisted total and partial knee replacement and total hip replacement.
Overall, the orthopedic field is moving toward this type of surgery. According to IMARC Research, 5 of the world's 10 largest orthopedic device companies have introduced or acquired robot-assisted surgical platforms since 2018. Among the 10, the largest is Stryker, which generates $13.6 billion annually. CMC purchased a MAKO robot from Stryker in 2019 because it offers the latest and best technology. "The robot allows me to offer cutting-edge technology to our patient population that helps me do the best job possible for their surgery," says Dr. Darrin Trask, an orthopedic surgeon.
Several aspects of the surgery are responsible for those results. The first has to do with software that allows the surgeon a virtual 3D tour of the patient's entire joint and all of its surrounding tissue. The surgeon can then make any necessary adjustments before ever making an incision. The plan for surgery is actually programmed into the technology of the robot.
"Using the robot as a tool helps me create much more of a patient-specific plan for that surgery," says Trask. "It lets me anticipate what is going to happen during the case. I am much better equipped to tailor a plan than when I use manual instrumentation, where I have starting points but then I need to make little tweaks. The robot helps me get there more efficiently."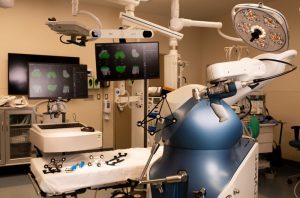 Once the procedure begins, the robot provides real-time visual, tactile and auditory feedback to ensure accurate resurfacing and implant positioning. The system will actually shut itself down if the surgeon attempts to perform an action or make a cut outside of the pre-programmed plan, thus reducing the chances of a slip or mistake. "I'm able to customize a surgical plan specifically based on the patient's CT scan and the state of the soft tissues around their knee or hip," says Trask. "It helps me give them a very consistent result."
As of 2020, most knee surgeries at Capital will be performed using the technology. Trask uses it on almost all partial knee replacements. For those needing hip replacements, he'll use the robot in cases that require a posterior approach, approximately 30 to 40 percent of patients, or those with a significant deformity.
It's too early to have much data available on long-term results of robotic-assisted joint replacements, but clinical studies have already found some short-term benefits. MAKO knee replacement patients surveyed six months after surgery reported lower pain and better satisfaction scores than those who received a conventional joint replacement.
Trask expects to see improved survivorship of implants over time because the curve for implant placement will be much tighter. "As we gain a better understanding of what an ideal component position is for each patient, I think robotics will allow surgeons to achieve that goal most consistently," he says. "I also think that as robotic-assist is more widely used across joint replacement surgery, the revision applications of this technology will take a giant step forward."
The service is now available at Capital Medical Center. Prospective patients should consult an orthopedic surgeon such as Dr. Trask for more information on robotic-assisted surgery and to determine whether it's right for them. Learn more at the Capital Medical Center website or by calling the provider referral line at 1-800-798-5143 to be connected with someone who can assist in the process.
Sponsored