Pam Corwin, owner of Paper Scissors Rock, has been a successful artist and business owner for nearly 40 years by continually experimenting with different products and materials. Her art is colorful, whimsical and unique. "That is how my business started and got really big," says Pam, "making really unique things."

In the Beginning, There Were Eggs
Pam came to Olympia to study photography at The Evergreen State College. After graduating, she worked at the women's shelter in downtown Olympia. "In fact, we named it SafePlace while I was there," Pam shares. She kept her creative juices flowing in her spare time. "I was hand painting little eggs as gifts for Christmas and Easter," she recounts, "and everyone was saying, you should sell those."
When the funding ended for her position at SafePlace, she took the leap and applied to sell her embellished eggs at Pike Place Market in Seattle. She passed the juried application process to sell at the market, and set up a booth with her wares. "I sold out every day," she exclaims. "I couldn't make enough, so I never got another job."
Pam painted hollowed out chicken eggs with images for every holiday. She also painted characters from nursery rhymes. Then one day, she found a weird little egg at an antique shop that held a tiny scroll with a short message on it. "I just was obsessed with it," she shares. "I came home, and I thought I have to figure out how to make something like that." That was the springboard for her painted duck eggs.
"Duck eggs are much stronger than chicken eggs," Pam explains. Each of her duck egg creations had a four-foot poem in it that she wrote to commemorate different holidays. You could pull a string to reveal the message, then wind the tiny crank, and the message rolled back inside the egg.
A decade flew by as she learned to run a business and make stock faster. Her fanciful eggs gained a following from repeat customers and collectors. Her work garnered attention from reporters, leading to interviews on national TV. "The next thing you know, I'm doing an egg for the 1996 White House Easter tree," Pam says.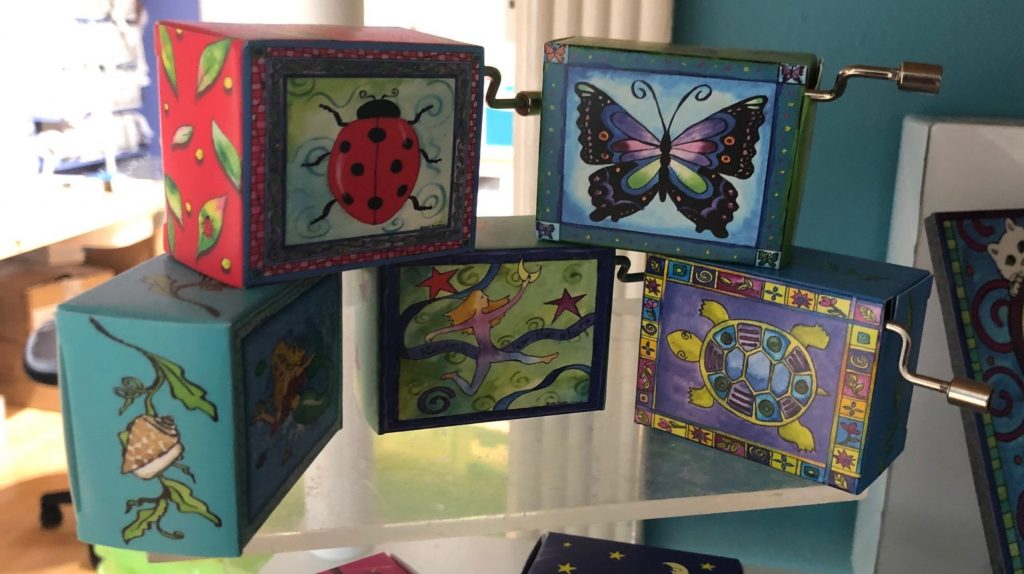 Then Came Plastic
Pam's next innovation involved a material called Friendly Plastic. "I found it before it became a fad," she says, "It looked like colored titanium. You could heat it in hot water, and mold it and make jewelry out of it." Her jewelry creations again became hugely popular. "I would have lines waiting at my booth," she recalls. Then everyone started using the material for their homemade crafts, and her sales dropped.
Going Wholesale
Next Pam started making prints of her drawings and paintings, which she then made into household items like clocks, night lights and magnets. "It became a multi-product line," she says. "I did the artwork and then that artwork would become many different products that complement each other."
With the help of a friend, Pam took another leap and set up a booth at the Seattle Gift Show, a wholesale trade show for gift stores. "It's a completely different business," Pam says of the wholesale market. "Basically you have to learn everything all over again, because the pricing is different, the way you talk to customers is different, the way you ship is different."
"I loved doing it," Pam says of the hectic life of wholesale art production and sales. "I'd travel, get off an airplane, go into a store and they would have my stuff in it," she smiles. "It's just nice."
Sharing the Knowledge
Pam has written articles for all sorts of craft magazines, and teaches classes on how to run an art-based business. "I have been doing weekend workshops and eight-week workshops on all the aspects of starting a business and selling your art," she shares. She also hires out as a consultant.
Drawing, painting, making her artwork into other saleable items, going to trade shows, selling and shipping orders, Pam has put a lot of energy into her business and it paid off. Then writing articles, and teaching classes on top of it all. "I was really busy, but I loved it," she says. When you are doing what you love, it doesn't seem like work.
What's Next?
The trade show world is changing, and for a couple years, Pam had to take time off to help her ailing mother. She still drives to Seattle every Saturday to run her booth at Pike Place Market. "I started there," she says. "It's been 40 years in October." That booth is where she tests the market for each new product. If an item sells well at the booth, she knows it's a keeper.
Lately she's been painting acorns. "I don't know what I'm going to do with those," she admits. "but I just started painting acorns. I don't know what made me decide to do it. I don't know why I can't stop." She's experimenting with different types of paints and glazes.
"It's so much fun," she says. "It's like meditation. That's how my other drawings are too. It's really meditative."
Pam's work can be found at gift stores nationwide, at her booth at Pike Place Market and her website.