UPDATE: This event has been cancelled.
Pi Day is approaching fast! Who doesn't love celebrating with a delicious slice of pie, or two or three. The return of Senior Services for South Sound's Pie Fest is a delicious opportunity to celebrate pie and π in Thurston County. The much beloved annual tradition is in its 2nd year after taking it over from the Pie Guild; we couldn't let this tradition die! Whether your favorite is apple, peach or blackberry, you are sure to find the perfect pie to satisfy.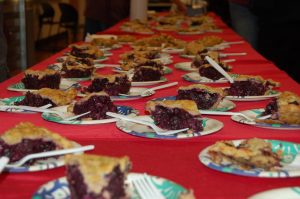 Pie Fest will be held at the Olympia Senior Center on Saturday, March 14 from 12:00 p.m. to 3:00 p.m. It is open to all ages and will feature many types of pies, including some gluten-free and sugar-free options, only while limited supplies last. There will also be a Best Pie Bakeoff and the winning pie from each category will be sold to the highest bidder.
Stop in to listen to live music, take part in the raffle or just enjoy some incredibly delicious pie. Individual slices of pie are just $3, and all of the money raised will go to help end food insecurity in our community. "Funds raised will go towards the Senior Nutrition Program (SNP) helping those who are homebound and receiving food from Meals on Wheels or seniors joining us for community meals at one of our meal sites," says Stephanie Penland, assistant director of SNP for Senior Services for South Sound. Funds will also go to the Thurston County Foodbank, which assists thousands of people experiencing food insecurity in our community.
If you are feeling inspired, bake up a couple of pies and enter the Best Pie Bakeoff. Simply bake two pies from scratch and drop them off at the Olympia Senior Center along with the entry form and a five-dollar entry fee between 10:00 a.m. and 11:00 a.m. the day of the Pie Fest. Contestants will be judged in the Youth (15 years and under) and Adult (16 years and older) categories. All the contest rules can be found on the entry form. Print out the entry form or pick one up at the Olympia and Virgil Clarkson Lacey Senior Center reception desks.
Senior Services is still searching for qualified judges for the bake-off. If you are interested in being a pie judge, email Stephanie Penland at nutritioncoordinator@southsoundseniors.org or call her at 360-586-6181 extension 124.
Come out and join Pie Fest on March 14, Pi Day, where helping those in need is easy as pie.
Sponsored