Nearly everything at Sandstone Distillery in Tenino tends to be repurposed from something else. Their equipment, mostly revitalized from other industrial operations, has been given new life while retaining some of its original nature. The staff members also take great pride in maintaining the area's local history and the art of craft distilling. Likewise, the mosaic of life experiences shared by the Sandstone crew bring fresh perspectives to each task and the overall workflow each and every day.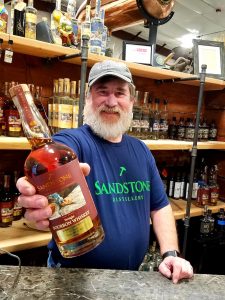 Randy Rawson, although one of the newer members to the team, is already considered an integral part of the Sandstone family. Randy has spent the last two years volunteering his time in both the operational side of Sandstone as well as in the tasting room and guiding tours around the Distillery, adding in his natural charm along the way. His experience is invaluable and an unflappable asset to Sandstone. "Randy brings not only humor and insight, but also a wide array of life experiences and creativity to his work at the Distillery," states Jennifer Bourdon, CFO and co-owner of Sandstone Distillery.
Randy was born in Compton, California. At 10-years-old, his father decided to move the family to Northern California where he purchased an apple farm. After his father's interest in farming turned out to be short-lived, he returned to Southern California, leaving Randy, his mother, and younger brother and sister behind to run the farm. In keeping with the practices of the agricultural community at the time, Randy's family emancipated him at 14-years-old in order to avoid child labor laws and to allow him to obtain his driver's license so that he could drive the farm truck and other equipment. When Randy was 16-years-old, his mother also decided to part ways with the farm life, taking his younger sister to Oregon, and leaving Randy in charge of both the farm and his younger brother.
Between the ages of 18- and 20-years-old, Randy followed in his father's original vocation and worked in an auto body shop, before finally finding his true life calling: law enforcement. He spent nearly three decades serving the community. His work included 10 years as an undercover drug officer, 20 years as a firearms range instructor, a driving instructor, and bomb technician, as well as 15 years in high-risk warrant service. Randy retired on medical leave following a job injury.
After his many years dedicated to the law enforcement, Randy was searching for a change of pace and reinvented himself as a sous chef in a French restaurant for three exciting years. He also became an instructor under the head chef at Santa Rosa Junior College in the culinary program.
Restless, Randy once again decided to change career tacks. Honing in on his artistic skills, Randy spent the next handful of years as a tattoo artist and eventually specialized in permanent makeup removal. The grand majority of the following decade was filled with work at his gunsmith business while simultaneously working as a casino security director.
Today, Randy currently creates custom street rod builds and is a proficient and prolific auto enthusiast and mechanic. The jack of all trades also finds great passion working alongside the staff at Sandstone Distillery in Tenino where he is able to once again put his multitude of skills to good use. You will find Randy in the distillery three to four days a week, where he helps with everything from grinding grains and bottling to helping visitors feel welcome and engaged. Along with John and Justin Bourdon, his expertise in welding and mechanics makes him a vital part of the operational team. His time working in the kitchen is also brought into play as his masterful culinary skills help design new craft cocktails and paired bites. "Randy also works closely with Justin to create new infusions for our Speakeasy 375 Spirits Club," explains Jennifer.
When asked what brings passion to his life, Randy's immediate reply is, "New things! I really like learning and doing new things. And, also, I really like racing cars, but I can't do that anymore. Hey, I'm not just a pretty face, I know stuff too."
So, what's on the docket for his next five years? "Heck," exclaims Randy, "I don't know. I don't really plan it out, I just do stuff and things happen." He jokingly adds that he's already about 20 years past his expiration date anyway.
Wherever his next path may lead, it's safe to assume that everyone at Sandstone is thrilled to have him on board and are excited to see what adventures he has up his sleeve.
Take a Sandstone Distillery tour with Randy and try out his favorite spirit, the bourbon, on your next visit. For more information, visit the Sandstone Distillery website.
Sponsored