While you may see Valentine's Day as just a commercial holiday to get people to buy jewelry, chocolate and roses two months after Christmas, it can be so much more. It's a great time to remember the loved ones in your life – especially your kids. They make our lives full and bring love into our lives that only a parent can understand. So, instead of a date night and a babysitter, opt to do something the entire family can cherish as a celebration of what makes you a family: The love you have for each other. Here are a few ways to celebrate Valentine's Day with the kids in Thurston County.

Puget Sound We Love You
February 8, 2020: 10:00 a.m. – 4:00 p.m.
WET Science Center, 500 Adams Street NE, Olympia
Taking your kids to the WET Science Center for free activities and learning is a great way to celebrate Valentine's Day! Fun art projects are planned with a Puget Sound theme, highlighting the incredible creatures living within it that we all love. For more information, visit the Wet Science Center website.
Olympia Valentine's Day 5K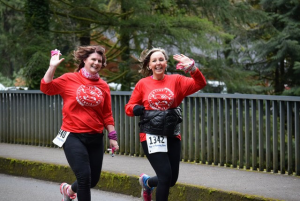 February 8, 2020
Priest Point Park, 2600 East Bay Dr NE, Olympia
The 6th annual Olympia Valentine's Day 5K is happening February 8 and it's a great time for the whole family to do something together, for a good cause. The proceeds of the race go to Thurston County Food Bank's FORkids program. This program creates weekend food bags for children who rely on free and reduced lunches at school. The kids dash is free, however they ask that you bring along certain food items to donate. The donation list, along with registration information, can be found on the Olympia Valentine's Day 5k website.
Create Homemade Valentine's
No reason to go to the store and buy Valentine's – a fun craft project for our dreary February weather includes cutting out paper hearts, plenty of colored markers and lots of glitter! This is a fun, inexpensive way to celebrate Valentine's Day. And, if you feel extra nostalgic, hunt down a copy of "A Charlie Brown Valentine" to watch with your kids.
"Lucky Star"
February 14: 7:30 p.m.
The Washington Center for the Performing Arts. 512 Washington Street SE, Olympia
If you are looking for something to do on Valentine's Day with older kids, check out "Lucky Star" at the Washington Center for the Performing Arts. This 1924, black-and-white silent film is a classic romance starring Janet Gaynor and Charles Farrell. Watch the film while listening to live accompaniment on the Washington Center's Might Andy Crow Wurlitze Organ by world-class theater organist Dennis James.
Head Out for Hot Cocoa
The weather is chilly, making it perfect for a nice cup of hot cocoa. Why not take the kids somewhere for a special cup? Places like Mud Bay Coffee and Phoebe's Café have cozy seats and fireplaces to cozy up to while you enjoy your drinks. Have the barista add some raspberry or strawberry syrup to the hot chocolate, to make it more "valentine-y." It's memories like these that you will remember long after they have grown.
Send Valentine's to Veterans
Each year, a Valentines for Veterans Drive in Thurston County encourages students to send valentines to thank veterans and first responders in the South Sound Community. Valentines can be sent by students of all ages and grade level. Drop off the Valentine's Day cards at Congressman Heck's district office between 9:00 a.m. and 5:00 p.m., Monday through Friday, from now through February 12, 2020. The Address is 420 College Street SE, 3rd Floor, Lacey.
Thrifty Thurston highlights inexpensive family fun in Thurston County. The weekly series focuses on family-friendly activities throughout our community. If you have a suggestion for a post, send us a note at submit@thurstontalk.com. For more events and to learn what's happening in Olympia, Lacey, Tumwater and the surrounding area, visit our complete events calendar.