There's no question that animals have a powerful impact on a human's life. Studies have proven over and over again that beyond the cute and cuddly, pets enrich our lives, give us emotional support and for some, even assist us in our daily lives. And when life gets hard, we need our pets more than ever. Covenant Creatures, a 501(c)3 non-profit organization, understands this and helps keep pets with their owners during those low points when they need them most.

"Everyone deserves companionship; we find that many of our clients take better care of their pets than they do of themselves," says Chrissy Bailey, a volunteer at Covenant Creatures. "They get judgement-free, unconditional love from their pets, and often times the pets give their people something to look forward to and a sense of hope."
Covenant Creatures was created to help those living on the streets, the working poor, the disabled and seniors take care of their pets. "I think we really help people maintain their dignity when they are at a point in life where it is difficult to take care of or afford having pets," says Chrissy. "I think it's also important to make sure folks don't feel forgotten. The community cares about them."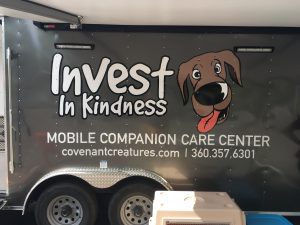 Their work includes two parts, services and education. Services include basic veterinary care, including vaccines, and basic supplies such as food, beds, leashes, etc. Many of their supplies are provided through in-kind donations, while the rest are purchased using funds. Thanks to their Mobile Companion Care Center (MCCC), Covenant Creatures is able to have open hours with volunteer veterinarians and veterinarian technicians, for people in need to come with their pets. "Our MCCC allows us to do the most unique part of our outreach, which is providing very low cost basic veterinary care for our client's pets," explains Chrissy. "It allowed us to get back on the street after almost two years without a location out of which to operate."
The MCCC can be found in the parking lot of the Olympia Veterinary Specialist, who allows them to park there twice a month to do their services. "Our veterinarians and technicians provide basic vet care," explains Chrissy. "For example, vaccines, examinations, flea treatment, etc." The MCCC is open every second and fourth of Sunday of the month, from 1:00 p.m. until about 4:00 p.m. Chrissy says that if it's slow, they may wrap up early.
They cannot perform any surgeries. "In cases where a client meets our financial guidelines and their pet needs veterinary care we cannot provide," she adds, "we do have a fund, Flash's Fund, which allows us to refer qualified owners and their pets to another veterinary clinic for care. Covenant Creatures will coordinate assistance with veterinary offices directly." This means that the money is not given to the pet owner, but handled directly between Covenant Creatures and the veterinary clinic.
The level of involvement by Covenant Creatures depends on the specific case and many factors. In general, however, they use the Federal Health and Human Services poverty guidelines and inflates them by 20 percent. "Clients qualify for our services if they make less than the designated amount, which also takes into account household size," Chrissy explains. You can find their financial guidelines on their website. There are certain things they do not help with, including spay and neutering. Chrissy explained that this is because there are so many other resources with low or no-cost spay and neutering, that Covenant Creatures decided to use their funds to help with low-cost vet services that are not often found elsewhere.
And the help they give is well received by everyone. One young dog, Lilly, needed a front leg amputated after repeat fractures. The owner could not afford it and came to Covenant Creatures for help. "Lilly's original owner did what he could for her, but she is now in our care and rehabilitating after surgery in a foster home," Covenant Creatures wrote on their Facebook Page. Thanks to their Flash's Fund, Lilly is in full recovery.
Education
The other part of their mission is education. Covenant Creatures helps dog owners with common questions they may have about taking care of a pet. "We commonly have conversations with our clients about the benefits of spaying and neutering their pets, proper feeding and nutrition, flea control, and disease treatment and control," shares Chrissy. "We also have conversations with clients about service animals, resources for training, and at our annual Love a Pit Bull Day event in September, we typically offer Canine Good Citizen testing."
If you need assistance, you can contact Covenant Creatures through their website, by calling 360-357-6301, or by dropping by their Mobile Companion Care Center during operating hours. If you are looking to help, they can always use monetary and in-kind donations, as well as volunteers in all capacities from community outreach and grant writing and event help. To drop off donations, head to Lacey Chiropractic, Hawks Prairie Veterinary Hospital, Deschutes Animal Clinic, Fluffy n' Floyds, Tumwater Mud Bay Grainery or Olympia Veterinary Hospital.