Parents desiring education for their children aside from public schools are fortunate to have choices in the Olympia area. These schools offer more child-led, personalized and experiential learning," said Janice Rosen, who handles enrollment for the Olympia Community School. There's no time like now to learn about your options whether you are seeking immediate placement or looking ahead to summer and fall. The Olympia Community School is hosting an Alternative School Fair on Saturday January 18 from 1:00 p.m. to 3:00 p.m. This is a chance to bring your kids along with your questions for a lively afternoon of conversation and activities with teachers and other like-minded parents.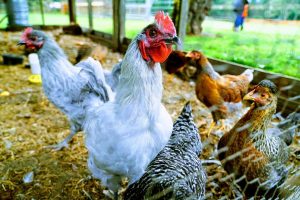 Early Learning Outdoors
An exciting addition to the alternative arena of learning environments is Sequoia's Farm and Forest School. Near the Sequoia's Treehouse Children's Center on South Bay Road NE, the new property features over four spacious acres that are ripe with a full menu of outdoor experiences. Business owner Sequoia Hartman has long held a vision to run her own farm-oriented school. "I specifically purchased this property so I could have an outdoor school." Half-day sessions are already underway with expansion to a fully licensed, all day facility coming this fall.
Sequoia's Farm and Forest School is part of a pilot program with the State of Washington to become a licensed outdoor school. It is an emerging type of school needing its own rules and regulations. Required paperwork and inspections are scheduled to be complete for the fall session. This will allow the school to operate full days, which is essential for working families. The licensure allows families with government assisted education funds to attend. Parents will appreciate the ratio of adults to children, which is one to six.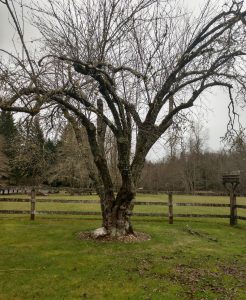 Acquiring the property on 36th Ave NE last year was a critical piece to putting together the puzzle. The property has functioning outbuildings including a large, cement floored barn complete with a wood burning stove. Prolific, aged fruit trees will provide plums for cooking, canning and delicious eating. Chickens are settled into their coop and keep the school in eggs. There are spaces for gardens and more animals. A pond appears when there is excessive rain. It's an inviting world to learners of all ages.
Education on the farm will be broad and deep. Life on the farm combines science, biology, climatology, chemistry, and art, along with patience and self-control. Children will be involved with the food they eat, from planning gardens to seeding and tending, and ultimately harvesting. They will be learning how to prepare and preserve food. Sequoia believes that as children create connections with the earth through growing vegetables and tending to animals, they become more thoughtful stewards of the resources around them.
It is called outdoor school because most of the time is spend outside. Sequoia's Farm and Forest School does have walled, heated and covered spaces, but for the most part children are dressed to spend their time outside. Many children don't like being inside a classroom all day, and in a short time are quite comfortable in all sorts of weather. There is so much to explore, to understand and to experience while being filled with wonder and gratitude.
A Place for Older Kids
Parents with sixth, seventh and eighth graders will find NOVA an intriguing place for middle school. "We are in a maturing phase of development," noted Barbara Mitchell Hutton, Head of School. Since the early 1990s NOVA has invested in a personalized, challenging curriculum for highly capable learners. Its intimate size allows for timely responses to current issues. Science becomes relevant with time in the field and partnerships with community agencies. The theater and music programs are robust. Social and emotional skills are tended to with the support of a counselor. The adolescent years can be heavy with challenges from all fronts. Nova nurtures the whole person to develop identity and community. The school gives financial aid to 32 percent of the students totaling $300,000 annually.
The Olympia Community School is hosting the second annual event happening within St John's Episcopal Church in Olympia. You are encouraged to come by to explore the options. Find ways to meet the everchanging needs of your children.
Participating schools are as follows:
Preschools: Roots & Wings, Sequoias Treehouse, Westside Cooperative Preschool and Steamboat Island Co-op
Elementary: Olympia Community School and Waldorf
Middle Schools: NOVA
Waldorf High school: Avanti (alterative, public school)
Sponsored