Under the best of circumstances, everyday life has challenges. For veterans living with post-traumatic stress disorder (PTSD) or traumatic brain injury (TBI) hardships are magnified. Even simple tasks can be overwhelming. Regaining independence and finding healing for veterans is the impetus behind All American Assistance Dogs (AAADogs), a small, regional non-profit that matches service dogs with veterans who have emotional and/or physical disabilities. West Coast Supplements, owned and operated by veteran Nic Dunning, wants to bring greater awareness to our community about AAADogs.
All American Assistance Dogs provides an extremely specialized service for veterans. The organization trains capable dogs to perform critical, helpful tasks to make everyday life more bearable. "We are working to give people back their independence," explained Susan Evans, in-coming president and board member. Dogs and veterans are specifically matched. For example, a dog can learn a command to pick up and deliver particular items, such as a medicine bag. For those with mobility issues, a dog can push elevator buttons or door openers. Dogs can sense an owner having night terrors and will lay across their person's chest. In addition to managing tasks, a dog provides steady companionship.
"Dogs are incredible," continued Susan Evans. She has two German shepherds, both certified therapy dogs. Puppies initially pass a temperament test. They need to be smart, socially savvy, fearless in new situations and have the ability to bond. The first six to nine months are spent in the home of volunteer puppy raisers. During this time the young dog attends school and learns manners. Susan explained that a puppy may start out as a liability, but grow into a valuable asset. Though the foster setting is critical for the first months, the first person the puppy meets after leaving the breeder is its future owner. Every week the veteran and the dog spend time together, forging a bond that will last a lifetime. The veteran helps to name the dog, which usually has special meaning like Indi for independence. One dog was named in memory of a commander. Meet a few of the dogs here.
Debi Thayer, cofounder of AAADogs, is the main trainer with 30 years of experience in the business. Her husband, Robert Thayer, is also part of the organization. The other co-founder is Aaron McCarthy, who served as a Marine. "I believe in dogs over drugs," says Aaron.
Get Healthy, Help Veterans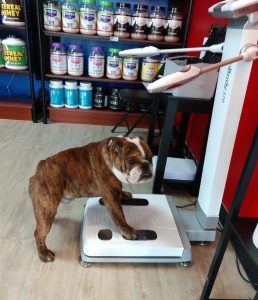 West Coast Supplement Owner Nic Dunning accumulated 10 years in the service as a Marine and in the National Guard. After he completed his duty and left the service, the PTSD came with him. Nic knows first-hand the value of a service dog. His current companion Kobe, an English bulldog, is always close by. As Nic learned more about AAADogs, he became more enthused. It's local, veteran-centered and thorough. The organization stays connected with the dogs and vets for their lives. It's a level of loyalty and commitment that is important to Nic.
If you are interested in living a more healthful life, Nic and any member of his knowledgeable team is eager to have a conversation. The West Coast Supplements stores in Lacey, Spanaway and Kirkland are geared toward service and relationships. From now through the end of February, West Coast Supplements will donate $1 to AAADogs for each person who gets a free body composition analysis. All you have to do is take off your shoes and socks and step on a special scale. In just a few moments, you will have a body composition report.
Your balance of muscle and fat is a foundation for your health and wellness. This medical grade piece of equipment gives you valuable information on your overall health. It also provides a baseline if you decide to lose fat and/or gain muscle. Improved numbers support reducing risk of heart disease, cancer, diabetes and metabolic syndrome. A healthier body produces higher energy levels. Use your information to build a health plan. Future testing will accurately tell you how your body is changing.
You can support All American Assistance Dogs in a variety of ways. You can make donations on the website. If you are a person or family that has the ability and desire to raise a puppy, there is a special link for you. Maybe you know a veteran who could benefit from this program. Veterans must be diagnosed by a healthcare professional in order to get help with a dog. And, for your own edification, stop into a West Coast Supplement location for your personal body composition readout. We all want to feel good and get through our day without unnecessary struggles. Helping yourself can be an excellent way to help others.
West Coast Supplements
Lacey: 1350 Galaxy Drive NE Suite A, 360-628-8622
Spanaway: 15024 Pacific Avenue
Kirkland:12525 Totem Lake Boulevard
All American Assistance Dogs
260-696-3312
Sponsored