Gladys Campbell is one of four independent professional consultants running the CLIMB (Children's Lives Include Moments of Bravery), a cancer support group for children in Thurston County, through the Providence Regional Cancer System. The program is for children 5- to 12-years-old who are coping with cancer in their families.
It all started by a memory that haunted Campbell, an executive consultant who served at the Harmony Hill Healing Retreat Center. During the taping of a local television news special on a program for adults with cancer, the 9-year-old daughter of one participant turned directly to Campbell after the taping, put her hands on her hips and said, "I want to know why you're not doing anything like this for kids."
Sign up now for CLIMB
Meeting January 29-March 4
For information, call 360-358-3348 or email helpkidscope@gmail.com
The question compelled Campbell, who'd grown up with cancer in her family as well, to act. Two and a half years later, and after a partnership was formed with the Providence Regional Cancer System, CLIMB was up and running.
CLIMB provides tools and resources for children living in a family where a parent or sibling has cancer, to reduce their sense of isolation and create a safe space for them to learn how to recognize, name and productively communicate their emotions. Simultaneously, parents meet in their own support group. "They're working on similar issues and trying to see how they can support their child," says Peg Evans Brown, a counselor and one of the program facilitators. "We help the parents while coaching the children."
Anyone can contact the team to learn more about the program. The first step in the program registration process is a formal intake interview during which each child is assessed to determine their readiness for the program. In cases where group work may not be the best option, children and parents can be seen individually and other free resources may be offered.  In October, the CLIMB program was completed, with eight children and their parents.
Aside from Evans Brown and Campbell, the team includes Karen Kirsch, a somatic movement therapist and leader with Wild Grief, a program that uses wilderness therapy for teens and adolescents struggling with loss. Rounding out the group is Debbie Rupert, a pediatric nurse and a cancer survivor herself.  All four are licensed to use the CLIMB curriculum developed by the Children's Treehouse Foundation.
"It's a great curriculum," says Brown. "They've been working on it for 10 years, so they got all the bugs out and it's utilized across the nation." During each session of the six-week course, participants focus on a specific feeling, starting with happiness and working their way through emotions like confusion, fear and sadness. Children are assisted to understand, name, and express their feelings in a healthy way. Every week also includes artistic and movement exercises related to those feelings.
One of the later emotions they work through is anger. During that session, each child receives a small, soft-sided cube with tiny envelopes on each side. "We give them six cardboard pieces of paper and brainstorm about things they can do when they're really mad that are helpful and don't hurt anybody," explains Campbell. "Maybe you can talk to your dog or go for a walk." The children write down options for each envelope, then roll the dice and role-play the option they get.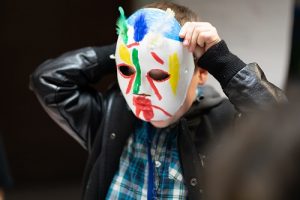 Art projects also play a large role. One of the first things the children do each week is draw a picture that shows how they're feeling as they enter each session. During the session on sadness, they decorate both the inner and outer sides of masks to illustrate the difference between how they feel and what they sometimes show to the outside world.
The process helps them to not only identify but explain how they're feeling. After the session on fear, one mother reported that her son had come into her room one night and said, "I can't sleep, mom, because I'm scared."
"He'd never used that kind of language with her before," says Campbell. "These are the little things that tell us something important is happening here. If you can claim it and name it, you can deal with it. It's such a simple concept that we don't pay enough attention to."
Now that the first six-week program is over, the team has heard from children who want to continue meeting. The CLIMB team is exploring the idea of adding healing circles for CLIMB alumni as a way to provide ongoing support and track the program's impact. "We know from studies that there's a change in affect and behavior that coincides with a parent's diagnosis of cancer," says Brown. These changes include refusal to talk about cancer, over-responsible behavior, physical complaints, changes in school performance, significant changes in social behavior, withdrawal, verbalization of fear, sleep disturbance, clinging and anger.
"These are the issues we're targeting. There hasn't been a study of the long-term impact of programs like this yet. With healing circles, we can track these families and find out how they're doing."
Providence plans to continue CLIMB in 2020 and the program is actively seeking volunteers. To learn more about the program, to register for the winter CLIMB, or find out about volunteering, call 360-358-3348, email helpkidscope@gmail.com or visit the CLIMB website.
Sponsored