Cooking is back with a vengeance. Gone are the days of frozen dinners and greasy fast-food. From grocery delivery services to meal kits that arrive prepped and ready to go, Americans are eating at home much more often. It's often cheaper, healthier, and a fun, immersive family activity for all ages. But however your ingredients find their way to the kitchen, the actual cooking requires a few specialized tools. Don't try to make do with that melted rubber spatula and splintered wooden spoon. Head to The Rolling Pin for gadgets, utensils and goodies galore.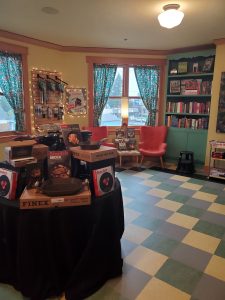 Located at 1909 Harrison Avenue with the Park Side Café, The Rolling Pin bravely opened its doors on Black Friday 2019. Both the business and the building are brand new and full of culinary delights thanks to owner Alicia Elliott. "It is a part of my restoration of this block," she explains. "I began the building three years ago and as early as two years ago planned the cafe and the kitchen shop. I love the beautiful greenery of the area, the way the neighborhoods are set up and the potential for new projects to flourish."
Products they sell include cook– and bakeware, cutlery, utensils and rolling pins, accessories, cookbooks, and appliances like pasta rollers, cooking thermometers and veggie spiralizers. For visitors to the gorgeous new building, come for lunch in the Café then explore upstairs for all the tools you'll need to make delicious meals at home.
If stairs are tough for those with mobility issues, never fear. "We offer shopping online to customers in the building that have difficulty climbing the stairs," explains Elliott. "We will have an iPad tablet for them downstairs to scroll through all of our items for sale. Then one of our sales folks can come down and show them the product in person! We do have an extensive library online of our entire inventory. We pride ourselves on giving our customers a personable and human shopping experience."
Elliott has lived on Olympia's West Side with her family since 1991. "I love the area and became interested in restoring a portion of the West Side as my sons graduated high school," she says. When not working, she enjoys spending time outdoors, working with animals, playing guitar, and—of course—cooking.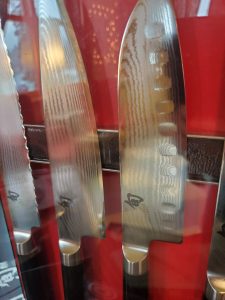 Over the holidays, the regular store hours of 10:00 a.m. to 6:00 p.m. will change for the season. They'll be open until 8:00 p.m. December 21 through 23, but close at 5:00 p.m. on Christmas Eve and be closed all of Christmas Day. Shop early the weekends of December 14-15 and 21-22 because the first 10 customers each day will receive a 25 percent discount. There will also be a raffle from December 15-22 for a brand new $150 Shun knife. Come by the store and purchase tickets for $5 each or receive a free one with any purchase over $5.
More than just a tool, Shun knives are described as "functional works of art…every knife is handmade by highly skilled specialists and requires at least 100 handcrafted steps to complete." They come from the Japanese sword-smithing tradition and a parent company thatt has spent more than 100 years combining "the newest technology and the most advanced materials."
But at the end of the day, Elliott and her team at The Rolling Pin primarily hope to serve and educate. "My goal is not to profit, but more to enrich the community around it," says Elliott. "The Rolling Pin is excited to serve Olympia's kitchen needs in every way. Our goals include striving toward sustainability and offering enduring and locally made products."
Follow them on Facebook and Instagram for a stunning virtual tour of the space, products and holiday gift ideas. Better yet, drop by and talk through your latest culinary conundrum or prep for the recipe you've always wanted to try. Call 360-754-3955 with questions.
Julia Child once said that "You learn to cook so that you don't have to be a slave to recipes. You get what's in season and you know what to do with it…I think careful cooking is love, don't you?" Whether you pick up the freshest treats at The Olympia Farmers Market or bravely tackle a weekly CSA Farm Box of goodies, cooking is relaxing, fun, healthy and—if you've got the right tools—much less scary than you think. Just ask Elliott and The Rolling Pin team, they've got you covered.
The Rolling Pin
1909 Harrison Ave NW Suite #2, Olympia
360-754-3955
Sponsored