Do you want to eat more produce, and try new varieties of veggies all summer long? Do you want to support the local economy while getting your kids excited about eating their greens? Do you want to preserve farmland and open spaces in and around Thurston County? Would you like to give local farmers a raise? Then a CSA is probably for you. CSA stands for Community Supported Agriculture, and Thurston County is brimming with CSA options.

Here's how it works. You, the consumer, pay up-front for a season's worth of high quality produce and farm products. You are buying a share of the farm's harvest, and will receive a weekly box of great tasting, super fresh produce at a great price. Because you have paid up front, the farmer has more time and money to invest in growing great crops for you, the consumer.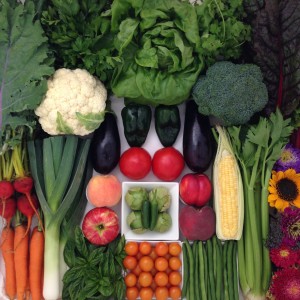 "In order to have this plentiful, abundant local, regional, strong, vital food supply that we have in the South Sound region, it's important to pay it forward and invest early on in the season into the food system and local farms. By investing, you're guaranteed a piece of the harvest," Mary DiMatteo, Community Outreach Manager for the Olympia Farmers Market, explains.
When you purchase a CSA you do assume some of the risk of farming. "With CSAs, the consumer invests in the farm. By investing in the farm, you assume the same risks as the farmer, and farming is risky business," Mary says. However, especially with an established local farm, this is unlikely to mean a loss of your investment and more likely to mean that you get fewer peppers and more carrots, for example.
All of the local CSA farms use organic practices and work hard to preserve soil health, protect the environment, and grow produce that is safer, healthier, and tastier for the consumer. "One of the great things is that it diversifies intensive agriculture. It's not a monoculture – if one crop fails, there's an abundance of other crops and other beneficial insects, or other genuses that aren't susceptible to the pests that a monoculture is susceptible to. Diverse agriculture ensures a healthy harvest," says Mary.
When you purchase directly from farms it helps farms to stay in business and pay a living wage. "Selling direct to the CSA is the best way to create a stable economy for us, the farmers," explains Sue Ujcic, co-owner of Helsing Junction Farm. "When we step away from that, everyone is taking their cut. When we wholesale, we only get 20 to 25 percent of that dollar. The CSA is truly the best model to support agriculture."
As a result of supporting local farms, open spaces are preserved for future generations. "We have (a projected) 100,000 people moving here in the next ten years, and the fact that people are able to support open space and farmland in our county is really important," says Sue. "By supporting all of the local farms in our area, through farmers markets, through CSAs, doing anything you can, I think it's going to be a golden opportunity, because you're going to want to see these places 20 years from now."
"Buy direct from your local farms so they can remain here," says Sue.
And because CSA produce is so fresh, it tastes better and is more nutritious. "Customers are getting a better product. It is fresher. We grow varieties that just wouldn't hold up in shipping, so they get the most amazing varieties of food," Sue adds. "And that's another part of the nutrition package. Eat the rainbow. Try to create as many different kinds of food. It's more interesting food, with far more flavor, and better nutrition."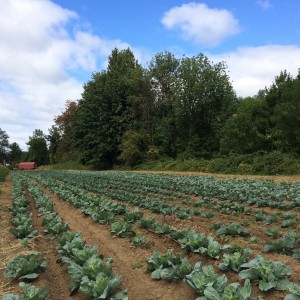 Most local CSAs have a season of 18-22 weeks from approximately June to October, and costs range from about $300-$800 depending on the size and duration of the CSA. Pick-up sites around Thurston County are numerous, including the Olympia Farmers Market and many local businesses. Some farms will even deliver to your doorstep for an additional fee, and Helsing Junction Farm offers free delivery for seniors. Most farms accept SNAP benefits and some farms allow periodic payments to be made, although usually payment is expected up-front. Spring is, of course, the ideal time to sign-up, so don't delay.
Joining a CSA is a step towards improving your own health and the health of the community. "By buying local food, we help keep farmland in production. We stimulate the local economy. We preserve farmland. We save on resources. We lower our carbon footprint. We have a connection to the farmer and the land our food was grown on. We help kids recognize the value. We protect the genetic diversity of heirloom varieties," Mary shares. "It's homeland security. Homeland security is, in my opinion, a strong, vibrant, regional food system."
Here is a partial list of local farms with CSA programs available in Thurston County.
Rising River Farm
Boistfort Valley Farm
Pigman's Produce
Helsing Junction Farm
Wobbly Cart Farm
Kirsop Farm
Caliope Farm
GruB (Garden-Raised Bounty)
Evergreen Organic Farm
Creation Organics