Life is about to get more convenient for 15,000 Kaiser Permanente members throughout the Puget Sound region. In December the healthcare provider will open a new clinic in West Olympia that will serve residents of Thurston County and outlying areas, including Mason, Grays Harbor, Pacific and Lewis counties.
"This will allow us to provide services more conveniently and it brings the care a bit closer for all of our members." says Dr. Trudy Woudstra. "When I talk to my patients about the clinic opening, they're excited about it." Woudstra will be the Primary Care Chief at the new facility.
The clinic will provide primary care services through seven providers, starting with four doctors, as well as lab, x-ray and pharmacy services. The building was designed to facilitate aspects of Kaiser Permanente's coordinated care model, which emphasizes an integrated team approach to patient care.
Overall, Kaiser Permanente is extending services throughout the Puget Sound region with five new clinics over a span of several months. Facilities in Gig Harbor and South Lake Union are already up and running and in addition to the West Olympia clinic, the group will open two more, Ballard in December and Smokey Point in early 2020. "We are committed to expanding convenience for our customers in Western Washington," says Karin Schulze, medical center manager.
Since its founding, Kaiser Permanente has offered health care coverage and treatment through a single, streamlined system and many existing clinics provide coordinated services and specialties on site. The new location is an opportunity to add a team component to that approach, says Woudstra. "We're changing the way we deliver care with a tighter community of providers and staff who are working together for individual patients," she explains. "We're getting away from that model of individuals having a panel of patients and moving toward working together as a team."
The approach offers multiple benefits and not just for patients. Instead of trying to cram everything into a brief appointment, primary care physicians can now rely on a collective of health care providers, including nurse practitioners, lab techs and pharmacists to keep them updated about individual cases. This means that they're better informed and patients are typically more engaged.
For patients, having a care team that is in constant communication means any issues surrounding their needs are less likely to slip through the cracks. Seeing a primary care doctor becomes a one-stop shopping experience, which may include things like preventative care, a visit to the lab or a trip to the pharmacy. The result is reduced costs, both because they don't need to make multiple appointments and because preventative care helps to avert potentially expensive procedures down the road.
Patients who aren't able to come into the clinic will have online options. "We're offering digital platforms that allow our patients to do virtual visits," says Woudstra. "They can access us in different ways now."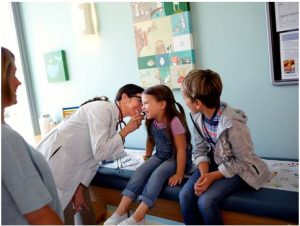 Although the clinic is new, Kaiser Permanente already has a substantial presence in Thurston County both in the Olympia Medical Center and through its community-based programs. In the North Thurston School District, Kaiser Permanente's Thriving Schools program offers grant funding to local schools to support programs that foster healthy eating, physical activity, and social and emotional learning.
Thurston County is also one of just three areas statewide chosen to be part of the company's community health assessment. Based on the outcome of that assessment, they determine their top priorities within each region and develop strategies to address them. In collaboration with Thurston Thrives,  Kaiser Permanente convened a group of representatives from 34 nonprofits, community groups and state and local agencies to talk about community health last April.
The new clinic will be the company's westernmost within the state.
For more information, visit the Kaiser Permanente website.
Sponsored