Gathered around the dining-room table, a multi-generational group of friends and family follow along with the instructions given by Rikki Bommersbach, founder and lead artist of Konnex. The table cover is already spotted with a few drops of paint, vibrant hues from the color palette chosen specifically for this event. From behind their easels, all eyes are on Rikki as she demonstrates the technique, eagerly awaiting their chance to get started.  The delicious smells wafting through the room from the potluck assembled on the kitchen counter are momentarily forgotten, as Rikki finishes up her first instructions, the painters begin.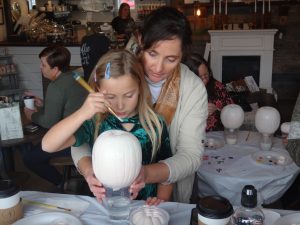 "It's the time of year that people want to come inside and get cozy," says Rikki, "and booking a private party with Konnex is a great way to do that." Konnex books private parties for adults, children and blended parties where people of all ages can paint together.
During one recent Konnex party, the talented artist-instructor floated around the room, connecting with both confident and hesitant artists, encouraging them to try something new, and let their creativity shine. Seated at the head of the table, the lady everyone calls Grandma, is mixing a little grey into the brown to create the perfect tone. The Konnex artist-instructor shows her how to angle the brush on the canvas and the grey-brown paint begins to look like tree bark.
"Look at mine Grandma," says her Grandson, pointing at the twisting and curving branches he's created. A tiny nest sits on one of the branches, not a part of the original design.
"I'll add a nest on my tree, that way when your bird flies over to visit me, he'll have a nice place to stay," she says and smiles.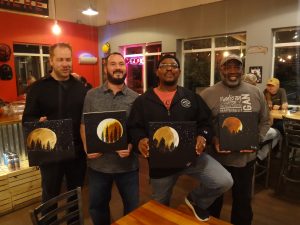 When planning around friends and families with busy schedules, a private party is nice, in that you have more control. The timing can be adjusted to fit your schedule. You can pick a project that suits your interests. And you usually know everyone in the room. "It can be a great activity to make lasting memories," says Rikki.
There isn't a lot of effort involved in hosting your own painting party, simply head over to the Konnex website and fill out their form to get started. "You can paint almost anywhere," says Rikki. "Think of it like a dinner party, as long as you have a table and chair to seat everyone, you have enough space to paint." Dining room tables or folding tables set up in a garage are popular options. And remember as good weather returns you could even have a paint party outdoors, enjoying the fresh air on a patio.
And the best part is, the Konnex team does all the hard work for you. You don't need to buy any special equipment, just the table and chairs are all you need. From table covers to art supplies, brushes, canvases, and easels, they bring it all. A lot of people like to plan simple small bite appetizers and snacks when they host a painting party, but another great option is having a potluck.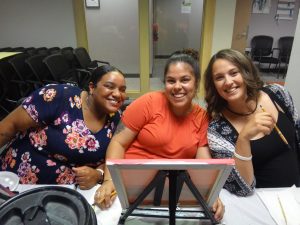 "By the end of the party people are having a ton of fun working on their project, it's hard to tell them it's time to stop," says Rikki, "and people have really been enjoying painting on wood or glass, like when we do our growler painting." Some of Konnex's most popular parties are ladies' night's where a group of girlfriends get together, open a bottle of wine and just have a blast creating something unique. And guys enjoy creating too. "When they get going, they seem much more willing to take a creative risk and try something new," she adds. Private parties aren't just limited to at home with friends and family.
"Office parties are great because you get to know your coworkers in a whole new way," says Rikki. "We set up in conference rooms, breakrooms or sometimes, depending on the layout, people sit at their desks. They really sit back and relax with a paintbrush in their hand," she adds.
Rikki recently brought on a new artist-instructor, Rachel, especially so she can expand offerings of kid's parties, as well as parent-child events. "Kids are fearless," says Rikki. "They aren't afraid to get their hands dirty, try something new, or make mistakes. They love to work with the materials, and when they take my guidance, they can come out with a cool finished product." Rikki and the Konnex team are also excited to begin offering two-day kids camps in 2020.
If you are looking for an opportunity to cultivate your creativity, something unique to do for a family get together, or you want to plan something fun for your office party,  contact Rikki and her team of dedicated artists through the Konnex website. Konnex also hosts parties at several venues around the South Sound and the events are listed on the Konnex Facebook Page.
Sponsored