Had she stuck to her original plan, Line Critchfield would have become a home economics teacher. That would have been the Yelm community's loss – Critchfield is the Executive Director of the Yelm Chamber of Commerce and in the relatively short time she's been in charge, community involvement has surged as events like the recent inaugural Yelm Pub Crawl and Nisqually Valley Barbecue Rally have taken shape.
"Line has pushed the Chamber into the 21st century," says Amber Young, Community Engagement Specialist at America's Credit Union and a fellow chamber board member who serves on the activities committee with Critchfield. "She's brought on processes to streamline everything and created a new level of organization. Many businesses that we may not have reached before are benefitting from being Chamber members."
Yelm Mayor J.W. Foster concurs. "I've seen an increase in Chamber membership and, more importantly, an increase in participation by existing members," he says. "We have better attendance at meetings and more people participating in community-wide events. Line has helped the businesses understand the benefits of belonging to a chamber."
Go to almost any community event and you'll find Critchfield there. Aside from her role as chamber director, she serves on the board of Citizens for Support of Yelm Community Schools (CSYCS) and hosts weekly trivia contests at the Uptown Lounge. Traci Choate chairs the citizens group and appreciates Critchfield's dedication.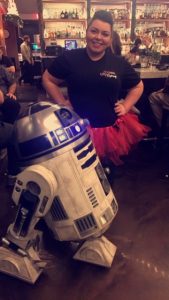 "Last year we were looking to pass a bond and Line was always the first one to go knock on doors, make phone calls and help with social media," says Choate. "This year, we put together a fundraising event and needed to find a location, a caterer and way to collect donations. Line made sure we had all of those things and we were able to do it at very low cost because of her hard work."
One of her close friends is Emily Hopper, a mental health nurse. The two first met when Critchfield was running a Facebook group for military spouses in her early days in Yelm. "She's fiercely loyal and completely selfless," says Hopper. "She'll give every last second for friends or community, whether it's listening to a friend who needs to vent or running a charity event. Anyone who has Line in their corner is lucky to have her."
For Critchfield, the public servant role is the dream job she didn't know she wanted. After realizing that teaching was not for her, she found the quickest route toward college graduation was through a degree in consumer affairs. Years of traveling around the country with her military husband followed, leaving little time to settle into a community or a job until they came to Yelm.
"We knew we were going to be here for a while and I stumbled upon a job posting for an administrative assistant job at the Chamber," she says. "I've always been a community person, and I fell in love with it. It was like I'd just been waiting for the right opportunity to pop up."  When the executive directorship opened up, she applied.
The role allows her to use both inherent traits and skills developed through experience. "I love people and I love connecting people to each other," she says. "That's a lot of what my days entail. Solving problems, finding solutions and connecting the right people to make sure that everything around me fits."
The pub crawl and her work with the CSYCS are two of her favorite events to work on, along with hosting trivia because all three unite people and business in a fun way.
Tad Stillwell is a fellow Chamber board member who credits Critchfield with bringing together factions within the community that might not normally interact. "She does a great job collaborating with all these different personalities and backgrounds in the events she's been involved with," he says. "She's always working with every group to make sure they're included."
As a former military wife, Critchfield lived in a variety of states and cities, but after growing up in Montana, Yelm feels like home. "It's small and it has that agricultural feel to it," she says. "I love going to the grocery store and knowing everyone."
She believes that Yelm is poised for an economic boom, along with housing growth and the completion of the bypass. "We've been on an upward trajectory and we're going to hit that apex where our economy is great and we have businesses that are thriving," she says. "All of our pieces are falling into place."
For more information, visit the Yelm Chamber of Commerce website or call 360-458-6608.