It's an award for progress and improvement. And as their students did better on their report cards and in their classroom assignments, the Washington State Board of Education stood up and applauded. The state gave four Olympia schools awards. It's a pat on the back to encourage schools to stay on this same path to success, closing the gap between the highest and lowest performing students.

Both Jefferson Middle School and Boston Harbor Elementary School were given awards for high achievement in both math and in English. Avanti High School was honored for improvement among students identified for support. And McLane Elementary School received an award for narrowing the gap between the highest and lowest performing student groups.
"There is incredible work happening in our schools every day," said Chris Reykdal, state superintendent of public instruction. "The educators, students and families of recognized schools have a lot to be proud of."
These four Olympia schools weren't the only ones getting applauds for improvements in the classroom. Overall, there were 216 schools in Washington that received a State Recognized School Award. But Olympia School District did exceptional work. This district is among only 11 school districts statewide that won four or more recognition awards.
Patrick Murphy, the Olympia School District superintendent, feels everyone involved – teachers, students, parents – should take a bow and receive a round of applause.
"The staff, students and families of Boston Harbor, McLane, Jefferson and Avanti continue a longstanding tradition in Olympia of being recognized at the state level for outstanding academic achievement," Murphy said.
Murphy pointed out that these four schools are the first in Olympia to be recognized for improvement under the new Washington School Improvement framework (WSIF). It's a tool and an incentive to encourage schools to identify ways to improve education for all students, shrinking the gap between students.
"These four schools exceeded expectations in overall English language arts and math achievement or in narrowing opportunity and achievement gaps," Murphy said. "Their recognition is a tribute to the dedication of the teachers and staff, and the hard work of students and support of families."
In 2018, four statewide agencies – the Washington State Board of Education, the Office of Superintendent of Public Instruction, the Educational Opportunity Gap Oversight and the Accountability Committee – worked together to create a new standard of recognizing and awarding school achievements in closing the gaps between students. Under this new plan, schools that are closing achievement gaps among student groups and are applauded and awarded. The old school recognition program was suspended and a new one was introduced. The shift in recognition awards was spurred by the Every Student Succeeds Act, which was signed by President Obama in 2015. Under the old system, most of the awards went to schools with lower number of students on the Free and Reduced Price Lunch. The state education boards all agreed that needed to be changed.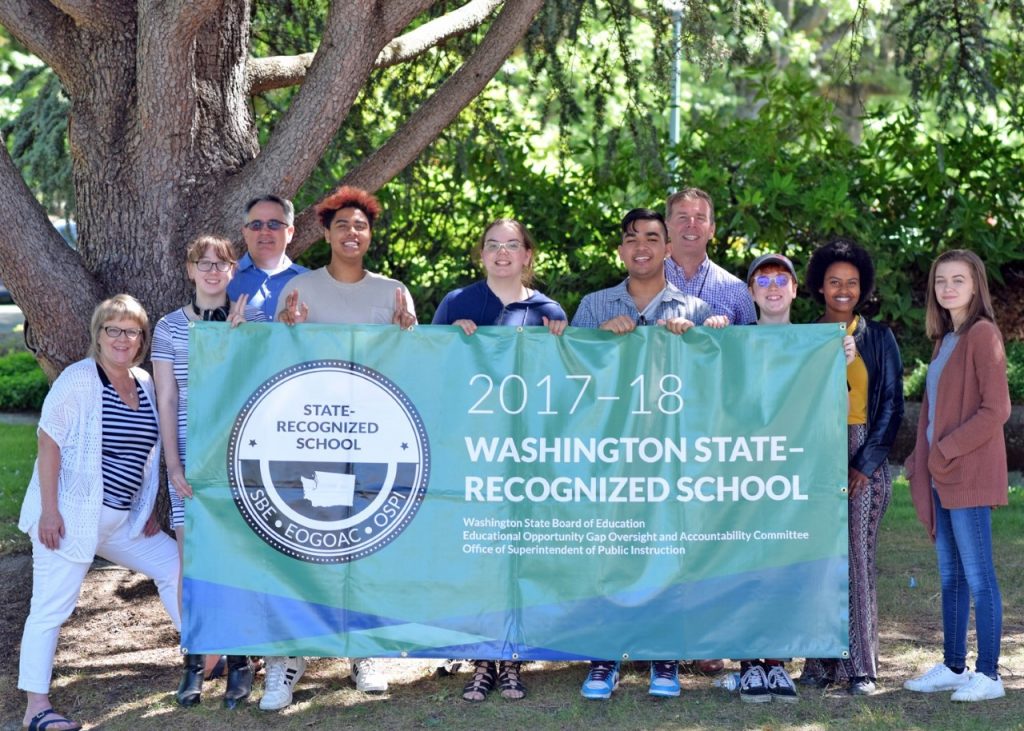 To receive the achievement award all student groups must be performing at 6.0 or higher on the WISF. The awards recognized the highest achieving schools on English language arts and math proficiency, high school graduation rate, and the School Quality and Student Success (SQSS) measures student performances and they must be meeting the winter WSIF performance requirement.
Under the revised awards recognition, there were 216 schools that received awards statewide in Washington. Among those schools, the Free and Reduced Price Lunch rate was 40.1 percent, just a little lower than the average for all schools. There were 137 elementary schools that received awards, 34 middle schools and 22 high schools.