Saint Martin's University invites you to join them for Christmas Under the Canopy, a fun-filled holiday event where students, faculty and community members will come together to celebrate the joy and wonder of Christmas. Though it's a relatively new custom, the annual event has already become a much-loved holiday tradition in the area. The free, family-friendly event will begin with a vespers evening prayer service in the Trautman Union Building (TUB), at 6:30 p.m. Then a candle-lit procession, tree blessing, and lighting will follow, culminating with a Christmas choir concert under the tent on the TUB lawn.
"Christmas Under the Canopy is a collaborative event between our campus ministry office, our department of music and our office of campus life," says Alexis Nelson, director of campus life. "In a very short period of time, it has become a beloved campus and community event."
Though December 5 is still the season of Advent—a contemplative season of preparation and waiting for Christmas—most students will not be on campus for the celebration of Christmas, having gone home for the long holiday break. Christmas Under the Canopy allows them to observe both Advent, with the preceding vespers service, and celebrate Christmas with their school community before returning home.
The event coincides with the end of classes for Saint Martin's students. "We schedule this event for the last day of classes on purpose," says Nelson. "All of their classes are finished, and now it's time for our students to take a breather before they head into finals, and enjoy something special and fun with their community."
Christmas Under the Canopy can serve as a welcome break for the community, too. The holiday season can put a lot of stress on everyone. You might have just finished cleaning up after your Thanksgiving feast. Maybe you are running about shopping for gifts or hosting friends and family. "Just take a step back and enjoy the spirit of the Christmas season," says Nelson.
The Benedictine values of community and hospitality are woven through all aspects of the University, but they become even more apparent during events like Christmas Under the Canopy. "It is really an opportunity for our students to connect with the greater community of Lacey and Olympia," explains Colleen Dunne, director of campus ministry. "We are always looking for ways to help our students connect more with the world around them."
People come from across the globe to study at Saint Martin's University. Students from Hawaii and the Pacific islands, as well as those from other warm climates across the US and the world, may not often experience Christmas celebrations all bundled up with scarves and mittens. Christmas Under the Canopy will give them an opportunity to experience the warmth and joy of Christmastime in a chilly northern climate. Of course, there is no guarantee that snow will make an appearance. However, the outdoor event will proceed with the canopy to protect from any precipitation, frozen or otherwise.
Attendees can look forward to a variety of Christmas tunes. There will be traditional Christmas songs as well as some more contemporary pieces.  "We have some really fun songs added to our repertoire like one called 'I Want to Stare at My Phone with You,' as well as a Christmas on Broadway melody, and a fun Christmas carol sing-along," says Darrell Born, chair of the fine arts department, and associate professor of music. "It will be both beautiful and playful," he adds. And though most of the musical selection may be on the lighter side, Born says that the pieces will also challenge the students with great harmonies, an important consideration for a professor that wants to balance fun events with student learning.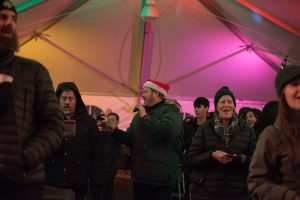 The Saint Martin's wind ensemble, led by David Wacyk, director of bands and assistant professor of music, will also perform. They will be joined by local high school and middle school brass musicians, as well as Saint Martin's faculty and other community members as a new component of the event. "There is really something special about brass instruments during Christmastime," says Born.
"Christmas Under the Canopy demonstrates an experience that is uniquely Saint Martin's, the embodiment of teamwork, where the campus and the community come together to put on something beautiful, special and magical," Born says. "It's just a really fun event."
So, mark your calendars and on December 5, make your way over to Saint Martin's University to experience all the joy and wonder of Christmas Under the Canopy. The vespers service will be held at the TUB beginning at 6:30 p.m. A candlelit procession, Christmas tree blessing, and tree lighting will follow the prayer service. At 7:30 p.m. the Christmas concert is scheduled to begin with festivities scheduled until 9:00 p.m. The event is open everyone, free of charge.
Sponsored