With his namesake being the man who broke the color-line in major league baseball and who was arguably one of the best baseball players to ever live, some might say Jackie Robinson was destined to be a sports star.
Robinson said the name made him comfortable being a trailblazer. "That name made me feel like I had to be courageous and go into places other people wouldn't go," he shared.
Robinson started out playing baseball, football and basketball, eventually deciding to put all his energy onto the court. The Evergreen alumni was a star on the college men's team in 2000 and 2002, playing for the Geoducks at the height of their basketball success.
Thanks in part to his skill, the team won the 2002 conference championship. This fall, Evergreen hired Robinson as Head Women's Basketball Coach.
The lady Geoducks begin their season in November with their the first home game on December 6. Evergreen plays in the Cascade Conference, which has 11 members including College of Idaho, Eastern Oregon, Multnomah, Northwest University, Northwest Christian, Oregon Tech, Southern Oregon, Walla Walla University, Warner Pacific, and Corban.
In 2020 Lewis-Clark will join the conference as its 12th member.
Robinson came to Evergreen as a transfer student from Bishop State Community College in Mobile, Alabama. He said a great uncle who lived in the Northwest helped him to make the move so that he could experience a different part of the country and encouraged him to attend Evergreen.
Robinson said he's actually named after his father, who passed away in 2018, not the famous baseball player. "He was a major influence in my basketball career," Robinson shared. "He was the first person to buy me a hoop and he was just a super hard worker and I know I have that trait in me.
"I'd say that my mom, Ruth Robinson, was equally as influential as my dad. She was very loving and also a hard worker who ran her own business and raised five children while my dad drove trucks. Without the two of them, there's no way I would be where I am today."
Robinson was relatively unaware of the weight his name carried until his college years. "It's a lot to live up to," said Robinson. "I think at Evergreen was the first time it dawned on me. At Evergreen, I was number 42 (Jackie Robinson's number)."
Robinson was raised in Grand Bay, Alabama, a town of around of around 3,000 people 30 minutes southwest of Mobile. "If you've ever watched the movie Forest Gump," Robinson said, "I'm from where Bubba Gump is from."
Once he arrived in the Pacific Northwest, he said he found community both at Evergreen and through basketball. "I thought people were welcoming. It was a lot more diverse than just black and white in the South." And he knew he wanted to make his future in the region. "I felt like there was more opportunity up here."
After graduation, he worked in the admissions office at Evergreen then went on to play professional basketball in Europe for several years (Basel, Switzerland, Cuxhaven and Landshut, Germany). He also coached boys basketball teams there on the side.
After playing professionally, he returned to the Pacific Northwest where he and his new wife, Kelci Karl-Robinson, moved to Boise, Idaho to coach the Boise High School girls basketball team together. From that point forward, Robinson began coaching girls and women's teams exclusively. "I love the way they play," said Robinson. He said girls and women share the ball more.
Most recently he has coached the girls team at Olympia High School. He still works as a counsellor there.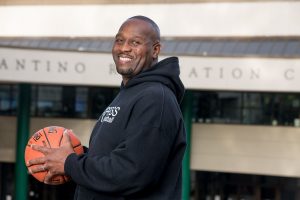 "What's important is they need to know you care about them," said Robinson. Sheer determination and training can get you a long way, Robinson said, but psychology is also critical to coaching and winning.
Everybody wants to win, said Robinson, but with women's teams in particular, he's noticed that building trust is the key. And that trust can only be gained through honesty.
As a coach, he said he needs to hold players accountable, but he also recognizes that you need to do that in a respectful way.
Goal-setting, he added, is something he believes in. He asks each individual player to set their own goals along with the entire team. With the women's teams he's worked with, Robinson observed, "The off-the-court determines the on-the-court." They support each other in a holistic way, said Robinson.
"It's life lessons that I teach out of this, and the winning comes along with it." Speaking about what he gets out of coaching, Robinson said: "I love to see the growth. I love to see a kid who didn't believe in themselves or came in and was really shy—they came in and they leave in power."
Evergreen's women's basketball team came in at the bottom of the standings in 2018 and has done so for some time, but the Evergreen community is hopeful that Robinson can help the team rise in the Cascade Conference and have fun in the process.
But when it comes down to it, Robinson said, "It's really about what the women want."
Sponsored