As trends go, perhaps the easiest—and most fun—focuses on one simple word: local. We shop local small businesses, support local restaurants or teams, and give to local charities. This way our friends, neighbors and neighborhoods grow and thrive with every dollar put back into the community. Since 1989, the Community Foundation of South Puget Sound has worked to facilitate giving through their Give Local campaign. These generous grants benefit regional fixtures like the beloved Olympia Film Society.
Give Local organizers review grant applications from across Thurston, Mason and Lewis counties. In 2019, they've featured nearly 100 organizations for a share of more than $400,000. The Olympia Film Society (OFS) is one of those annual recipients. A nonprofit film, music, and art community, they support independent films and film-makers, live music, and fellow nonprofits through screenings, concerts, and fundraisers.
"This is our second year participating," says Audrey Henley, OFS Executive Director. "Funds raised went toward matching the 2017-2019 Washington State Heritage Capital Projects Fund to protect and preserve the outside of the Capitol Theater. This project included replacing the theater roof, creating seven locally handcrafted wood windows for the second floor, and replacing the old theater awning with a historical rendition of the original from 1924. OFS is just getting ready to start the awning replacement in a few months!"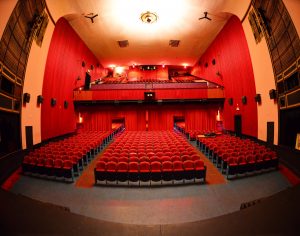 Leadership first heard about Give Local last year. "The Olympia Film Society applied for a 2018 Community Foundation Grant," explains Henley, "and was awarded $8,500 toward hiring a local consultant to help develop an organizational assessment and provided fundraising training for the board of directors. With this award, came an invitation to participate in Give Local."
Since then, and with the support of their Community Foundation Grant, they've raised $193,000 toward overall project goals. "Partnering with the Community Foundation of South Puget Sound gives nonprofits a broader reach to promote the vital work they do," says Henley. "These platforms also showcase the commitment of our donors and philanthropists who believe in giving back to this community. We hope to see more organizations like the Community Foundation offer opportunities like this to nonprofits."
OFS has been a downtown Olympia bastion of the arts since 1980, but many people aren't aware of all they have to offer. "OFS doesn't just show movies," says Henley, "And we don't just have concerts at the Capitol Theater; we program the screen and stage with intent and fervor! It is because of the sheer tenacity and support of our staff, donors, members, volunteers, board, business sponsors, and artistic community that we've been able to survive this long, purchase and restore the theater, and operate with mostly volunteer power for so long. Their participation and interest speak volumes of how much OFS is valued and how we are a part of the identity of arts, culture and heritage in Thurston County."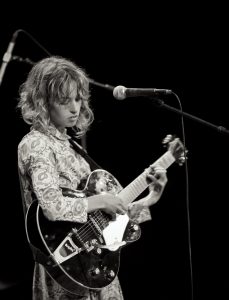 That participatory aspect is vitally important in our digital, delivery, somewhat isolated world. "The global disappearance of art-house theaters not only highlights the importance of OFS's mission, but the future challenges OFS faces to maintain viability," says Henley. "OFS knows that we can all stream movies and concerts from the comforts of our phones and computers; it's cheaper, more convenient and the titles are never-ending. What is a community if we're isolated instead of unified? How do we discover commonalities and hear other perspectives? We hope to restore the Capitol Theater to be a more comfortable and beautiful place where OFS can continue to encourage and inspire participation in the arts for generations to come."
And their tireless work is paying off. Films are screened digitally and in 35 millimeter formats; film-makers and celebrities regularly attend showings; and there are workshops, concerts, and events galore. Their 10-day film festival was even voted one of the 25 Coolest Film Festivals in the World by MovieMaker Magazine.
OFS staff is volunteer-based with more than 200 volunteers putting in 6,500 hours in 2018 alone. Try volunteering and you could earn free tickets and invites to the best parties in town. "OFS has created a place that 1,800 members and 35,000 visitors call home," says Henley proudly.
Next time you're looking for a great date night or cure for cabin fever, swing by the Capitol Theater. Films are shown Tuesday through Sunday and they've always got a full activity calendar. Then consider supporting OFS through your online contribution, community rebate program or becoming a valued member.
To learn more about giving, reach out to the Community Foundation for their newsletter and curated list of Give Local organizations and give where you live. It's the best way to turn donation dollars into movies, music and—of course—hot, buttery popcorn.