It was a celebration nearly a decade in the making. Behind huge offensive performances from senior quarterback Nathan Joslin and sophomore running back Daishaun Nichols, Northwest Christian High School hammered visiting Chief Leschi, 54-0, at a rain-soaked Tenino High School Stadium on October 18 to notch the football program's first victory since 2010.
"It just feels amazing," sophomore lineman Adam Brooks said. "It's been a while."
That it has. Nine long years to be exact
Northwest Christian's last football triumph came against Ocosta (32-0) on October 22, 2010. The following season, the team went 0-10 with their biggest loss actually coming at the end of the season when the school elected to stop offering football as a sport, citing lack of players.
After an eight-year hiatus, the program was resurrected this year, combining with Tacoma's Life Christian Academy to once again field a squad.
The victory over Chief Leschi marked win No. 1 during Northwest Christian's second rendition. The Wolverines had opened the season 0-5, but made quick work of the Warriors, racing out to a 46-0 halftime lead to snap their losing skid.
Joslin, one of just four seniors on the team, had a hand in four first-half scores. He ran for a trio of touchdowns and threw a TD pass to Brayden Garcia in the second quarter to help the Wolverines jump out to the commanding lead.
Nichols did a little bit of everything, scoring on two long TD runs and returning a punt 60 yards for a score to push the lead to 40-0 late in the second quarter.
"It means everything having the football program back," said Brooks, who played at Capital High School last year as a freshman. "I love every single one of these guys. I've grown really close to the Life Christian guys. We've all become friends, but it took time. There's been times when it's been hard, especially being at different schools. I think the one thing we failed to do during the first five games is come together as a team and I think that's what we did today."
In addition to starting on both sides of the line, Brooks had spent the last two months or so recruiting just about everyone at the school to turn out for football.
"We have a lot of athletic guys at this school. We take a state championship in track and cross country almost every single year," Brooks said. "We just need to get them to come out for football."
It didn't take Brooks long to round up some potential players as he received commitments from five classmates who all agreed to put on the pads next fall. His confidence in that occurring was becoming a touch shaky following the team's early-season struggles, but he now believes the team's first win this year will go a long way in convincing new players to turn out.
"I was scared after the first five games they were going to all back out," Brooks said, "but I think after tonight's game it seals the deal."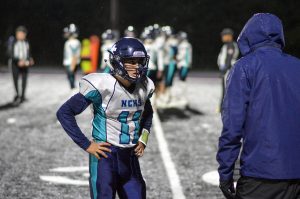 Northwest Christian currently has 16 players on its roster, but Smith expects that number to increase heading into next season.
"What's nice is the kids at the school are seeing that we have football again and we've already got some interest from some of them," Smith said. "Hopefully next year they will come out and play."
After its week one game was cancelled due to Mossyrock not having enough players, Northwest Christian dropped its season-opening game in heartbreaking fashion, losing 29-28 on the road at Seton Catholic after the Cougars turned away the Wolverines' two-point conversation late in the game.
Northwest Christian followed up that setback with four more consecutive defeats, losing to 1A Charles Wright (56-20), 2A Tenino (56-38) and undefeated Ocosta (53-22) before suffering a 32-24 loss to visiting Coupeville in a game the Wolverines enjoyed an 18-14 lead at the intermission.
"We've had some hiccups along the way," Smith said. "We didn't get to play our first game and I think that would have really helped us. It might have changed some things, but we've made improvements and that's the main thing and we're having fun doing it."
The Wolverines have two more games remaining on their schedule with both contests coming against winless teams. They play at Fort Vancouver (0-7) on October 25 before closing out the year at home on November 2 against North Beach (0-6).
"We've been close in some games and the thing is we've gotten better every week," Smith said. "Last week (against Coupeville) we played well but came up a little short. The bottom line is we're getting better and I think we have a good opportunity over these last few games to get win No. 2."