There's no official timetable on how long it should take a new sports program to become successful, but by all accounts, the girls cross country team at Pope John Paul II High School is well ahead of the curve.
While only in their second season, the Eagles are already poised to challenge for a state championship.
Credit head coach Larry Weber and a gifted cast of young runners dedicated on improving as the reasons why the team is well exceeding expectations.
Weber, however, is no stranger to strong high school cross country teams in Lacey. He took over as the head coach at nearby Northwest Christian in 2010 and coached the Navigators to multiple state titles.
He now appears to have another juggernaut-in-the-making at Pope John Paul II.
Weber initially retired from coaching in 2016. His hiatus lasted a little longer than a year before the coaching itch quickly surfaced, forcing him to return in 2018. "I just totally missed it. I'm retired from everything else, and I don't think I have that type of personality where I could go and play golf every day," Weber said. "It's the relationships I missed. You win a state championship, great, but it's the relationships and helping make the kids better that matters to me. And that's truly why I do it."
The Eagles sent seven runners to the 1B/2B state meet last year. Five of them, led by sophomore Vivi Kondrat and junior Holley Nichols, are back this season. But they are not alone, as they are joined by an extremely talented freshmen class, giving Pope John Paul II one of the state's deepest teams.
Despite featuring such a young roster, the Eagles are currently ranked second in the 1B/2B state coaches' poll, trailing only Liberty Bell, the three-time defending state champion.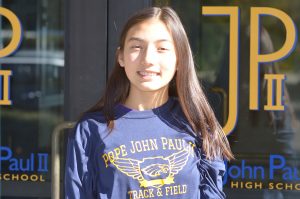 "They're still learning," Weber said. "A lot of these girls are just learning this sport and learning how to train and learning about tactics. It's exciting to see the growth and it's exciting to see them set goals and then accomplish those goals and go out and set higher goals."
Pope John Paul II has 13 athletes on this year's team, 5 are ranked among the top 40 runners in the 1B/2B classification. Kondrat, who finished a team-best 19th at state in 2018, once again paces the Eagles. Her time of 20:13.1 set at the Nike Twilight Cross Country Invite is the seventh fastest time in the state this year.
She has been the model of consistency, posting a time of 20:17.5 at the Fort Steilacoom Invite and 20:40.2 at the Eagle Cross Country Invite. All three times are faster than what she did as a freshman.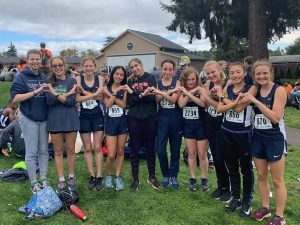 Next on the list is Kondrat's younger sister, Bella. The freshman holds the 23rd fastest time (21:17.3) in the state.
The Kondrat sisters are joined on the list by freshman Moriah Steinbrecher (35th) and juniors Holley Nichols (37th) and Maggie Larson (38th).
"Even though it's just our second year we don't see it as our second year. We haven't set low standards," said Vivi Kondrat, who finished second in the 3200 at the state track meet last year. "We're all focused on being the best team we can be and podium at state this year. We want to challenge for a championship."
Additional state meet participants from last year include juniors Maggie Larson and Emeline Russell. Every one of them as already lowered their times, some dramatically, from 2018.
"We're actually a really tight group. We're always trying to help each other improve," said Holley Nichols, who joins Vivi Kondrat as the team captains. "We're really not competitive with each other, we're competitive with ourselves and that's really what Coach Weber drills into our minds."
Deutscher Sets PJPII School Record, Named Athlete of the Week
Pope John Paul II junior Kobe Deutscher was named the WIAA athlete of the week (week No. 6) after setting a school record in the 5000 meters at the 13th annual Nike Twilight Cross Country Invitational at Cedarcrest Golf Course in Marysville on October 5.
Deutscher, who was a dual state champion last spring in track, covered the distance in 15 minutes, 49.70 seconds to finish second among the near 200 runners in the race. His time marked the fastest ever for a 1B athlete at the meet.
Ilwaco sophomore Daniel Quintana won the race with a time of 15:48.10.
Deutscher now holds the second fastest time in the state this season in the 1B/2B ranks. His final time bettered the previous school record of 16:48.4 set by his older brother, Caden Deutscher, last season.
Deutscher finished seventh at last year's state cross country meet with a time of 16:53.5.
"He's getting better and better. He's improved his time by more than a minute this year," said Eagles coach Larry Weber. "That's definitely a DI time now. He's made that transition to that level. I'm still excited about how he did."