Nathan Black knew a milestone had been reached one day at the Briggs YMCA. His eight-year-old son, having passed his swim test, was doing laps back and forth under the supervision of multiple lifeguards. For Nathan, that meant he now could have some independent time in the pool, knowing his son had swimming skills and was well supervised. "It meant I could be in the pool on my own and guess what? I went in the hot tub," says Black. "It was a big deal."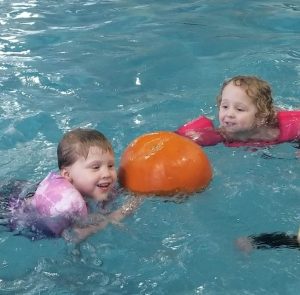 Black and his wife have three children, currently four-, six-, and eight-years-old. He works full time and she recently was hired by the State, meaning their schedules are packed and finding quality time for family, let alone for themselves, is challenging. Their family's South Sound YMCA membership and the youth and family programming it provides is a lifesaver according to Black. His day often begins at the Y with a 5:00 a.m. workout and ends with one or more of his children in classes and the youngest in the Kids Zone!, a service aimed at giving parents time to take care of themselves while their children are engaged in educational and fun games and activities.
The recently expanded Kids Zone! has a theme each evening. Weekly themes include cooking, STEAM activities and game nights. On Thursdays, a volunteer provides instruction in the strategy and etiquette of chess. "He helps the kids learn about the respect that comes with the game and how to move forward when your existing plan didn't work out," explains Y Program Director Jennifer Veitch.
All three of Black's children have been through the swimming program, where parents can bring children as young as six-months-old to gain comfort in the water. Veitch explains that once a child reaches the age of three, they can be enrolled in swim lessons, and that lessons are available for all ages – even adults! Black's son also took jujitsu where the focus is on instilling values such as discipline, becoming more self-aware and developing an ability to put mind over matter. His daughter is about to make the transition from pre-ballet into ballet. "The instructor is just fantastic," he says. "She's like the child whisperer. She has a wide range of ages and she's patient with them, instructive, helpful and fun."
Off-site, the Y offers after-school childcare, teen programs, and Youth Sports. Black's son participated in an off-site soccer program. "It's been a really great opportunity for him," says Black. "Y programs are a great way for children to get exposed to important athletic components and safety."
Now that soccer is wrapping up, he anticipates that his older children will be interested in STEAM and cooking nights in Kids Zone!. "Knowing that my kids can come to a safe place where the employees are conscientious and careful has been awesome," says Black.
The Y is a place to belong, connect, and get healthy as a family. If you've been thinking about a membership, there's no better time to sign up and access the full benefits of the Y, says Veitch. "If you sign up before November 1, we're waiving all joining fees!"
It's all part of fulfilling the Y's mission of strengthening community through programs that build healthy mind, body, and spirit for all, says Veitch. "We adhere not only to our core values of respect, responsibility, honesty and caring, but to our guiding principles of fun, collaboration, connection, feedback, cause, and improvement. We keep all of these things in mind as we deliver programs to the community."
Learn more by visiting the South Sound YMCA website.
Sponsored