The team at Color Graphics is as solid as the colors they print. The origins of the business harken back to 1984 when Fred Gustafson, an East Coast transplant, moved to the Olympia area with his wife, Debbie, and set out to create a new career for himself. Savvy South Sounders may remember his first local business venture at the South Sound Shopping Center, "New Creations T-Shirts." Transfers were all the rage during that time, and Fred was smartly positioning himself at the forefront of the latest trends – something his son Kiley Gustafson, and daughter-in-law, Voshte Demmert-Gustafson, are still doing 35 years later.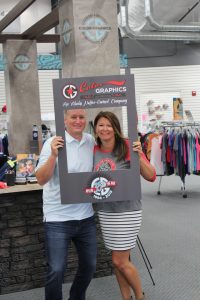 Color Graphics, located in Tumwater, is comprised of a 20,000-square-foot building that boasts what is thought to be the largest showroom of promotional products on the West Coast, and possibly beyond. From brandable workwear to corporate-logoed mugs, the showroom is an endless array of color – but more importantly – possibilities, that show Color Graphics' clients exactly what can be achieved.
In the 1980s, Fred started his business with a retail model and quickly realized that wholesaling was a better fit for him and his family. He left the mall atmosphere and as a self-taught screen-printer, he learned his craft from research he had done at the library and then purchased a home screen-printing kit. Like most local businesses of legend, he started his outfit in his garage – but then quickly grew enough to obtain a warehouse. The Gustafson's are now on their fourth warehouse because they keep outgrowing them.
It was Debbie's dream to have an impressive showroom. It's actually kind of breath-taking when you walk into the Color Graphics' shop. High ceilings, an entire wall of promotional products, and prototypes of every make, model, and color are waiting to be personalized. Fred began with screenprinting first and then added sign-printing and banners to his capabilities. By 1990, he had expanded to embroidery and then to promotional products. In 2006, the company bought out a local award and trophy business to add engraving to their line-up. "We wanted to be a one-stop-shop," says Kiley, second-generation screen-printer who now co-owns Color Graphics with his wife.
On the day that I visited, the embroidery room machines were click-clacking away, embroidering shirts for the City of Olympia Public Works Department, and the multi-armed screen-printing machine was spinning, printing, drying, and cranking out a large order for Wear Blue: Run to Remember, an organization that honors the service and sacrifice of our Military. The volume that Color Graphics is able to do is staggering; their Super Bowl XLVIII Champions shirt-printing achievements of 7,500 shirts in less than 12 hours being a prime example.
Voshte is quick to remind that none of this would be possible without their dedicated staff of 18, a few of which have been with the company for decades. They have two in-house graphic designers, full production staff and customer service specialists. Voshte let me in on a local secret: They always have fresh popcorn every morning, a tradition leftover from the days when Fred and Debbie were at the helm. Color Graphics' clients (and surrounding businesses) pop in frequently for the popped corn. Customer service is paramount to Kiley, Voshte, and the entire Color Graphics team, as it has always been over the past three-and-a-half decades.
Color Graphics' niche is in quality and volume, and they cater to many local and global businesses and corporations. Why say it with a business card, when you can have your logo floating around on cups, bags, high-visibility workwear, uniforms, water bottles, and more? Product marketing is a powerful and effective tool, and the Gustafson's have dialed in on that.
Color Graphics began in a time when everything was drawn by hand. Kiley reminds us that there was no Adobe Illustrator or Photoshop when they started out, and a part of Color Graphics' success has been their ability to adapt to the changes in the industry and stay ahead of them. From mail-order iron-on transfers in the early '90s to the advent of the internet, websites, and digitally streamlined and more effective processes; Color Graphics has been here for it all. 35 years is a long time, especially when technology is involved.
Celebrate Color Graphics 35

th

 Anniversary
To celebrate this hallmark, Color Graphics is throwing a party for their clients, because that's just the type of thoughtful and kind-hearted business owners that they are. They are hosting a tradeshow where 10 of their vendors will be on-site to talk all things branding to their clients. There will be prizes, giveaways and much pomp and circumstance to thank the people who continue to put their trust in the Color Graphics team to not only complete their date-driven jobs on time but to also complete them well.
Kiley and Voshte believe in philanthropy, taking care of their employees and nurturing the human connection. "We have sponsored three sports teams this year," Voshte says, "all from our employees' children." And as half marathon runners, the Gustafson's always encourage their employees to enter races and even pay their entry fees.
Voshte serves on the board of the Boys & Girls Clubs of Thurston County and Kiley says they regularly donate to organizations and causes they have a connection to. "Even our UPS driver and the organization he supports," he says.
Voshte, a Tlingit Tribal Member, is active in her Native community because, after all, Color Graphics is a union and Native-owned shop. They also regularly work with, as well as donate to, local Tribes. Voshte was recognized in 2015 for the prestigious "40 Under 40" award from South Sound Magazine for all of her amazing efforts in the workplace and beyond.
Chances are, if you can dream it, Color Graphics can print, embroider, or engrave on it. Visit their website to be wowed by all of their options, or better yet – stop in their showroom. If quality, efficiency, and customer service are important to you, Color Graphics is the gold at the end of the uniquely-personalized rainbow.
Color Graphics
2540 Crites St. SW, Tumwater
360-352-3970
Sponsored