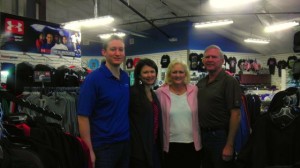 A display fit for a museum sits in the corner of Kiley Gustafson's office. It includes late 80's Macintosh computer, a pennant from the 1st Women's Capital City Marathon, and a screen-printing kit, purchased in 1984 for $40. Each item in the display was a key ingredient in the creation of Color Graphics.
Nuclear Power Plant Electrician to Small Screen-Printing Business Owner
"My dad, Fred Gustafson, was an electrician at the Satsop Nuclear Plant. Our family moved to the Pacific Northwest when he started working at Satsop, but the plant was shutting down and he decided to change careers. Someone asked him to create a jersey for a local sports team, so he purchased a screen-printing kit, made the jersey and enjoyed figuring out the process. He loves learning new things. Really, that was the beginning of Color Graphics," said Kiley.
Starting with a retail store at the South Sound Mall called New Creations T-Shirts, Fred and my mom, Debbie Gustafson, started their foray into the apparel industry. At the same time, Fred through trial and error figured out the art of screen printing and refinedthe process until he was able to provide products with exceptional quality. Soon he had local contracts for Olympia sporting goods stores like Rainbow Sports and Tumwater Sports. After a while he decided to pursue a wholesale business, added services such as embroidery and signs, and the business grew.
Largest Wholesale Merchandise Showroom on the West Coast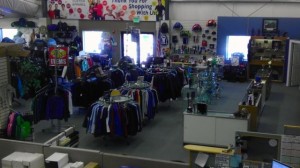 Today, Color Graphics has the largest product showroom on the West Coast in the Mottman Industrial Park near South Puget Sound Community College. The company can put a logo on just about anything and their products and services include: apparel, awards, engraving, digital printing, embroidery, screen-printing and promotional products.
In June, Fred and Debbie Gustafson made the decision to retire, and their son Kiley, and his wife Voshte, agreed to move from Seattle to Olympia and buy the business.
"The transition is going great. The business continues to grow. We are full of creative energy, new ideas, and excitement as leaders of this team. We also have a wonderful staff that has embraced us," said Voshte.
Fred and Debbie have been traveling a lot, but they are still available to discuss business matters. "They are always a phone call or text away. We have a lot of customers that have been with Color Graphics for years, so it really helps to be able to discuss accounts with my parents," said Kiley.
The majority of their business is local, mostly apparel brand-wear. "We do a lot of corporate brand-wear, sports league jerseys, fan-wear, and trade show products. For example, if a business is going to a trade show they stop by and we help them determine what apparel to wear and what products to give away," said Kiley. "If you can put a logo on it, then we probably carry that item, whether it is fan-wear, corporate apparel, rubber stamps, name tags. We take ideas and transform them into a way to market and showcase each business," said Voshte.
Color Graphics does the majority of their printing in-house. "In-house production improves accuracy and quality, especially with screen-printing and embroidery," said Voshte.
Customer service is another area that sets this business apart from a lot of the on-line retailers that have emerged over the past few years. "Our customer service is awesome. We hear that all the time from our customers. We've been a part of Thurston County for so long and we personally guarantee our products. The majority of our employees have been here for five plus years, some as long as 18 years," said Kiley.
Color Graphics also employs two in-house graphic artists who enjoy working with clients to create exceptional design for every customer. "You can't get this kind of service and attention on-line," said Kiley.
"There are so many variables that go into your final product; it takes a lot of knowledge to make it happen with the highest quality.  That is why we have so many repeat customers. They tell other people that they had a great experience and received a great product," said Voshte.
…and it's about popcorn
"We have a theater style popcorn machine in the showroom filled with popcorn 365 days a year. Many of our customers come in on a weekly basis to grab some popcorn, say hello and visit. They check out new products and discuss ideas they have and how we can help them. We love getting a chance to know customers when they stop by," said Voshte.
Kiley agrees, "Coming from Seattle we want to get to know people, build relationships, and have the chance to give back."
Stop by Color Graphics if you are in the area, grab a bag of popcorn, and say hello to Kiley and Voshte.
Color Graphics
2540 Crites St SW
Tumwater, WA 98512
800.456.8288