Established over three decades ago, Olympic Mountain Ice Cream has carved out a sweet spot in the Pacific Northwest's ice cream industry. Family owned and operated, Olympic Mountain churns made to order ice cream flavors for restaurants, scoop shops and similar establishments throughout the state. After overwhelming demand, Olympic Mountain has expanded beyond their wholesale roots and now offers ice cream in pints at local grocery stores, including Spud's Produce Market.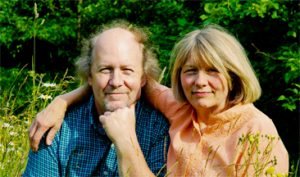 Started by husband and wife duo Karl and Bev Black in 1984, Olympic Mountain Ice Cream has continued as a family business with all three of their children involved in the company today. Trail Black, vice president of Olympic Mountain Ice Cream and son of the co-owners, says that ice cream is the only business he has ever known.
"I started doing little things with the business when I was young," says Trail. "We had a trailer at the farmers market, and I was helping with milkshakes and stuff starting when I was in third grade."
Karl and Bev originally opened Olympic Mountain Ice Cream as a gelato shop at the South Sound Center in Lacey in the 1980s after being inspired by friends who owned a Seattle-based gelatoria. After two years in a retail location, Olympic Mountain Ice Cream moved to a wholesale business model, transitioning to selling ice cream to hotels and restaurants in the Seattle area.
Trail says that the wholesale business grew organically after establishing a niche by supplying customized ice cream to the local restaurant industry. Olympic Mountain Ice Cream also developed relationships with restaurant owners and chefs over the years and word spread from restaurant to restaurant, as they developed a reputation for quality and consistency.
"I'm always really honored thinking about these fine restaurants serving expensive gourmet meals to a customer and then at the end of the night, they will have our ice cream to finish the meal off," says Trail. "So, we want to create something that's the absolute best, that leaves an experience in people's minds and hearts that elevates their whole meal."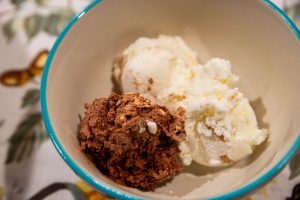 Creating custom flavors is the basis of the Olympic Mountain Ice Cream business model and through decades of requests and experimentation, they have developed hundreds of ice cream varieties. From a spiced bourbon ice cream, to a tin roof sundae flavor, Trail says that after perfecting an ice cream base, there are endless options to create a unique ice cream experience. This can include adding essences, solid add-ins like cookies or peanuts, or ribbons like caramel or fudge. In the future, Olympic Mountain Ice Cream is planning to expand their flavor repertoire even wider by adding additional ice cream machinery, like a ribboner, into their production facility, so that they can create ripple varieties in larger quantities.
"Your base mix is what everything else is derived from," explains Trail. "So, I think having a really good vanilla ice cream is kind of step one. Our base mix recipe is something proprietary that we worked on over the years."
From time to time, Olympic Mountain Ice Cream receives a request for an unusual flavor that sends the employees to the test kitchen. Whether creating a Douglas fir champagne flavor or a savory tomato, the key to ice cream is creating a nuanced flavor profile.
"You work your way up until you get the right flavor balance," explains Trail. "In our lavender ice cream, the lavender is there, but it isn't going to overpower, because too much lavender in something and it's going to taste like you're eating perfume. I think we do a really good job of doing that with hundreds of flavors, having a good flavor profile balance."
Creating Pints
Olympic Mountain Ice Cream distributes their product throughout the Puget Sound, from Everett to the Hood Canal. After developing a loyal fanbase not just among chefs and restaurant owners, but amongst the ice cream consumers, the demand for pre-packaged pints increased significantly.
"For so many years, people wanted to be able to buy our product to take home," explains Trail. "And with selling in restaurants and scoop shops, it wasn't really an option. So, it was our long-term goal to be able to package pints to sell at grocery stores."
After Olympic Mountain Ice Cream began selling pints, Spud's Produce Market became one of the first businesses to offer it to customers. Trail says that Spud's Produce Market owner, Dave Jekel, stopped Trail after a delivery to a neighboring shop to inquire about selling pints in a grocery store setting.
"Both Nate and Dave from Spud's, after delivering to Vic's Pizza in Wildwood, stopped me and said, 'Hey, do you guys do pints? And if so, we would love to carry them,' and at the time I was like, 'No but we will soon.' As soon as they were available, I let them know. It's been a good partnership. They sell a lot of pints."
Currently, five Olympic Mountain Ice Cream flavors are available in pint form. First is the quintessential Madagascar Vanilla. Then, toast coconut, their second-best seller over the years. There is also double chocolate almond. Espresso flake has a coffee flavored ice cream base with chocolate coffee bean flakes mixed in. With the lemon cookie flavor, fresh lemons are squeezed into the ice cream base, and the cookies mixed in are made fresh.
To learn more about Olympic Mountain Ice Cream, visit the Olympic Mountain Ice Cream website. To learn more about the Olympic Mountain selections available at Spud's, visit the Spud's Produce Market website.
Sponsored