The North Thurston girls soccer team defeated Lacey neighbor River Ridge – 8-0 in non-league play to open the season for both schools Monday, September 9, 2019 at South Sound Stadium.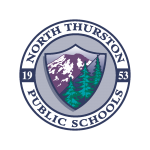 Lady Rams coach Brian Bigelow was pleased with his team's play going into the season. "We moved the ball extremely well and dominated most of the run of the play," Bigelow claimed. "We have a well-rounded team. From top to bottom we have a very high amount of talent." The Rams play Aberdeen Thursday and then open SSC play at Yelm on Tuesday, September 17, 2019.
For the Hawks, River Ridge is looking to build, learn and find consistency. Coach Kristen Luikkonen has only a few seniors and brings a young core back from last season. "Our season looks promising but we are very young," said Luikkonen. "We finished in the middle of the pack last year and hope to move up higher in 2A play this year." River Ridge travels to Fife Thursday.