The joys and challenges of parenting children with special needs are complex, demanding and last a lifetime. South Sound Parent to Parent (SSP2P) offers a rich diversity of support and programming for the families in our area. Whether a child has a chronic illness, is developmentally delayed or has another sort of disability, SSP2P is there. Established over 30 years ago by parents of children with disabilities and the professionals that work with them, the agency continues to identify ways to help all members of the family. It is with great enthusiasm that South Sound Parent to Parent is announcing two new support/connection groups!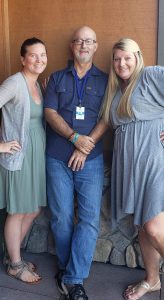 Dad to Dad
One is for fathers called Dad to Dad, which will be meeting the fourth Monday of every month from 6:00 p.m. – 7:30 p.m. The group will be facilitated by Marc Daigneault, office manager, who brings his years of work experience along with being a dad and grandfather. The group is at no cost to participants and is meant for men to find a safe, confidential place to meet other dads who also are raising a child with a developmental delay or disability. Men do not always naturally create such opportunities to share stories, laugh and lament about their day to day lives. South Sound Parent to Parent recognizes this and felt the time was ripe for this new group. "I am excited about it," says Marc who knows the importance for dads to have a time of respite. A Mom to Mom group is already in place.
SibShops
The second new group is an expansion of SibShops. The current Sibshops is for youth from 7- to 12-years-old and specifically designed for children whose sibling lives with a developmental delay or disability. The popularity of SibShops has called SSP2P to start Teen SibShops, which will be a similar program but geared up for teenagers from 13- to 18-years-old. Growing up comes with its own set of stressors to navigate, which can be exacerbated with a sibling who has special needs. Questions such as "Where do I fit in? It is OK to be happy? How do I deal with bullying? How do I get the attention I want?" are common. Sylvia Davenport, helping parent/transition coordinator, wants family members to "find their place" and have a comfortable, safe place to talk, play games and do crafts designed for their age. Teen SibShops begins Tuesday September 17 from 6:00 p.m. to 7:30 p.m. Dinner is included. There is no cost to attend but it is important to RSVP by September 12.
Diaper Drive Happening Again
SSP2P also wants to remind everyone about their 5th annual Happy Bottoms Diaper Drive. Did you know that a single mother working full time at minimum wage could spend 6 percent of her gross income on diapers, which is $18.00 a week or $936.00 a year? One in three mothers cut back on essentials such as food, child care or utilities to afford diapers. South Sound Parent to Parent utilizes a large team of professionals who do home visits. Ideally each would have a supply of diapers to leave with families in need. "Some of our families are low income," notes Sheila Kavanaugh, development director, but that is not a requirement to participate in any of the programs. She is looking for businesses that are willing to be drop-off locations. If that could be you, please contact Sheila at 360-352-1126 ext. 101 or send her an email at skavanaugh@ssp2p.org. You can make a cash donation on their website or drop off diapers at their business location. All sizes are welcome and there is great need for sizes 4 and 5. You can also donate wipes and sleep-over disposable pants.
SSP2P helps 4,500 families in our community each year. The program utilizes over 68 volunteers, all who have completed a state-mandated training. In addition to the support groups, families can borrow from the medical and adaptive equipment loan program or get toys on loan from the Marie Short Honorary Toy loan program. SSP2P strives for early intervention, which is from birth to three years, but the agency is active with families throughout their life span. There is a library with current information and local resources, monthly newsletters and continuing workshops and parent trainings. Every event is meant to empower parents, to relieve isolation and to make supportive connections.
There are many ways to help. You can become a volunteer, donate toys or equipment, shop with the Amazon wish list, become a board member or schedule a presentation for your organization.
For information about the TEEN Sibshops, contact Sylvia Davenport at sdavenport@ssp2p.org.
For information about Dad to Dad, contact Marc Daigneault at mdaigneault@ssp2p.org.
For information about Happy Bottoms, contact Sheila Kavanaugh at skavanaugh@ssp2p.org. Learn more by visiting the South Sound Parent to Parent website or calling 360-352-1126.
Sponsored