For those who remember the City of Yelm back when one blinking light directed traffic in the main intersection, the city's multiple stoplights and numerous housing developments may seem like a foreign landscape. Within the next decade residents are in for another seismic shift, this one involving a re-imagining of downtown in conjunction with the completion of the Yelm Loop.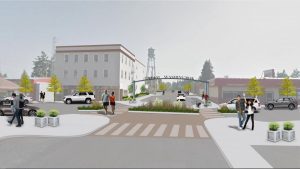 Phase one of the bypass was completed in 2010, making it possible for drivers to take a roundabout on the north end of town and avoid traffic near Yelm High School. Phase two is on schedule to be complete by mid-2023. The Yelm Loop project is project funded through the Washington State Department of Transportation as part of the 16-year, $16 Billion "Connecting Washington" program. This aerial video shows the route the bypass will take.
Doug Adamson, a Communications Consultant with the Washington State Department of Transportation, anticipates the completed project will prove helpful to both residents and commuters from outside Yelm. "There are a lot of benefits for the Yelm Loop," he says. "One of them is safety. We are giving drivers the opportunity to reasonably go around the downtown core and help reduce congestion. For those heading into downtown for shopping or business, there will be fewer vehicles on that same stretch of road."
The bypass will also feature options for cyclists and pedestrians, a key part of the overall transportation strategy. In the downtown core that means developing creative ways to improve access. "We're looking at wider sidewalks on Yelm Avenue and making sure we have pedestrian connections," says Associate Planner Tami Merriman. "Potentially, that means changing some of downtown into activated alleys, which serve both pedestrians and vehicles, and having places for outdoor cafes and seating."
In July, the Yelm City Council approved an updated six-year Transportation Improvement Plan that includes projects both small and large in scope, all with the same end goal: to improve flow, connectivity, safety and economic vitality within the downtown core.
The plan includes multiple components, with particular emphasis on three main parts: the bypass, mini-loops that alleviate congestion downtown, and pedestrian improvements throughout the city.
For some of these projects, it's the last stage of a process that began more than 30 years ago, says Community Development Director, Grant Beck. "Both a 20-year plan and a 6-year plan are required by the state in order to be eligible for state and federal transportation dollars," Beck explains. "The difference is that within the six-year plan you have to identify funding mechanisms."
Accompanying the improved regional traffic flow expected with the completion of the Yelm Loop is a Corridor Study, conducted in collaboration with SCJ Alliance and funded by a Surface Transportation Program (STP) grant. The study examined the area around Yelm's main intersection, including the street network between SW Railroad Street and 4th Street and between SE Mosman Avenue and Jefferson Avenue NE. Based on a combination of study results and public input, projects in the subsequent plan address congestion and safety concerns, improve pedestrian and bicycle mobility, increase on-street parking, enhance connectivity between community assets and open spaces, and create an overall greater "sense of place" in Yelm.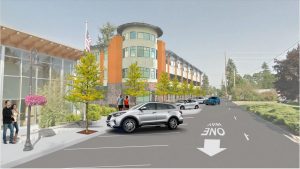 In planning for the bypass, the city took a long term view says Merriman. "Through residential development we've protected a lot of right of way," she notes. "We also made sure through our land use review that all of our residential developments have connected streets. If there isn't development on the adjacent property, the developer has to provide for future connections." Commercial developments are required to include connected parking lots so that visitors aren't required to get on the highway in order to get back into town.
Bicyclists who use the Yelm-Tenino Trail currently have to stop at two crosswalks in order to get through town due to a missing link between that trail and the Prairie Line Trail. The city plans to use its existing relationship with Rails to Trails Conservancy, a non-profit dedicated to creating a nationwide network of trails from former rail lines and connecting corridors, to fill in that link so cyclists can ride all the way to Roy without interruption. "Our downtown plan looked at how to incorporate that trailhead into the pedestrian access to downtown," says Merriman. "When that trail does connect north, it will be an amazing route to take."
The final piece of the plan involves a series of mini-loops aimed at helping residents get where they need to go without having to drive through the center of town. A series of road improvements over more than a decade has already made a difference. "Now you can get from Coates Road all the way to Wal-Mart just using connections," says Beck. The biggest project was Stevens Street, which runs parallel to downtown. More recently, the city has extended Mosman Road and added a light near Yelm City Park, improving the block nearest the intersection. Improvements will continue as the city prepares for the completion of the bypass.
While the projects listed in the six-year plan require funding, Merriman notes that some of them are simple and inexpensive, such as posting wayfinding signs on trails and side streets to direct visitors into town. Beck agrees. "For all of the projects together, it will cost millions," he says. "We need to pick and choose, but we've been really successful with using traffic impact fees to match state and federal funding, which has allowed us to do some projects that would normally be outside our weight class. We have a lot of options for potential funding."
Learn more about the City of Yelm's Downtown Transportation Strategy. 
Sponsored