There are nearly two dozen Native American and First Nation tribes who call the Puget Sound watershed region home. Of these, the Squaxin Island Tribe is known as the People of the Water for their long history in and around the southernmost waterways.

Three years ago, the tribe became a sponsor of the always popular annual Olympia Harbor Days. A family-favorite event for more than 45 years, it celebrates our reliance on—and enduring love of—the waters around us.
Harbor Days Executive Director Carol Riley is excited for partnerships such as these. "This year, we have collaborated with community groups and have expanded to bring pre and post activities to the festival and continue to expand daily offerings," she says. "I enjoy organizing and growing this live event and creating lasting memoires for the whole family."
"Several years ago the Squaxin Island Tribe opened and closed the festival with a Tribal prayer at Harbor Days," explains Leslie Johnson, Tourism Director for the Squaxin Island Tribe. "Three years ago, the Tribe became a major sponsor. At that time, we were asked to share our culture at the Port Plaza for the Squaxin Island Salish Seaport. Olympia, Washington and Budd Inlet (as we know it, Steh-Chass) are one of the Tribe's ancestral watershed lands."
During Harbor Days, visitors are welcome to explore vintage and working tugboats, explore vendors, and enjoy a full array of entertainment, art, history and community. Look for representatives from the Tribe showcasing music and exquisite craftsmanship as you explore.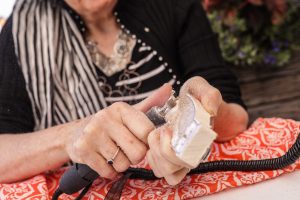 "This year several Tribal drum groups will get together to jam (drumming, dancing and singing)," says Johnson. "And we are working to get several story tellers and a few drum groups who will individually jam. In addition, Squaxin Island artists will demonstrate their specific art. Last year we had carvers, a weaver and a beader."
Olympia is known far and wide for its waterways and has been for generations. It's a true working waterfront that is vital to many. "Many people in Thurston County are unaware that this region is part of the Tribe's ancestral area, along with Eld Inlet and Henderson Bay, to name only part of our area," says Johnson. "We have an information booth at our Seaport to talk about the Tribe's incredible, fascinating heritage and history."
But the tribe is also an active part the region's future. "In addition, many do not know how involved the Squaxin Island Tribe is with the Thurston County region. The Tribe jointly manages the watersheds with the state for their members' shellfish and fishing sovereign Tribal Treaty rights. We work hard for the benefit of the environment, which of course then benefits all communities. For this reason, the Tribe sponsors Harbor Days and offers an enjoyable way to share our culture at the Squaxin Island Salish Seaport."
Want to know more? Representatives annually attend Harbor Days and OysterFest, sponsor the Hands On Children's Museum (HOCM) annual Gala, and were a staple at the Saint Martin's University Dragon Boat Festival and HOCM's Sand in the City.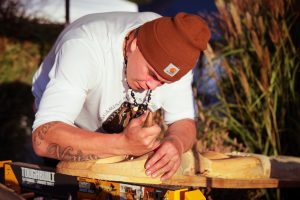 The best way to learn about Squaxin Island history, culture and arts is by visiting their gorgeous Museum Library and Research Center. The MLRC has a simple mission. "The Squaxin Island Museum Library and Research Center (MLRC) tells the story of the People of the Water through a series of exhibits and displays depicting the relationship between Squaxin Island Tribal members and the seven inlets of South Puget Sound…The hopes and dreams of our elders and those who have walked before us have come true through this magnificent facility. Our culture, past and present, is preserved for people of all generations."
"Please visit our museum and the Hall of Seven Inlets," encourages Johnson. "We are located at 150 Kwuh-Deegs-Altxw, Shelton, just up the way from Squaxin's Little Creek Casino Resort. Kwuh-Deegs-Altxw means Home of Sacred Belongings in our native Lushootseed language. At both the museum and Harbor Days, we will again be giving out A People's History of the Seven Inlets—Seth-Chas. This first 40-page magazine issue tells the history of the watershed community, Budd Inlet/Steh-Chass of the Squaxin Island Tribe."
Find a listing of signature tribal events at the MLRC's online calendar or tribe's active Facebook page. Then print out your Harbor Days 2019 map and head on down to enjoy the fun Friday, August 30 through Sunday, September 1. Rain or shine, you won't regret it.