As the sun sets on another Pacific Northwest summer, there is one event that is amping up to celebrate the season with one last hurrah. Brats, Brews & Bands on September 7 will bring local music, tasty beverages and sensational food to support local charities through the Gateway Rotary.
Gateway Rotary was established in 2011. This club focuses entirely on service at both a local and international level. Business owners and leaders in our area are frequently members due to their connections to the community. With a goal to bring positive change to Thurston County, the club is quickly becoming one of the fastest growing organizations in our area.
President of Gateway Rotary, Len Faucher, was a transplant from the east coast when he joined the club that focuses on service. "My first goal of joining rotary was for networking and getting to know people in my new community," describes Faucher. "I met the founder of Gateway Rotary, Tom Carol, and he really explained the background of it. The Rotary is all about high ethics and morals and wanting to do good things in the community along with local business promotion. It seemed like a great fit for me in my new community of Olympia."
One of those good things the rotary does is put on events, like the upcoming Brats, Brews & Bands, to raise money for local charities. Proceeds from this year will support vital programs in our area including Cool Jazz Clean Water, Homeless Backpacks, Lacey Police Explorers, Rebuilding Together Thurston County, The Boys & Girls Clubs of Thurston County, The Gold Star Wives of America, SPSCC Foundation, and TOGETHER! Thurston County. All of these causes are Thurston County based and work to support families in our community.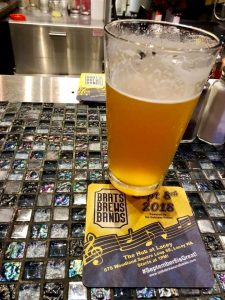 This year, the event will be even bigger and better than before. "Brats, Brews & Bands is going to have some really innovative bands that we haven't had in the past," says Faucher. "We are also going to have individual breweries represented, local beers on tap, and a push on ciders we haven't had before. I'm really looking forward to it."
The first "B" stands for brats and they are showcased prominently throughout the celebration. Guests can enjoy a standard dog on a bun or they can try several unique versions of the barbecue classic. The Ricardo features a brat with whipped cream cheese and caramelized onions while The Terminator Brat places the dog atop a pretzel bun with melted cheddar cheese, sourless kraut and grilled onions. There is a brat for just about any palette.
The second "B" focuses on the brews that not only pair well with your brat, but also help wash it down. Tumwater's Triceratops Brewing Co and Matchless Brewing will be on the menu alongside with Lacey's Top Rung Brewing Co, Olympia's Well 80 Artesian Brewing and Fish Brewing Company, and Centralia's Dick's Brewing Company. Each brewery will bring their own unique flavor to this year's festival and for the first time, Tart Hard Cider will be on hand bringing their vegan and locally sourced cider to the masses. While apple is always the focus, their mango cider is a must try for any cider enthusiast.
The final "B" brings everything together with the unique sound from bands of the Puget Sound. With four different stages hosting country/western, acoustic and rock options, bellies will be full as guests dance the night away. Some of the bands featured this year include Seattle pop-country artist, Kaitie Wade, Pearl Jam tribute band, Washed in Black, and Exit 88, a South Puget Sound rock band specializing in music from the past to the present. Be sure to check out the full line up and schedule before heading out to The Hub at Lacey.
The festivities take place on September 7, 2019 beginning at 1:00 p.m. until 10:00 p.m. Tickets are only $10 and attendees are encouraged to purchase in advance to avoid a potential sell out. All proceeds from this year's event help to support local nonprofits in the greater Thurston County area.
Sponsored