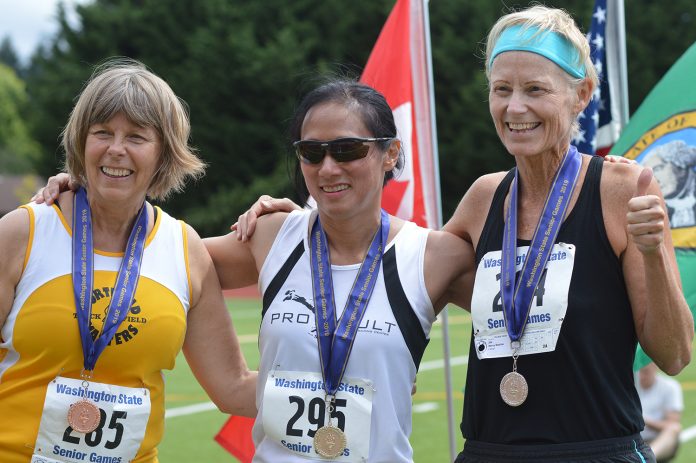 Dianne Foster's official title is Washington State Senior Games track commissioner, but even that doesn't come close to accurately capturing just how much she has brought to the annual athletic event for nearly two decades.

The Senior Games, which are the largest Olympic-style multiple-sport event in Washington, celebrated its 23rd edition July 26-28. For all but four of the games, Foster has been there, lending a helping hand wherever it was needed.
She was easy to locate at Tumwater High School on July 27 for the track portion of the games. Foster was the one directing all the traffic, putting athletes, volunteers and officials in the correct places. She was also the one at the end of races collecting bid numbers from participants right after they crossed the finish line.
When she had the time, Foster was the one snapping photos – something she did at several of the events, including ballroom dance.
"I'm still learning how to take pictures," Foster admitted. "I think I took 1,000 photos at ballroom dancing. Whenever they twirled, I seemed to just miss them. So, I'm still figuring things out."
When she wasn't snapping pictures of couples doing the cha cha or foxtrot, Foster was taking the organizational lead at the track event as well as power walking and race walking. The following day, she volunteered to help with the cycling event in Boston Harbor.
"I have a lot of great people helping me," said Foster almost downplaying our valuable contributions. "I play in a bell choir and recruited them to come and help with the things I couldn't do."
If the track competition at the Washington State Senior Games is an automobile, Foster is the engine, and has been since 2000.
"They wanted me on the board because I knew a lot about running and sports and whatnot," said Foster about how she initially got involved with the non-profit organization. "They wanted me to do the website at first. So, I did that. Eventually I started doing the results and then ended up doing the whole registration. We just kept adding to it, I guess."
So much so, that 19 years in and Foster's efforts are integral to the event's success.
Despite being a non-qualifying year for the national senior games – something that usually results in a lower number of athletes – this year's Washington State Senior Games still surpassed 1,000 total participants with more than 200 of them competing in track.
"We've been increasing (the total number of athletes) overall every year," Foster said. "Track has stayed about the same. On a non-qualifying year, we usually have fewer people. Nationals were just held in June in Albuquerque, but we still had a great turnout this year. People hear about us and spread the word."
This year's track and field competition featured a strong showing from athletes from Oregon, but several locals still managed to take home some gold.
Tumwater residents Craig Wood and William Won registered four and five first-place finishes, respectively.
Wood, who competed in the 50-54 men's division, took home gold in the 50 (6.82 seconds), 100 (12.13) and 200 (24.90). He also captured first in the long jump (18'01").
Won finished first in four track events, winning the 50 (7.38), 100 (14.03), 200 (29.56) and 400 (1:06.18) in the men's 55-59 division to go with his triumph in the standing long jump (7' 11''). Won, who was a participant at the national senior games, also collected a silver in the pole vault, finishing second to Tumwater's Paul Kramer, who was also victorious in the high jump in the 55-59 division.
Additional Thurston County athletes notching firsts in men's track and field were Lacey's John Medeiros (1500, 70-74), Olympia's Douglas Woollen (1500m 70-74), and Olympia's George Johnson, the 75-79 winner in the standing long jump and high jump.
Tumwater's Gail Kramer won the women's standing long jump, shot put and football throw in the 50-54 age division. Rainier's Patti Kacz (women's 60-64, weight throw) and lympia's Francia Reynolds (women's 70-74, discus) both picked up firsts.
Several Washington State Senior Game track champions also placed at the national games. Gig Harbor's Jane Treleven finished first in the women's 800 in the 70-74 division. She also won the gold medal in the same event at the national games. Bainbridge Island's Marina Worsley, the runner-up in the women's 200 (75-79) at nationals, won the event at the state games, while Seattle's David Ortman won the men's 50 in the 65-69 age group at state after collecting a third-place finish in the event at nationals.