Larry Allen and Joel Ostreich may be as dissimilar as two people can be, but they do have one thing in common – they both turned their love for motorcycles into successful independent businesses.
Olympia Motorcycle Tire
and Affordable Cycles are in Olympia's Westside neighborhood, tucked back behind Green Lady in the lot next to the California Taco Truck. They aren't easy to find but they are well worth the effort.
Once you get there, you will see Olympia Motorcycle Tires first, a small storefront with a Motorcycle Parking Only sign posted outside the front door and inside – fresh tires from the best in the business. Two doors down is Affordable Cycles. There, Joel works magic on Harley-Davidsons and other cruisers with everything from tune-ups to complete rebuilds and all kinds of customization.
The two businesses are not connected in any way other than sharing the same building and a love of motorcycles, but having customers coming into either store is mutually beneficial to both. Need a tune-up? Head to the end of the lot to Affordable Cycles. New tires to go with that nice running ride? Cruise the 50 feet to Olympia Motorcycle Tire.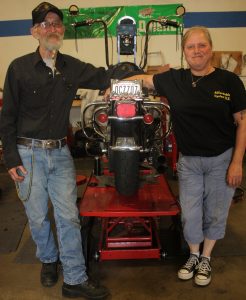 A Pledge to Help Fellow Riders: It's Old School
These two businesses symbolize what anyone who rides motorcycles knows: motorcycling is the great equalizer. While Larry eats a salad for lunch and Joel smokes like a chimney, there is a common thread linking these two. "That people love to do what I love to do," says Larry, "and they are getting out there and I'm taking care of their needs." Larry shakes his head. "I feel like I am doing a public service and running a business."
"This is a lifestyle," says Joel. "It is not about making money. Once you lose that perspective, then you aren't having fun anymore. Even if I were to close the business now, if I saw a bike broken down on the road, I am still going to stop and try to help them. It's a way of life, it's old school."
Passing on the Knowledge
When you've been riding and working on bikes since you were a teen, you possess a lot of valuable knowledge. Both Larry and Joel are open books when it comes to sharing what they know.
For Larry, it is asking the questions that will let him know the type of tire that best suits your riding style and environment. "Some of my customers are fair weather riders and a lot are year-round riders," says Larry, "so I try to serve the needs of both. The replacement tires are usually superior to the stock ones that came on the bike." With a big smile Larry leans forward, "That's where I come in. If you are a knee and elbow rider, the Dunlop Q3 is the tire for you. If you are a commuter who rides to work every day, the Dunlop Roadsmart III is your tire of choice."
It may seem odd to be so excited about tire choice, but trust me – it is a better time for that emotion than when you are cornering in the wet.
Joel helps out motorcyclists with older Harley-Davidsons. Like Larry, he has been wrenching on his own bikes since he was a kid. That experience really helps out anyone with a 2004 or earlier Harley. The local Harley dealership doesn't work on those older bikes so they often refer customers to Joel.
The Adventure Continues
"I have been working on bikes since I was 13," says Joel. "My dad and I used to work on bikes together. Over the years, if someone had a problem with their bike, I would fix it. My wife said as long as you are working on all these bikes why not open a shop?" Pausing, Joel adds, "I guess it was just fate because at the time we realized I had outgrown my garage, this place became available." Sitting next to his wife, Stacy, Joel surveys his shop, loaded with bikes in various stages of repair, "Took just two weeks. And I was here."
"It has been an adventure," says Stacy with a laugh.
Joel nods at her in agreement, "And it still is an adventure."
So, the next time you are on Olympia's Westside swing by. Talk tires, get a potential new bike checked over before you lay down the cash, or just say hello. And for your next ride you might want to check out this favorite of Larry's, he's been sharing great motorcycle routes with ThurstonTalk readers for a few months now with local writer Stacey Jurss.