Every summer the sports fields on The Evergreen State College campus come alive with young athletes, ages 8- to 18-years-old, all excited to practice their skills in sports and have some fun while they're at it. Camp Speedy offers camps focused on basketball, soccer, and volleyball, as well as two elite camps for soccer and volleyball. The elite camps are for older campers, who spend much more time focusing on training techniques and honing skills specific to the sport.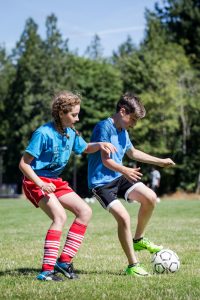 It's a great way to connect kids with college athletes and coaches, says Mitchell Balmer, a senior at Evergreen studying business and entrepreneurship. Mitchell is also a student athlete and member of Evergreen's men's soccer team. Last year, he started working at Evergreen's Camp Speedy as a coach counselor. "I thought it was going to be just another summer job, but it's not," he says, "it's so much more fun, hanging out with kids, playing soccer all day, it doesn't even feel like work."
"It's important that there is some good technical training for the campers," says John Putterman, assistant director for intercollegiate athletics and men's soccer head coach. John has coached soccer at Evergreen for 14 seasons, and has participated in Camp Speedy since he started. "We want campers to really be engaged in the sport," he explains, "but it's also got to have a focus on fun, playing games and things that are sport related, but still fun activities."
Camp Speedy campers spend eight hours a day in camp, which allows them to get a lot done in just one week. In the morning when campers arrive, they get started working on skills and techniques specific to their sport. After lunch, campers participate in the kinds of activities that make summer camp fun, including swimming in the Evergreen pool or playing games.
College sports are brought to life for young campers at Camp Speedy, helping kids see college both as a place for academic learning and athletic learning as well. And there is something special about working with college coaches and athletes that makes the learning special. The whole experience is new to many of them. Some kids have never been on a college campus, so even eating lunch in the cafeteria is a fun experience, says John.
Sometimes, Camp Speedy sees familiar faces return, not just over the years as campers, but later in life as Evergreen student athlete coaches. "We've had a number of players start out as Camp Speedy soccer campers," says John. The interest in the sport is what initially brought them to Camp Speedy, and their love of the sport is what inspires them to return.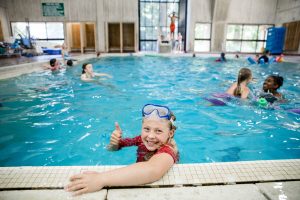 Jacob Zimmerman was a camper at Camp Speedy long before he became a counselor. With family connection to the Evergreen soccer team, Jacob's dad and uncle were both Evergreen soccer coaches, soccer is in his blood. He, his siblings, and his cousins all enjoyed time at Camp Speedy. Then Jacob came a student athlete, and found the opportunity to help other young soccer players that were once like him very appealing. "I enjoy working with kids," says Jacob. "It's a fun, carefree community of people, both campers and student athletes, who are interested in becoming better at their sport, but who also want to have a good time."
The Evergreen coaches direct each sport-specific camp and the student athletes do a lot of the hands-on work with drills, training and games. Between the coaches and student athlete counselors, the camper to coach ratio is about 10:1, affording the opportunity for lots of individualized attention when practicing skills. Heavy involvement in Camp Speedy by Evergreen student athletes makes that small camper to coach ratio possible. "In the morning we do warm-ups, and practice skills and drills," says Jacob, "Then we make time in the afternoon for more fun and games."
Camp Speedy takes place at The Evergreen State College campus every year and offers the perfect opportunity to introduce college level sports to kids and teens. To learn more about Camp Speedy, take a look at the Camp Speedy page on the The Evergreen State College Geoducks athletic website.
Sponsored