As Whatcom County's northernmost city, Blaine, Washington, isn't just home to the Peace Arch and an international border between the United States and Canada; it's also an ever-growing and evolving town with numerous events and attractions. And there's perhaps no better time to enjoy Blaine than during the summer, when sun, sand, ocean and fun come together to showcase a place well worth visiting, no matter where you're from.
This summer, Blaine hosts a number of fun activities for both children and adults, from an old-fashioned 4th of July celebration to historic ship rides on the waterfront. In addition, there are fantastic local restaurants to enjoy and businesses to discover. Here's what's going on in Blaine this summer:
Old-Fashioned 4th of July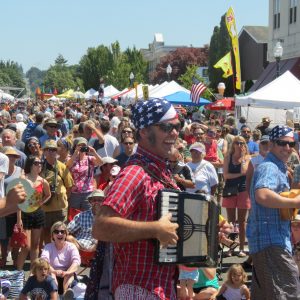 Blaine's Old-Fashioned 4th of July Celebration, now in its 17th year, is jam-packed with activities. Debbie Harger, Blaine's community development and tourism coordinator, says the event is usually the city's most popular summer event, bringing in up to 15,000 people.
Festivities begin early with a pancake breakfast from 8:00 a.m. to 11:00 a.m. at the Blaine Community Center, and continue with a Show n' Shine Car Show—featuring more than 200 vehicles and live music—from 8:00 a.m. to 3:00 p.m.
An all-day arts and crafts street fair will also keep you occupied, and features live music, a beer garden, children's activities, and nearly 100 local food and craft vendors.
The noontime Grand Parade, held along Peace Portal Drive, provides a chance not just to watch a parade, but to be in one! Staging is on a first-come, first-served basis beginning at 9:00 a.m., and there's no need to register beforehand (although it's recommended to fill out a registration form and bring it with you). Entries are free except for political displays and non-Blaine Chamber of Commerce businesses.
The Blaine Library will also have a book sale, and the MV Plover—a historic passenger ferry—will offer rides from Blaine Marina to Semiahmoo Spit, where the Semiahmoo Resort will host a holiday seaside barbeque. It all culminates at 10:15 p.m. with a spectacular fireworks display over the harbor at Marine Park.
"It really is an old-fashioned, small-town Fourth of July event," says Harger.
Blaine Harbor Music Festival, July 7-13
Held since 2002 under several different names, this week-long celebration of jazz-based music draws up to 3,000 people annually and is organized by the Pacific Arts Association, a local non-profit. The festival hosts a dozen concerts at multiple venues, as well as a music education program featuring workshops for middle and high school students.
Performance concerts take place every day at noon, with evening concerts featuring a student showcase and the incredible talents of festival faculty, who are professional musicians. And all but two concerts are free or by donation! The festival concludes July 13 with the Jazz-By-The-Sea Craft Fair, featuring views of the ocean, local crafts and dining options and, of course, great music.
Drayton Harbor Days, August 3-4
Blaine's annual maritime celebration takes place the first weekend in August at the Blaine Harbor Boating Center, with two full days of fun for families and individuals. The festival kicks off with a pancake breakfast, and also features local arts, crafts and food vendors, a pirate-themed event for children, model boat displays, and an outdoor movie night.
During the festival, two historic vessels will dock in Drayton Harbor: the Lady Washington—the official ship of Washington State—and the Hawaiian Chieftain. The two are replicas of 18th and 19th century ships; the Lady Washington was even used in a "Pirates of the Caribbean" movie.  Tours aboard both boats will be offered at just $5 per person, with ticketed sailing trips available at other prices.
Also available to ride: the historic MV Plover, a 32-foot-long, 11-ton wooden vessel that's the second-oldest operating foot passenger ferry in Washington state. The boat was built in 1944 to take workers from Blaine to the Alaska Packers' Association cannery at Semiahmoo Spit, and was used for this purpose until 1964. The boat was restored in the late 1990s, and—each weekend from Memorial Day to Labor Day—offers the state's shortest ferry ride. Traversing between Blaine Harbor and Semiahmoo Resort (roughly 25 minutes in each direction), the Plover provides a chance to take in local history, great scenery, and maybe even some seal-sightings, all for just $5 round-trip. Children's tickets are $1, and youngsters brave enough to take the Plover's helm receive a captain's certificate.
"It's just an icon of Blaine in the summertime," Harger says of the ferry.
While milling around on Semiahmoo Spit, check out the Semiahmoo Resort's amenities, which include a spa, golf course and restaurant. Or, take the time to check out the free APA Cannery Museum, or do a little beach-combing and wildlife viewing.
Summer Fun in the Park, August 24
During the dog days of summer, with children soon headed back to school, come to Blaine Marine Park's Summer Fun in the Park. The event features a wine and beer garden, with live music from Gladstone and Wicked Timing. Local food vendors include Paso Del Norte, Cicchitti's Pizza, Sage Against the Machine, Sugar Shack ice cream and Yaple Kettle Corn.
At dusk, a family movie—The Sandlot—is shown outside, free of charge.
Fresh Seafood on the Waterfront, All Summer Long
If you're into seafood, there's perhaps no better treat than oysters on the half-shell. At the new Drayton Harbor Oyster Company Oyster Bar location at 685 Peace Portal Way in the heart of downtown, you can enjoy super-fresh raw or grilled oysters paired with one of a dozen microbrew options.
The new spot, two doors down from the Oyster Company's old one, features a custom-finished bar made with reclaimed wood, and features huge windows perfect for viewing the harbor. It has the charm and simplicity of the old restaurant, but with more seating. The location's soft opening occurred in mid-May, with a grand opening slated for sometime this summer.
"If you like oysters and haven't experienced it, it's the place to go," say Harger, adding that the building also features a new shop location for Ferndale-based Barlean's Fishery.
Hours for the new Drayton Harbor Oyster Company location are noon to 7:00 p.m. on Mondays and Thursdays through Saturdays, and noon to 5:00 p.m. on Sundays.
So, with all these great activities in mind, visiting Blaine seems like a no-brainer, doesn't it? As Harger simply states: "It's a great place to be for the summer."
For loads of lodging ideas, please visit Bellingham.org.
Sponsored