Your morning ritual to prepare for work, your weekend respite, or your mid-day pick me up: a good cup of coffee can make the day. Around here people are used to having a great cup of Batdorf & Bronson's (B&B) coffee every day at home, or grabbing the perfect cup to go when they stop by a Dancing Goats Coffee Bar. But what happens when they aren't home and they aren't staying local? They may suddenly realize they are missing that special something that gets them going. Batdorf & Bronson's new summer campaign calls on the "Brews Traveler" to think ahead when planning their adventures so they don't have to leave that great cup of coffee behind.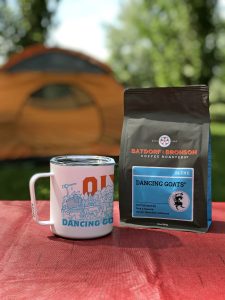 Summer travels mean different things to different people, and your access to equipment and supplies will vary greatly, depending on if you are staying in a hotel room or out camping under the stars. "We just want to share our knowledge about all the different ways you can brew a great cup when you leave home, whether it's a road trip, camping or hiking or jet setting someplace exotic." Says Becci Welsh, director of business strategy. Whether you are on a solo trip, out with a partner or joining a huge group for a family reunion, wedding or other major event, coffee doesn't have to be an afterthought, she says.
A perfectly brewed cup of coffee can elevate your summer adventure from great to epic. "When you get to take a break and appreciate the slow life for a bit, the ritual of brewing your coffee can really heighten the experience, says Ben Jones, training and education for B&B. Making a great cup is as easy as following a few simple steps. "Make sure you have quality beans and good water," he recommends.
Ben says that the AeroPress is one of the best ways to make your own coffee on the road. It is light, easy to carry with you, and the water doesn't have to be quite as hot to make a good brew. You can use hot water from your campfire or the Keurig in your hotel room, and still enjoy the quality flavor of perfectly roasted beans.
Ben won the 2016 AeroPress competition, with this really simple recipe: "All you need is a scoop of ground coffee, 19 to 22 grams if you want to be precise, about 10 ounces or so of water, and a good solid mug. Then, just assemble your AeroPress over the mug, add the coffee grounds and the water, stir, and let it steep for about a minute and a half. Then push the plunger down and you have your fresh cup of coffee. It's pretty hard to mess up."
Keep an eye out on B&B's Facebook page, or follow B&B on Instagram and Twitter for more great tips and recipes on how to take your coffee with you, no matter where you go this summer, and you can be a Brews Traveler too.
If you have questions about how to work a fantastic brew into your summer adventure, stop by the Batdorf & Bronson tasting room for advice, and see the recent remodel, or talk to your barista at any Dancing Goats retail location.
Batdorf & Bronson's online store and retail locations carry all the equipment you might need, plus the best beans for your Brew Traveling. In addition to tools and supplies available online or in Dancing Goats Coffee Bar retail locations, look for new summer Brews Traveler apparel and totes. And of course, awesome seasonal Miir mugs, available in a camp cup, a travel mug with interchangeable lids, and a 20-ounce tumbler great for iced drinks for you to take your great cuppa joe wherever the wind carries you.
A good cup of coffee doesn't have to be a complex thing, and it's something you can have anywhere, let Batdorf & Bronson teach you to be a Brews Traveler all summer long.
Sponsored