Submitted by Westport Winery
The second annual Austin "Bubba" Mullikin Memorial Disc Golf Tournament will be held at Westport Winery Garden Resort on Sunday, July 14. Tournament organizers welcome both competitive disc golfers as well as those who wish to play for fun. All ages and spectators are encouraged to join this celebration. The tournament has a shotgun start where there are teams of players at each hole at the beginning.
Tournament players check-in at noon to begin play at 1pm. One distinction of this course is that it is a putting course. There are no long fairways, so each tournament player's entry fee of $25 includes a commemorative Innova Rhyno DX putter. Prizes will be presented to the top three tournament players. There is also a 50/50 raffle option.
As a putting course it is an ideal way for families to join in the fun. Just for fun teams play for $25 per team with check-in at 1pm to begin play at 2pm. This includes four free fun discs to take home or to the beach. There must be at least one adult on a just for fun team.
Another unique aspect of this course is that it is a "tone" pole course. Instead of traditional baskets with chains, each pole features a metal sculpture created by local artists. Players must "ring the bell" to complete the hole. Discs that only hit the post do not count as the finish. This is a par 2 course with some short holes, several dog legs, and two blind throws that are either up or down hills.
Food and beverages (beer, wine, soda and water) will be available to purchase on the lawn adjacent to the course. Plus, there will be music for all to enjoy before, during and after play.
Bubba's family and friends created the tournament last year as a fundraiser for a trade school scholarship in his name at Aberdeen School District. If you cannot attend but wish to contribute to the scholarship you can visit the event page on Facebook.
The winery installed their memorial tone hole course in Mullikin's name in 2018. Bubba was killed in a motorcycle accident in 2017. His fiancé Toni Ann Dawson is a valued member of the Westport Winery team. To support her, along with his family and friends, the winery opened this unique disc golf experience on what would have been Bubba's birthday last year.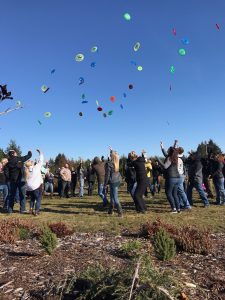 Westport Winery Seaside received the 2019 Rising Star Award from the Seaside Chamber of Commerce. Westport Winery and the Roberts family were honored with Seattle Business Magazine's Community Involvement Business of the Year for 2018. In 2017 the Westport Winery Garden Resort was named Greater Grays Harbor Business of the Year. USA Today named the Sea Glass Grill at Westport Winery Garden Resort one of the top five winery restaurants in the nation. The business has been voted Best Winery by King 5 Evening Magazine.
In 2016 Westport Winery was honored as one of the top twenty most-admired wineries in North America by Winery & Vineyard Management Magazine. The business earned Best Winery, Best Wine Shop, and Best Boutique Winery for 2016 by South Sound Magazine. They received the Grays Harbor Environmental Stewardship Award in 2015. They are finalist to the Best Washington Family Business competition by Seattle Business Magazine. And in 2011 they garnered Washington Winery to Watch by Wine Press Northwest.
In Oregon, Westport Winery Seaside and Seaside Kites are open daily from 11am to 6pm. To book Westport Winery Seaside Retreat (a three, king suite vacation rental) go to https://abnb.me/wm8iVGkHCT.
Family-friendly Westport Winery Garden Resort is located on the corner of Highway 105 and South Arbor Road halfway between Aberdeen and Westport. The Sea Glass Grill at the resort is open daily for brunch, lunch, and dinner from 8 a.m. to 7 p.m. For more information or reservations call 360-648-2224.