James "JJ" Jackson prepares to walk across the stage for commencement with his class at The Evergreen State College. The diploma he's earned serves as an acknowledgement of his hard work and dedication. His diploma will be the second such acknowledgment he's received recently. Several weeks ago, at the Museum of Flight in Seattle, JJ received the Governor's Civic Leadership Award through Campus Compact. Selected from a pool of amazing student leaders throughout Washington, JJ was recognized for the tireless work he has been doing to help reduce recidivism among people who were formerly incarcerated.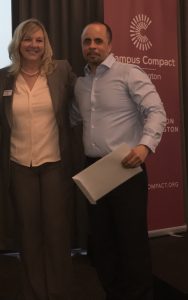 Recidivism, simply put, is when an individual who was formerly incarcerated commits another offense after their release. Reducing recidivism benefits us all. It helps individuals live full and productive lives. It helps our communities become stronger, safer places. And it frees up tax money to be reallocated from policing and incarceration to be used for other public services like education and infrastructure. Identifying the causes of recidivism is an important part to reducing the problem.
"None of the work I did happened without a team of people," says JJ. JJ is one of the coordinators of Justice Involved Student Group (JISG). He has worked alongside members of Gateways for Incarcerated Youth, the Sustainability in Prisons Project and Academic Mentoring Program, which are all umbrellaed under the Center for Community-Based Learning and Action (CCBLA). James, and the other students he works alongside, are seeking to reduce recidivism through scientifically supported practices: changing preconceptions and supporting education of currently and formerly incarcerated people.
Stigma is one of the greatest hurdles a person who was formerly incarcerated must overcome. "In a truly just society, someone who has been punished, and paid their debt to society, should not be punished forever," says JJ. Once an individual has completed their sentence, the label of incarceration tends to follow them everywhere. This often results in a mark that equates to a life sentence, usually for petty and non-violent offences. This mark prevents individuals from securing housing and employment which are important steps to break the cycle of incarceration, as a growing body of research suggests. "Most people who are currently incarcerated are there, to a large part, as a result of poverty conditions or mental illness," explains James. "They are real people, with loved ones, and goals and dreams of a better future." Breaking stigmas is just one step in helping people, especially youth, to turn their lives around.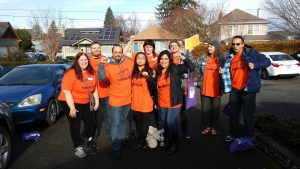 "Education is a game changer for all people, but especially for formerly incarcerated students," says JJ, "And education is not learning what to think, but learning how to think." For someone who didn't finish high school as a teenager, and earned his GED later in life, education opened a world of opportunity and different thinking for JJ. Now, he hopes to open that opportunity to others, through advocacy and support.
In addition to working toward his degree, JJ currently helps incarcerated youth in the Green Hill School Detention Facility in Chehalis and youth in the Thurston County Juvenile Detention Center to work on their own educations. "They learn that they can learn—its paradigm shifting—freeing their minds to see that life can be better." Not only do volunteers like JJ work with students surrounding education, they also spend time with them, getting to know them as people, playing cards or just hanging out. "For the currently incarcerated youth, they see people actually care, and it's really beneficial for them," he adds.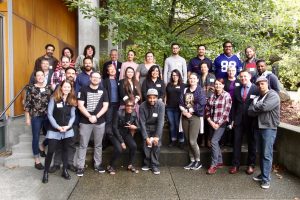 It can be hard for some currently incarcerated people to accept help from outside sources, but JJ is a credible messenger, and he serves as an example for what can be overcome. See, JJ was once incarcerated himself. He never imagined that he would find himself walking across the stage to graduate with a college degree, but through a lot of hard work and determination, JJ will receive his Bachelor's degree this month with a focus around Social Sciences.
JJ plans to continue his work as an education reentry navigator, assisting formerly incarcerated people in navigating the college process, not just getting into school, but throughout their whole education.
JJ and the JISG, members from Gateways, SPP, AMP and staff and faculty, including members from the Evergreen Tacoma Campus, came together last year for a Summer Summit. Working together they created the Evergreen Education Coalition for Justice Involved Students, with a goal to work together to make changes happen that will benefit the community as a whole.
If you want to help people who are currently or formerly incarcerated, stop by the CCBLA on the Campus of The Evergreen State College. They can direct you to a program that will help you make a difference in the lives of others.
Sponsored