The Census Bureau reports that more than 500,000 of our country's 21 million veterans live in Washington State alone. Of these, nearly 20 percent have what is referred to as a service-connected disability rating which means they "have at least one service-connected medical condition."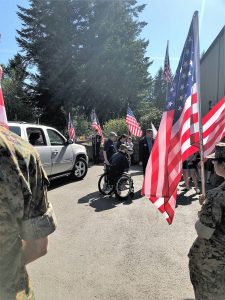 Some of these disabilities can make home life difficult. Imagine trying to conquer the endless puttering of your honey-do list from a wheelchair or with restricted physical mobility. Thanks to the tireless work of organizations like Homes For Our Troops (HFOT) and Lacey's Budget Blinds, local service members can come home to adaptive technology and customized modifications in a completely debt-free new house.
Homes For Our Troops has built nearly 300 such houses in the last 15 years. Their mission is to "build a home for every Veteran who qualifies for one of our specially adapted homes…HFOT builds homes as a pivotal point for these Veterans to rebuild their lives, and once again become highly productive members of society. Despite their life-altering injuries, many of our Veterans have embarked on new careers, completed their college degrees, or started families. Empowered by the freedom a donated specially adapted custom home brings, these Veterans can now focus on their recovery and returning to their life's work of serving others."
In Washington, they're working on three properties currently with five more recently completed. Two are in the Thurston County area and Budget Blinds of Lacey is a proud sponsor and partner in these builds. "Being part of HFOT has been so rewarding," says owner Amber Snaza. "What our military families sacrifice to keep us safe is beyond words. I feel privileged to be able to give back."
The homes are for Army Sargent Aaron Boyle of Yelm and Army Sargent Jereme Sawyer of Tenino. Both were injured in combat and lost multiple limbs. Having homes that are wheelchair accessible will enable them to spend more productive, interactive time with family and friends as well as the freedom to regain physical independence.
On May 18, 2019, "there was a landscaping volunteer day at Jereme's new home," says Snaza. "It was a great day to work outside. There were over 160 volunteers, it was amazing. July 20 is the Key Ceremony and Jereme will be getting the keys to his new home."
Sargent Boyle's project kicked off in May as well and a volunteer day is being organized. "Locally we provide the HFOT homes window coverings," Snaza explains. "Depending on the needs of the veteran, the window coverings are different. Motorization is something we do a lot of in these homes."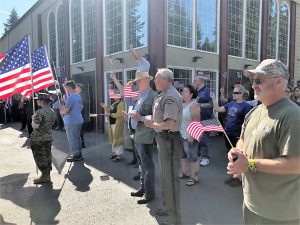 Motorized blinds are more than just easy to reach and maneuver. They can be controlled with a portable remote or wall switch but are also installed with energy efficient sensors that close the blinds when rooms are too hot or via timers to open and close automatically.
HFOT homes are built with "over 40 major special adaptations and exceed ADA compliancy standards, providing full accessibility for the Veteran. These adaptations include wider halls and doorways, automatic door openers, roll under sinks, stove tops, and counters, pull down shelving, generators and safe rooms, all designed to help the Veteran live independently. Homes For Our Troops builds four-bedroom, two bath, specially adapted energy efficient homes of just over 2,800 square feet, the right size home for a Veteran to comfortably raise a family while limiting expenses for utilities."
The veteran pays nothing for these homes with both mortgage and all building costs covered through donations from generous businesses and individuals. This allows the recipient to focus on their future without worrying about expenses.
Sargent Boyle is a dedicated father who hopes to become a traveling motivational speaker. Sargent Sawyer wants to return to school and eventually become a welder.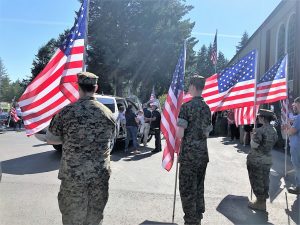 At Budget Blinds, Snaza loves having veterans on her team as well. Long-time employee Rey Pinlac served for eight years before joining the company. "I can't say enough wonderful things about Rey," praises Snaza. "He's dedicated, motivated, loyal, meticulous, honest, and dependable. Veterans all have so much to offer."
Read more about the products and services available from Budget Blinds and then call 360-894-8130 to schedule a free, in-home consultation. Want to get involved building Homes For Our Troops? Consider donating, joining their runners for race season, or volunteering on-site. Follow their calendar of events for days, times, and how to sign up.
We can't all become soldiers, but we can all do our best to welcome them home. Every little bit helps.
Sponsored