From Washington state to South Africa, Olympia-based Outdoors for Our Heroes (OFOH) removes barriers, so disabled military veterans can get outdoors. "The group centers around hunting, but it really is about what does that veteran want to experience. We work to be the broker to make that happen. It could be hunting, it could

be fishing, it could be camping, and horseback riding and hiking." says Tony Leingang, Board Secretary for OFOH.
Tony's stories about just a few of the veterans they've helped get out in nature are powerful and inspiring. Founder and fellow veteran, Jason Brown of Olympia, conceived OFOH as a way to give back to the men and women who have given so much in service to our country.
It was well into hunting season by the time the 501(c)(3) paperwork was filed in 2016, their first year of operation, but OFOH was able to get 11 veterans into the outdoors that fall, mostly waterfowl hunting in Snohomish County. That winter, they worked at raising awareness and funds to support more hunts by setting up booths at sportsman shows. The following summer, they held their first banquet fundraiser.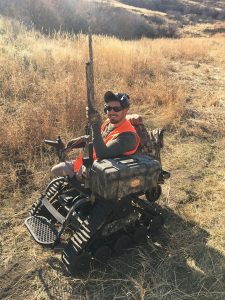 Proximity and connections at Joint Base Lewis McChord (JBLM) have enabled OFOH to assist many local veterans. One of the first guys to be taken out on a hunt in 2016 was having trouble adjusting. "He hadn't been out of his apartment for about six months," Tony relates. "We were able to take him out on a duck hunt." OFOH organized a group of applicants for a hunt in the Snohomish Valley. It required an overnight stay, and he was reluctant to go. "He was pretty introverted." After getting a couple ducks, he and the other veterans involved on that trip started talking more and by noon they were high-fiving and joking with one another. "By late afternoon, he was a whole different person," says Tony.
"Our motto is gratitude for sacrifice and that is just one example of the kind of thing that comes from doing this," Tony adds. "What usually happens, especially on the local hunts that are less costly, we'll get a group of them together and they end up being friends."
Though the nonprofit is based in Olympia, they assist veterans from all over the U.S. "We've had a gentleman we flew from Tennessee down to Sonora, Mexico. He went on a once-in a-lifetime hunt for a big mule deer. Then a couple of folks just got back from a South African safari." Their hope is to expand OFOH to chapters in other states to reduce costs and facilitate activities in more areas.
"We've been very fortunate to be able to acquire mobility devices that help get our folks out and about," Tony shares. "We have two trucks and a trailer to haul a side-by-side UTV to take people around. We have two tracked wheelchairs now. They look like tanks but they are wheelchairs. We are partnered up with the Northwest Chapter of the USO. A person passed away who had a power wheelchair, they donated that to us to keep it out there. These are all really expensive devices to buy. All of that's been donated."
OFOH works hard to make sure the experiences are successful. Veterans who have lost limbs, are paralyzed, or are weakened from illness are still able to participate. OFOH has found devices that attach to their track wheelchair to hold a rifle and pull the trigger by blowing on a mechanism. "We've come to a place where there really is no hurdle we can't cross. Someone is out there making it, or we're dreaming it up and somebody wants to make it," shares Tony.
Each hunt leads to new connections and new challenges. A TV crew tagged along and filmed the Sonora Mexico hunt for Bone Cold TV, a publisher gave Tony two days to write the article "The Old Marksman Gets His Bull" for the October 2018 issue of American Shooting Journal. The story details how OFOH made sure Bill Allen, a terminally ill Vietnam veteran, could realize his life-long goal of harvesting a bull elk.
"Our fundraisers are what make it happen," says Tony. Volunteer opportunities runs the gamut from spending a few hours at a booth talking to people about OFOH, to being in charge of the silent auction, raffles or registration at their annual banquet. Volunteers are also needed to help with hunts. Private landowners could offer to host a hunt on their property or open their land to a hunt. "We provide hunting insurance so they are held harmless," Tony assures. "Everything there is to do with the process needs to come from somebody volunteering to help us do that."
"If you are a veteran who would like to join us on a hunt, go to the website and fill out an application," Tony encourages. "Let us get our eyes on you and so we can make that happen." Applicants fill out a form and provide documentation. "Then we ask what is your interest? What is your ability?" he shares.
For more information, visit the Outdoors For Our Heroes website, or read more about their fundraising events, or call 206-571-0218.