Every year, a group of about 20 Avanti High School students takes a trip to Ashland, Oregon, to experience the Oregon Shakespeare Festival (OSF). This year, the group is leaving on Friday, June 7, for a four-day trip. The OSF and especially Avanti's trip is a topic near and dear to my heart as this will be my third year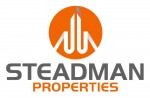 attending. During these four days, our group will see five shows. I am especially excited to see Macbeth because it was our school play this year. Avanti always makes it a priority to see at least one musical, which will be Hairspray.
The annual trip is organized and lead by John Hanby, who is both the resident English teacher at Avanti and the primary theater director. "I started the Ashland tradition in conjunction with beginning the Advanced Placement English program at Avanti in 2006," he says. "Our first trip was quite a bit different. We were only gone for two days, on the first day we drove to Ashland and saw a Winter's Tale that evening. The next day we saw a matinee performance of The Importance of Being Earnest. Right after the show we headed back to Olympia. We returned to Avanti quite late and quite exhausted. It was a marathon of sitting. We had to keep the trip small because of limited fundraising events."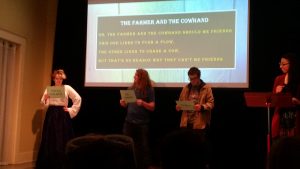 Now, 13 years later, the program has grown and our fundraising methods are more established and predictable, making it easier for students to afford.
Students pay for their own tickets, but in order to lower the per-student cost, the AP English class organizes fundraisers throughout the school year, from traditional bake sales to the more unique "Rock-a-thon," in which students rock in rocking chairs at school for 24 hours, raising money with a pledge system.
The biggest fundraising event Avanti hosts is the annual Haunted School in which we turn our high school classrooms and gym into a haunted house for the public. Another fundraiser is our roving bake sale during spring Arts Walk. You may have seen us walking around before the Procession of the Species parade carrying decorated boxes filled with baked goods. We appreciate the interest and support of our community during bake sales.
Students gain both theater knowledge and a sense of community from these experiences. The experience of traveling in a van for over six hours and then spending four whole days with my classmates and some teachers has really brought me closer to my school community.
John Hanby states, "My favorite aspect of visiting Ashland with students is that I get to share something I love with thoughtful, creative young people who I really care about. There is magic in sharing. Pizza is good; sharing a pizza with a friend is awesomer. The students' enthusiasm, responses, and thoughtful reflections add to my experience of the performances. I get to be a teacher, a guide, and a student."
In addition to being just a fun way to spend a weekend, arts-focused school activities and trips like this can have a lasting impact on students' lives. Eli Orr, a sophomore at Avanti, says the trip is "going to affect my future as well. Last year I went down, a teacher was telling me about Southern Oregon University, the college down there, and now that's where I plan to go!"
In a similar vein, junior Liam McFarland says, "I kind of fell in love with Ashland as a town, and I've definitely considered living there in the future. I also made new friendships on the trip that I probably wouldn't have made otherwise."
In addition to AP English students, theater students are part of the group. Being fully immersed in a town focused on theater has deepened my passion and love for the art. The Oregon Shakespeare Festival is inclusive and works to break down barriers, both in casting and the shows produced. An example of OSF's work to produce unique shows is a play our group attended last year, Destiny of Desire, which was modeled after Spanish telenovelas. Lucy Ryan, a senior, states that seeing Destiny of Desire was one of her favorite parts of the trip.
Besides watching the plays, the students who go to Ashland are able to become more familiar with professional theater, up-and-coming plays/playwrights, and some of what goes into producing a full show.
Student Liam says, "I think it's really interesting to learn about the behind-the-scenes aspects of a play, especially since I've been in Shakespeare productions at Avanti. We usually go to a prologue before the show, which basically explains the general plot and context of the play, but also goes into the costume and set design, and director's notes. I find it super interesting to see what theater looks like on such a large scale as compared to our school productions."
Another student, Eli, states, "I've learned more about the culture surrounding theater, how art affects our lives, and how the theater world works (at least down in Ashland)."
For a closing thought about the value of theater education, Hanby says it best. "I am a big believer in the power of stories," he says. "Stories do far more than entertain. They give us a sense of self, of time, and place in space. They inform us. They challenge and expand our intellectual and emotional capacities. Stories teach empathy, give us hope, and provide us with warnings. And while there are many forms of stories from video games to movies and poems there is something about the impact of live theater which cannot be matched. Combining the power of theater with studying great authors like Shakespeare and then seeing their text come to life on the stage is a tremendous opportunity."
If you are interested in helping to support this type of educational experience, visit Avanti's website, scroll to the bottom of the homepage, click the "Donate Now" button, and specify the cause as "Shakespeare Field Trip."